RTI activists face IPO hurdle
Jammu, June 26
Even as the Centre has been making all efforts to spread awareness among the people about benefits of the Right to Information (RTI) Act, people here are finding it difficult to file applications under the Act.
Protests continue against hike in petroleum products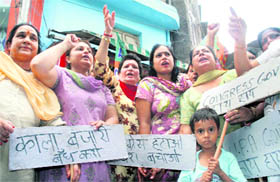 Jammu, June 26
Demonstrations against the recent hike in diesel,kerosene and LPG prices continued in the city and the adjoining areas for the second day today. Activists of the BJP and the party's Mahila Morcha held demonstrations at Ambphalla, Purani Mandi, and Gole Market. They were carrying empty utensils, empty cylinders and wooden sticks.

Activists of the BJP Mahila Morcha protest against the hike in LPG, kerosene and diesel prices in Jammu on Sunday. Tribune photo: Inderjeet Singh
Shortage of Fertilisers, Seeds
BJP MLA flays govt
Jammu, June 26
BJP MLA Sukhnandan Kumar today said farmers of the Jammu region would once again stage a protest if DAP fertiliser was not made available to them in 10 days.
Govt to buy two dredging machines
Srinagar, June 26
The state government has decided to purchase two dredging machines for flood protection activities, costing Rs 12 crore. An agreement to this effect was signed by the Chief Engineer, Irrigation and Flood Control, Kashmir, MR Shola, on behalf of the state government and president, M/S Ellicott Dredges, USA, Peter Bowe, in Srinagar today.
Rs 315 crore for upgrading rural health facilities
Srinagar, June 26
The state government will be spending Rs 315 crore this financial year on upgrading health care facilities, including setting up of 11 mobile medical units in accident prone zones and GPS-guided ambulance service.
10-day comedy theatre festival starts in Valley
Srinagar, June 26
Governor NN Vohra inaugurated a 10-day Kashmir comedy theatre festival at the Sher-e-Kashmir International Convention Centre here last evening. The theatre festival has been organised by the Jammu Kashmir Film Makers and Artists Cooperative (JKFMAC) Ltd, with a view to revive and promote the rich cultural heritage of the state.
Second Mughal Road car rally flagged off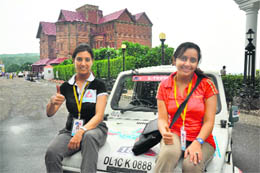 Srinagar/Jammu, June 26
The second Mughal Road car rally was flagged off by Minister of Tourism Nawang Rigzin Jora and Minister of State for Tourism Nasir Aslam Wani here today. "Seventy vehicles comprising 140 drivers and navigators are participating in the race and the winner will get a cash prize of Rs 10 lakh," Director, Tourism, Farooq Shah said.

Car rallyist Divya Mighlani (left), with her navigator, Aprajita Juneja, in Jammu on Sunday. Tribune photo: Anand Sharma
Initiative to bring optimism in life of AIDS patients
Jammu, June 26
Psychologists have taken an initiative to provide support to AIDS patients in the city. Under the project, Saksham, eminent psychologists have started imparting training to counsellors to motivate AIDS patients to live with dignity and honour.
Panel to probe admissions by paramedical colleges
Jammu, June 26
Amidst reports that some private paramedical colleges are trying to cheat candidates, the Health Department has constituted a committee to probe irregularities in admission to such colleges in the state.
Couple ends life by jumping into Chenab
Jammu, June 26
A childless couple ended their life by jumping into the Chenab in the Akhnoor area yesterday. Usha Devi, wife of Sunil Kumar, reportedly asked her driver, Jang Bahadur, to stop the van as she wanted to make a phone call. After alighting from the van, she made a phone call to her husband and then allegedly jumped into the Chenab.
Two houses damaged in heavy rain

Jammu, June 26
Two houses in the city were damaged in heavy rain that lashed the district in the past 24 hours. The two houses are located in Jhulakka Mohalla in the old city area here. However, there was no loss of life. According to the police,the outer walls of the houses collapsed and vehicles parked inside got buried under the debris.
A house in Jullakha Mohalla in Jammu, which was damaged in heavy rain on Sunday. Tribune photo: Inderjeet Singh
Leh first district in state to have five-year plan
Leh, June 26
Leh has become the first district in the state to have its own five-year perspective plan 2011-16 for all 93 panchayat halqas of the district and Leh town for the implementation of Mahatma Gandhi National Rural Employment Guarantee Act (MGNREGA) as per the wishes and needs of people.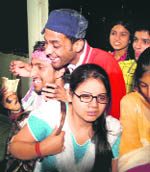 Manto's 'Jeb Katra' staged
Jammu, June 26
'Jeb Katra', a play written by Sadat Hassan Manto and directed by Neeraj Kant, was staged at the Natrang Studio Theatre here today as part of its weekly series, 'Sunday Theatre'. In the play, Jeb Katra, Kashi, who is a pick-pocket steals a bag of a woman, Bimla, and finds some letters in it along with some money. The letters reflect that she is leading a sad life and wants to put an end to it.
A scene from a play, 'Jeb Katra', staged in Jammu on Sunday. A Tribune photograph
Army distributes artificial limbs
Srinagar, June 26
The Army, in association with the Bhagwan Mahavir Viklang Sahayata Samiti of Rajasthan and the Pritam Spiritual Foundation, organised a four-day free artificial limb distribution camp at Khanabal near Anantnag from June 22 to 25.
Four killed in road mishaps
Srinagar, June 26
Four persons were killed and 10 others were injured in road accidents in the Kashmir valley yesterday. A Tata Sumo hit two pedestrians, namely Akbar Ali Gazi and Kousar Hussain Mugloo, near Alamgari Bazar Chowk,killing them on the spot.