Amarnath yatra begins, Governor pays obeisance
Tribune News Service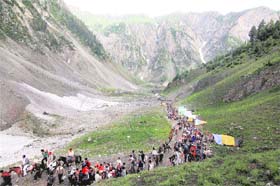 Pilgrims leave Baltal on the way to the holy cave shrine of Amarnath on Wednesday. — PTI
Srinagar/Jammu, June 29
The annual yatra to the holy cave shrine of Amarnath began on both the Pahalgam and Baltal routes simultaneously today, with Governor NN Vohra paying obeisance at the sanctum sanctorum and performing pooja amidst the chanting of vedic mantras.
The Governor prayed for peace, harmony, progress and prosperity in the state. The First Lady, Usha Vohra, and the Chief Executive Officer (CEO) of the Shri Amarnathji Shrine Board (SASB), RK Goyal, also paid obeisance at the shrine along with a number of pilgrims.
Earlier the Governor, who is also the Chairman of the SASB, reviewed the overall arrangements made for the yatris and expressed satisfaction at the support extended by the state government and the security forces. He stressed the need for effective supervision and monitoring on a continuing basis for ensuring a smooth conduct of the pilgrimage.
Later, the Governor flew down to the Baltal base camp, where he was joined by Minister for Forests Mian Altaf Ahmad.He launched a sanitation campaign organised by the Shri Amarnath Barfani Langar Organisation (SABLO) with a view to maintaining cleanliness in the entire yatra area, particularly in and around the langar areas.
The Governor later visited Pahalgam and Chandanwari and reviewed the yatra-related arrangements. He interacted with the yatris at the holy cave, Baltal, Pahalgam and Chandanwari and enquired about the arrangements.
On the occasion, the Minister for Forests flagged off helicopter services from Baltal to Panjtarni, while Minister for Tourism Nawang Rigzin Jora and Minister of State for Tourism and Home Nasir Aslam Wani launched the services from Pahalgam to Panjtarni.
The yatra, which began today, will conclude on Raksha Bandhan on August 13.
Meanwhile, the CEO of the SASB has reiterated his appeal to the intending pilgrims to embark on the pilgrimage only after obtaining valid permits, as it will ensure against any inconvenience to them.
The board has also issued a detailed advisory of do's and don'ts for the yatris, which have been printed on the reverse of the yatra permit.
The yatris should strictly adhere to the detailed advisory as they had to undertake an arduous trek through high mountains with adverse weather conditions, the CEO added.
Meanwhile, over 13,000 pilgrims started from Baltal base camp, about 110 km from Srinagar, through the shorter 13-km route leading to the 3,880-metre high cave shrine, an SASB official said.
Around 9,000 pilgrims also started their two-day trek to the holy cave through the traditional Pahalgam route, he said.
While the pilgrims taking the Baltal route will reach the cave shrine today, those taking the Pahalgam route are expected to reach there by tomorrow morning.
Meanwhile, amid tight security, the second batch of 2,185 Amarnath pilgrims left the Bhagwati Nagar base camp in Jammu today for Baltal and Pahalgam.
The pilgrims, including 441 women and 66 children, left in 66 vehicles around 5 am, an official of the Tourism Department said.
Helicopter services from Baltal to Panjtarni and Pahalgam to Panjtarni flagged off
13,000 pilgrims begin the journey from the Baltal base camp through the shorter 13-km route
9,000 yatris start the pilgrimage through the Pahalgam route