Mind over Matter
The Omega wave
Are you unhappy with your children's performance in exams? Disturbed with their behaviour? Worried about their lack of concentration? There is mounting evidence to suggest that children who eat a diet containing sufficient Omega 3 fats are better behaved, more intelligent and even show lower levels of allergies
D. S. Samloke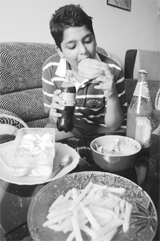 Junk food, coupled with an increased intake of processed food, is not adequate to take care of the nutritional needs of growing children Photo: Pradeep Tewari
Modern-day parents are facing new challenges in the growing needs of their children, which directly impact their academic results, behaviour and concentration. Junk food, coupled with an increased intake of processed food by growing children, is not adequate enough to take care of their nutritional needs. Most of us have had a harrowing time with these problems, despite expecting great performance from them by sending them to the best of schools that we could afford.
Some common problems in children can be anxiety, depression, aggression, mental performance, temperament, relationship disturbances with friends and family, poor-school performance, behavioural regression, phobia, thumbsucking, repetitive movements of muscle groups, stuttering, dysfluent speech, anxiety disorders, fearfulness, disruptive behaviour, arson, anti-social behaviour, attention deficit hyperactivity disorder, careless mistakes, avoiding sustained mental effort, fidgeting, impulsiveness, sleep disorders and a score of more such problems.
The world-over scientists, researchers and doctors have documented some studies, which are as surprising as revealing. There is mounting evidence to suggest that children, who eat a diet containing sufficient Omega 3s, are better behaved, more intelligent and even show lower levels of allergies.
What is Omega 3? Two fats, which are essential to good health, are called Omega 3 and Omega 6. These belong to a family of polyunsaturated fatty acids known as "essential fatty acids" or EFAs. These fats are vital for good health and normal growth. These are called "essential" because the body cannot manufacture these fats, or store much of these fats. These fats have to be taken through the diet. In other words, they have to be eaten regularly. To make matters more complicated — Omega 3 and 6 only maintain their status as "Good Fats" when these are eaten in the right balance.
The typical diet that our children eat contains too much of Omega 6 and too little of Omega 3 fats. That's way we need to increase our intake of Omega 3 in isolation, as our Omega 6 intake is normally sufficient. Alpha Linolenic Acid (ALA) is the principal Omega 3 fatty acid, which a healthy human being will convert into eicosapentaenoic acid (EPA), and later into docosahexaenoic acid (DHA). EPA and the gamma-linolenic acid (GLA) synthesised from linoleic (Omega-6) acid are later converted into hormone-like compounds known as eicosanoids, which aid in many bodily functions, including vital organ functions and intra-cellular activity.
Omega 3s are used in the formation of cell walls, making the walls supple and flexible, and improving circulation and oxygen uptake with proper red-blood cell flexibility and function. Omega 3 deficiencies are linked to decreased memory and mental abilities, tingling sensation of the nerves, poor vision, increased tendency to form blood clots, diminished immune function, increased triglycerides and "bad" cholesterol (LDL) levels, impaired membrane function, hypertension, irregular heartbeat, learning disorders, menopausal discomfort, itchiness on the front of the lower leg(s), and growth retardation in infants, children and pregnant women.
In an intensive trial conducted by Dr Alex Richardson, a senior research fellow in physiology at Mansfield College, University of Oxford, and Madeleine Portwood, a special educational psychologist with the Durham Local Education Authority, it was reported by the BBC, UK, that statistically significant improvement was seen in the school performance in the group of children who were given Omega 3 supplements.
The dramatic effects of Omega 3 fatty acids on the children in the Durham trial may hinge on several functions of fatty acids in the brain. It was found that Omega 3s may make it easier for signals to cross the gap between brain cells and also improve brain function at the very simplest level, by improving blood flow. However, studies such as the Durham trial suggest that all is not lost, and that boosting Omega 3 intake may still confer significant benefits.
Western diets contain very little Omega 3 fatty acid. Hydrogenation, the process used to give foods a long shelf life, removes them. But certain people may break down Omega 3 fatty acids faster than others. Some of the children, who showed greatest improvement in the Durham trial, might fall into this category.
According to the American Dietetic Association, adults should receive 20 to 35 per cent of energy from dietary fats, avoiding saturated and trans or "bad" fats, and increasing intake of Omega 3 fatty acids. The association also found that substitution of canola oil for fat commonly used in the US would increase compliance with dietary recommendations for fatty acids, particularly in lowering saturated fat and increasing heart-healthy monounsaturated fat.
Dr Basant Puri, a consultant psychiatrist and senior lecturer at London's Imperial College, released his findings on Omega 3 and its effect on brain function and depression.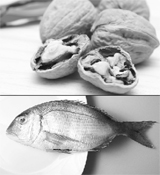 It was found that:

l Daily supplements of Omega 3 fatty acids will boost the brain development of children by three years in only three months. Scans showed their brains developed three years in as many months as nerve fibres grew additional branches.

l Children given capsules of Omega 3 grew additional "grey matter" which helps intelligence.

l Brain scans, which showed the evidence of changes, were reinforced by results in tests of reading, concentration and short-term memory.

l Children, who took part in the study, increased their reading ability by an average of a year and a quarter during the Omega 3 trial. The average increase in their reading age was a year and a quarter and their handwriting became more accurate.

Studies over the past two years have consistently confirmed that Omega 3, a substance lacking in today's diet, is a key component in the brain's development and proper functioning. While the benefits of Omega 3 fatty acids can be noticed on many levels, the biggest breakthroughs documented have occurred in improved mental functions and health. Omega 3 has been reported to be effective in the treatment of depression.

The main reported benefits of Omega 3 for the body occur in the heart. The American Heart Association recommends including oils and foods rich in alphalinolenic acid (canola, flaxseeds and walnuts) in order to reduce the likelihood of heart disease.

While research is still ongoing into the effects of Omega 3 on the heart, research so far date has shown that Omega 3 fats decrease the risk of arrhythmias, which can lead to sudden cardiac death, decrease triglyceride levels, decrease growth rate of atherosclerotic plaque, lower blood pressure. Additionally, Omega 3 has been reported to be effective as an anti-inflammatory. And according to an article by Judith Horstman for Arthritis Today, there is strong evidence that oil supplements with Omega 3 fatty acids can ease rheumatoid arthritis (RA) symptoms.

The problem is to identify the most commonly used diet without changing your lifestyle a lot. It can be seen that cooking oil can be the one common link in each one of our lives. It can be a good source of Omega 3 nutrition for not only our children but also for the parents too, if chosen carefully.

It is said the Japanese have been found to have very low incidence of depression, heart diseases and their children have been found to be the most intelligent, due to their Omega 3-rich diet. Any good doctor or nutritionist will tell you that the best way to get any nutrient is to go right to the source and eat it through the foods in which they originate. In the case of Omega 3, this would most likely be in the form of canola oil, fatty fish, flaxseed, walnuts etc. And it is a relief to know that finally a small change in dietary habits like switching over to healthier oils like canola can bring about a turnaround in the family's health.

It is said "you are what you eat" but now it also seems that "you act what you eat", too.

(Dr D. S. Samloke is a practicing physician, child psychologist and researcher in the fields of child behaviour and intelligence).

Tall claims

l Most of the cooking oils lay tall claims as being Omega 3 rich but the truth is that, either their percentage of Omega 3 is too less or the ratio of Omega 3 to Omega 6 is badly skewed. The lower the ratio, the better the oil.

l Here are the Omega 3 content and ratios of Omega 3 to Omega 6 fatty acids in some common cooking oils:

l Canola oil like Jivo (content 11 per cent), Ratio 1:2

l Olive oils like Figaro and Leonardo (1 per cent), 1:13

l Sunflower oils like Sundrop and Sweekar (1 per cent), 1:71

l Safflower oils like Saffola 1:88

l Soybean oils like Fortune and Nature Fresh (7 per cent), 1:7

l Corn oils (1 per cent), 1:57

l Groundnut oils (negligible Omega 3) and

l Palm oils like Ruchi Gold (negligible Omega 3).

l Typical Western diets provide ratios between 1:10 and 1:30 - i.e.,

dramatically higher levels of Omega 6.