The not-so-shining India
Doctor and human rights activist Binayak Sen, charged with sedition by the Chhattisgarh government, recently travelled to South Korea to receive an award. Excerpts from his thought-provoking acceptance speech are reproduced here.
Dr Binayak Sen
TODAY, India is considered around the world as a rapidly developing country posting economic growth rates of around 8-9 percent consistently over the last several years. Along with China, which is much further ahead, India is seen as a powerhouse of the global economy in the decades to come and already it is home to a very large number of dollar billionaires, perhaps the largest such number in Asia.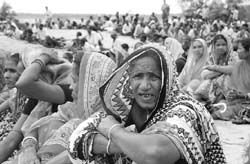 Villagers sit along the entry point to prevent policemen and officials from entering their land at Jagatsinghpur district, about 140 kilometres east of Bhubaneswar — AFP
In our own times, as we look around this vast and populated country though, the picture that one sees is not as rosy as it is made out to be. India is also home to the world's largest number of people living in absolute poverty. In 2007 a study on the unorganised sector in India, based on government data for the period between 1993-94 and 2004-05, found that an overwhelming 836 million people in India live on a per capita consumption of less than Rs 20 or O.50 US cents a day.
In 2010 a UNDP/Oxford University study, using a new Multi-dimensional Poverty Index (MPI), said that eight Indian provinces alone have more poor than 26 African nations put together. The report said that acute poverty prevails in Bihar, Chhattisgarh, Jharkhand, Madhya Pradesh, Orissa, Rajasthan, Uttar Pradesh and West Bengal which together account for 421 million people, 11 million more "MPI poor" than in the 26 poorest African countries.
Areas of darkness
As a physician and a pediatrician in particular, what concerns me is that such absolute poverty among such large numbers of people really translates into a major health disaster the proportions of which can only be called genocidal. I have a specific technical reason for using the word genocide and do not wield it in a rhetorical manner.
The Indian National Nutrition Monitoring Bureau (NNMB) tells us that over 33% of the adult population of India has a Body Mass Index of less than 18.5, and can be considered as suffering from chronic under nutrition. If we disaggregate the data, we find that over 50% of the scheduled tribes (Adivasis), and over 60% of the scheduled castes (dalits) have a BMI below 18.5.The WHO says that any community with more than 40% of its members with a BMI below 18.5 may be regarded as being in a state of famine. By this criterion there are various subsets of the population of India-the scheduled tribes, scheduled castes, – which may be regarded as being permanently in a state of famine.
So it is not any general population that is suffering the consequences of poverty-induced malnutrition but specific ethnic groups and hence my use of the term 'genocide' as per the United Nations definition. All this is, of course, in addition to the mundane reality, to which we have become inured, of 43% of children under 5 in India being malnourished by weight for age criteria.  India has the world's largest number of malnourished children and according to the UNICEF over 2 million Indian children die every year due to malnutrition related diseases.
Poor adivasis
I want to bring to your and indeed the attention of the world that it is precisely this section of the population, that is stricken by famine, that is today the principal target of a widespread policy of expropriation of natural and common property resources, in a concerted and often militarised programme run by the Indian state. For a long time, despite their cash poverty, the Adivasis of central India, living in extreme poverty, nevertheless survived through their access to common property resources- the forests, the rivers, and land- all of which are now under a renewed threat of sequestration and privatisation as global finance capital embarks on its latest phase of expansion. The doctrine of eminent domain vests ultimate ownership of all land and natural resources in the state. Under cover of eminent domain, vast tracts of land, forest and water reserves are being handed over to the Indian affiliates of international finance capital.
Land acquired from ordinary people in Chhattisgarh, as also in other parts of India, has been handed over to industrial houses for the purpose of mining or building large steel and power plants. With a few honourable exceptions, the personnel articulating the agency of state power have almost uniformly possessed a colonial mindset. It is not as if the people have  not resisted.  The  forced takeover of indigenous land is being met with resistance  that is multi hued , yet the state has chosen to brand it under the single category of Maoist, and has met it with  brutality and human rights violations. The  social fabric in many of these regions is today polarised beyond immediate rectification, and the deep fissures in our society will take time to heal
In the times we live, while oppression is most acutely manifested in remote and local places like Bastar district of Chhattisgarh, the truth is that the forces behind such oppression are often global in nature. It is well recognised now that the tsunami-like flow of capital around the world is a source of tremendous tragedy for many communities around the world which do not fit into the ideologically straitjacketed confines of the 'market economy'.
Countries like South Korea that have suffered the ravages of colonialism in the past and risen from the ashes of the Second World War to become one of the industrially and economically leading nations of the world have a special responsibility today. It is the responsibility of ensuring that they do not do the kind of violence and exploitation to the people of the Third World what they themselves were subjected to in the past by others.
POSCO
I want to bring up the specific case of the South Korean steel giant POSCO which has embarked on a USD 12 billion dollar project in the Indian state of Orissa, which at USD 12 billion to mine iron ore, build a port and a mega-steel plant.
Indian activists have pointed out repeatedly that from a national point of view the MoU signed by the Orissa government with POSCO to give it the rights to mine over 600 million tonnes of high grade iron ore is a scam of immense proportions.
According to the original MoU, the royalty that POSCO will pay for the iron ore is around Rs. 24 per tonne whereas the selling price in the international market is around Rs. 5000 today. Besides all this POSCO and its investors from around the world are to be illegally given nearly 5000 acres of land that was originally forest land and cannot be used for any other purpose under Indian law without the consent of forest dwelling people.
For more than five years now, the POSCO Pratirodh Sangram Samity (PPSS), a local people's movement in Jagatsingpur district,  has been bravely resisting the POSCO project which threatens the livelihood of thousands of agriculturists, workers and small businesses in the area besides devastating the local environment and ecology. Over 30,000 people, mostly farmers and fisherfolk are expected to be displaced.
Even as we speak here today, large contingents of the Orissa police are moving into the villages settled on the targeted land for the POSCO project to uproot local communities using brute force. I would like to appeal to the South Korean people and the people of Gwangju in particular to strongly oppose the POSCO project in solidarity with the brave farmers and fishermen of Jagatsingpur. POSCO should withdraw its investment in this project immediately and an inquiry launched in both South Korea and India into the circumstances under which such a project was considered and cleared.
The spirit of the Gwangju Prize for Human Rights calls upon all of us to continue to oppose violations of human rights in every form, wherever it occurs and whatsoever the costs of such opposition. We remain committed to Peace, but realise that there cannot be any peace without equity and social justice. I am confident that my appeal to you will be heard and responded to and the solidarity of the South Korean people will forever remain with the oppressed people of India and other parts of Asia and the world.