Target interest rate and inflation proof scrips
Gajendra Nagpal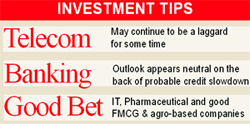 Inflation continues to remain a worry globally and most central banks have been / or plan to raise interest rates to curb this. RBI has raised interest rates ten consecutive times. High interest rate regime coupled with higher commodity prices has affected the industry to a great extent in the last six months.
The recent low readings of the IIP exaggerate the deceleration in overall industrial activity. For the full year FY11, IIP grew at 7.8% Y-o-Y, slower than the 10.5% growth in FY10, owing largely to base effect.
The Indian markets turned negative on the back of these concerns. The markets started the month of April on a positive note, buoyed by some unexpected resurgence in FII buying in March. However, post the beginning of corporate earnings announcements and political concerns, the markets lost steam.
The markets had been overly optimistic hoping for earnings surprises, but many firms have underperformed street expectations. The allocations towards emerging markets by FIIs has also slowed down due to the economic concerns and earnings downgrades.
The sectors which are interest rate and inflation proof should be targeted over the next few months till the economy stabilizes.
Additionally stocks which are fundamentally strong and can command higher price realizations would be appropriate investment targets. Investors should look for opportunities in IT, Pharmaceuticals and good FMCG & agri based companies.
Once the economy is in proper shape, investors can increase the allocations towards banking and infrastructure sector which would be the backbone of wealth creation in next couple of years.
The outlook for the banking sector in coming quarters appears neutral on the back of probable credit growth slowdown and expected margin pressure.
Net interest margin is likely to be under pressure in near term due to rise in cost of funds & ALM mismatch in an increasing rate scenario. CASA growth for most banks would slowdown a bit as banks will go slow on this front before the much debated savings rate deregulation pass through.
Deposit growth which had been a laggard till now, may see some revival going forward due to recent SB & FD rate hikes. Given the current environment of macro headwinds, we remain selective and prefer banks with a) robust deposit franchise, b) diversified loan book & growth visibility, c) healthy capital adequacy and d) comfortable valuation.
The demand scenario for the IT sector is expected to improve going forward with verticals like Manufacturing, Retail and BFSI seeing a pickup globally.
The Telecom sector may continue to be a laggard for some time. IT firms like Infosys, HCL Technologies and TCS all have aggressive hiring targets for FY12.
However, such infrastructure expansion to capture business could bring these firms' margins under pressure in the near-term. The increase in tax rates (STPI cancellation and MAT implementation in SEZs) could bring pressure on the bottom-line of mid-cap IT companies.
The business restructuring in Infosys and Wipro will also take some time to reflect positively in the company's top-lines.
We feel the market would be range bound between Nifty at 5,200 and 5,700 till the inflation and interest rate concerns hover in the minds of investors.
However good monsoon forecasts and the first quarter results of FY12 in July could act as triggers and take the market forward to Nifty at 6,000 range by Diwali.
(The author is CEO, Unicon Financial . Views expressed are his own)