Family fears for missing farmer's life
Greater Noida, June 30
The absconding farmer leader Manveer Singh Tevatia's family feared that the police was out to kill him to avenge the death of two cops during their clash with farmers at Bhatta in May. The police initiated the attachment of Tevatia's property today in order to build pressure on him to surrender.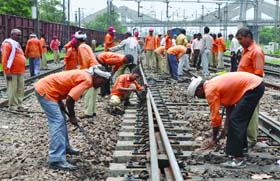 Workers repair the tracks after a goods train jumped off them near the Tilak Bridge station in New Delhi on Thursday. Tribune photo: Mukesh Aggarwal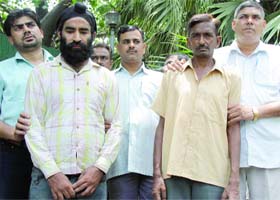 The Delhi police arrested two men for their alleged involvement in printing fake notary and surety papers in New Delhi on Thursday. Tribune photo
Raze properties under dangerous wires: CM
New Delhi, June 30
Chief Minister Sheila Dikshit today said that the residents of unauthorized colonies have to demolish their properties constructed under the high-tension wire. It is dangerous and the government has no alternative land to shift the wire, she pointed out.
Khare's car found, juvenile held
New Delhi, June 30
The Delhi police managed to recover the car of Prime Minister's media advisor Harish Khare, which was stolen from the compound of his house in the Civil Lines area of north Delhi last night.
Passenger train from Delhi to Ghaziabad soon
New Delhi, June 30
The general manager of Northern Railway today announced the introduction of a passenger train from Delhi to Ghaziabad and the implementation of modern technology at the Delhi railway sector.
Workshop of gurdwara schoolteachers
New Delhi, June 30
With a view to improving the teaching standard and results, newly set up Directorate of Education, Delhi Sikh Gurdwara Management Committee, has decided to organize a workshop of teachers and principals of Guru Harkishan Public Schools run by the gurdwara committee.


TV remote causes panic in SN Market
New Delhi, June 30
Traders and shoppers in Sarojini Nagar went through anxious moments this morning when a passer-by noticed a remote control kept above a box attached to an electric pole near the corner of Delhi Public Library and informed the police of the possibility of a bomb.

People gathered after a remote control found in Sarojini Nagar Market in New Delhi on Thursday. Tribune photo: Manas Ranjan Bhui
Humid Delhi may see rain today
New Delhi, June 30
The Capital saw a humid day today with the sky remaining mostly cloudy. The Meteorological Department recorded high humidity levels, between 90 and 58 per cent, despite the maximum temperature settling two degrees below the average at 34.3 degrees Celsius.
Depressed over son's death, woman hangs self
New Delhi, June 30
Depressed over the death of her son six months ago, a 42-year-old woman allegedly committed suicide by hanging herself at her house in the Bindapur area of Outer Delhi, last night.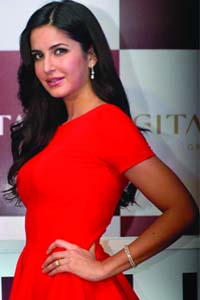 THE GLAD EYE: Actor Katrina Kaif at a promotional event in New Delhi on Thursday. Tribune photo
2 docs to be booked for false rape statement
Ghaziabad, June 30
A case will be registered against two doctors who wrongly stated that a 10-year-old dalit girl was sexually assaulted at Anwarpur village last Saturday, a senior police official said.
Man arrested for making obscene calls to cop
Noida, June 30
A 26-year-old man has been arrested for allegedly making obscene calls to a woman cop at the police control room. Dharam Pal, a resident of Salarpur here, was arrested last night after the police traced him through electronic surveillance, superintendent of police (SP) Anant Dev told reporters here today.
Maid jumps off building
New Delhi, June 30
A 22-year-old woman allegedly committed suicide by jumping from a building in Dwaraka, this morning. The incident was reported from Sector-23 and the victim has been identified as Reena, a resident of West Bengal.
Bikers snatch Rs 25 lakh
Ghaziabad, June 30
Unidentified persons looted Rs 25 lakh from a person in the Sahibabad area here, the police said today. Three men, who had come in a motor cycle, hit Anil Rana and snatched the bag containing the money last evening. The incident occurred outside a bank from where Rana had withdrawn the money, it added. — PTI
Company swindled of Rs 28 lakh
Ghaziabad, June 30
A fraud case amounting to Rs 28 lakh came into light today when a transaction was being made at a bank, the police said. Out of this amount, Rs 10 lakh was found transferred in the bank account of a clerk's mother in Modinagar, they said. The clerk works at Rathi Udyog Limited. — PTI