Deep digging on despite NHAI's no
Mohali, June 30
In total disregard of rules and regulations governing construction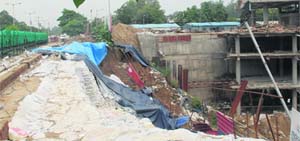 activity along national highways, careless digging by a Gurgaon-based private company, C&C Towers Limited, engaged in the construction of Mohali Junction, an 18-storeyed air-conditioned inter-state bus terminus-cum-commercial complex, has sunk a part of the area precariously close to the busy National Highway 21 (Manali road), passing through Sector 57 (Phase VI).
Present and lurking danger A portion of land along the National Highway 21 that caved in due to digging by a private company engaged in the construction of a multi-storeyed bus stand complex at Sector 57, Mohali. Tribune photo: Vicky Gharu
City gets first woman SHO
Chandigarh, June 30
Inspector Poonam Dilawari, who rose from the rank of constable, today became the first woman police inspector in the history of the

UT Police to be posted as Station House Officer (SHO). Inspector Dilawari, who assumed charge this evening as SHO of the Sector 3 police station, will be responsible for maintaining law and order and investigating crime in the city's VVIP portion, which houses two state Governors and Chief Ministers, both Punjab and Haryana cabinet ministers, High Court judges, top rung bureaucrats and police officials in addition to the who's who of the city.
Sector-3 SHO Poonam Dilawari
Tipsy cop who challaned drunk drivers suspended
Chandigarh, June 30
A head constable of the Chandigarh Traffic Police has been suspended after he was found drunk on duty at a barrier erected to challan drunk drivers on Sunday.
Four-hour strike by LPG auto drivers
Chandigarh, June 30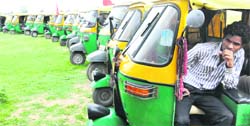 A four-hour-long strike by LPG auto-rickshaw drivers left hundreds of commuters stranded in and around the city this morning. The strike, which begun at 9 am and ended around 1 pm, largely affected office-goers and regular commuters from neighbouring areas like Mohali, Zirakpur and Mullanpur.
Auto-motive LPG auto-rickshaws lined up at the rally ground in Sector 25 after drivers went on strike in Chandigarh on Thursday morning. Tribune photo: Manoj Mahajan
Damage parks and cough up Rs 1,000 in fine!
Chandigarh, June 30
In a decision that may go a long way in checking the damage caused to public property, the municipal corporation has approved horticulture bylaws that provide for penalising those who damage green belts and road berms in the city by making them shell out Rs 1,000 in fine for the offence.
Elusive monsoon keeps residents guessing
Chandigarh, June 30
While it has been raining cats and dogs in the neighbouring states of Punjab, Haryana and Himachal Pradesh, the real monsoon showers continue to elude the residents of the city.
Delegates meet HS for transfer of industrial plots
Chandigarh, June 30
A delegation of the Chamber of Chandigarh Industries met home-cum-industries secretary Ram Niwas regarding the transfer of industrial plots.
Estate office JE, senior assistant suspended
Chandigarh, June 30
The Chandigarh administration today placed two officials, including a senior assistant, of the estate office under suspension for dereliction of duty. UT Deputy Commissioner Brijendra Singh placed Sanjay Joshi, senior assistant of the building branch (EO), under suspension and recommended suspension of Manoj Kumar Bali, junior engineer to the UT Chief Engineer.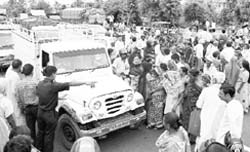 Pensioners block traffic on NH- 22
Panchkula, June 30
Irked over the delay in disbursement of pension, about 200-old persons and others blocked National Highway 22 near Sector 21 and 3 for around one-and-a-half hour here today.

Anguished pensioners block NH-22 in Panchkula on Thursday. Tribune photo: Nitin Mittal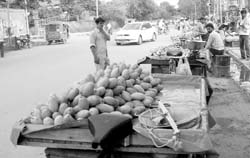 Illegal rehris, eyesore of Mohali
Mohali, June 30
Encroachments by illegal rehriwallas have become a bane of the town over the years with neither the erstwhile Municipal Council nor the new Municipal Corporation being able to check the menace.



Wrongly parked rehris at Phase 11 in Mohali on Thursday. Tribune photo: Vicky Gharu
Chandigarh scan

Panchkula scan

Mohali scan

Tribune employee retires
Roshan Lal, Foreman, Process Department, The Tribune, retired here today after putting in more than 33 years of service in the institution. He joined the institution in 1978. He was given a warm send-off by his colleagues. . — TNS


Many engineering college applicants fail to complete registration
Chandigarh, June 30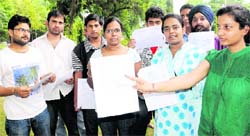 Nearly 495 out of the 9,500 candidates who applied for admission to six engineering colleges in the city through online joint admission counselling have failed to complete the registration process. Blaming it on a technical software glitch, parents of these applicants said the code given to them by the bank after depositing Rs 1,050 as counselling fee was not accepted by the website.
Disappointed students, who failed to complete online registration for engineering colleges, claim it was due to a technical glitch. Tribune Photo: Manoj Mahajan
BEd admissions on basis of qualifying exam merit
Chandigarh, June 30
Online admissions would be held for BEd in the recognised and affiliated colleges of Panjab University, Guru Nanak Dev University, Amritsar; Punjabi University, Patiala, and Lovely Professional University, Phagwara.