Methodical madness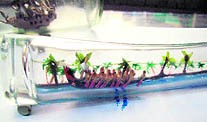 Unusual hobbies not only keep boredom at bay but also give creativity a whole new dimension. Here's some inspiration in the form of offbeat pastimes, writes Annam Suresh
Hobbies can be far removed from collecting stamps and coins or playing scrabble. The mind can rustle up a boggling range of activities that range from the bizarre to the profitable to plain inexplicable.
Troubled constabulary
A policeman's job is a coveted one in Kerala, with its high unemployment figures. But the tensions of strenuous training and situations of conflict have adversely affected the personal lives of the cops, writes Shwetha George
WHILE the media's focus has invariably been on police atrocities, not enough attention has been paid to the poor conditions under which police personnel at the lower levels of the constabulary live and work — factors which could play a part in triggering police brutality.
Indian designs on world fashion
Italian designers feel India has a powerful tradition in fashion and textiles that has been recognised the world over, says Madhusree Chatterjee
Representatives of two leading Italy-based fashion, art and design institutes have recently been in Delhi to help give Indian fashion a competitive edge and in turn gain knowledge about the use of heritage textiles.
Panning Lake District
Lake District in northwest England is not only known for its breathtaking scenery but also its traditional cuisine, writes Nivedita Choudhuri
THE Lake District has continuously grown in popularity and attracts new waves of visitors each year. It is a place of superlatives – the highest mountains in England, the deepest and longest lakes, the smallest church, the highest passes, the steepest roads and some of the finest places of outstanding natural beauty in Europe.
Cleverest bird
THE African grey parrot could be the cleverest bird on the planet as it is capable of intelligent reasoning at the same level as a child, a media report said. The bird is capable of working out the location of hidden food using the kind of deduction and elimination skills previously seen only in humans and apes, it said.
Mythology, history rule airwaves
Historical, mythological and fantasy costume dramas seem to have caught the fancy of TV producers, writes Radhika Bhirani
INDiA's rich history and mythology are once again feeding the small screen, with many new shows hoping to captivate viewers, like the Ramayan and Mahabharat did in the 1980s. From reality programmes, TV has taken a leap into history and legend, beaming palatial sets, elaborate costumes, glitzy jewellery and hi-tech action sequences into homes.
Southern splendour
With some adaptations, the story content of hit South Indian films is being used to make successful Hindi films, says V. Gangadhar
WAY back in the late 1940s when Gemini Studios boss and South Indian movie moghul S.S. Vasan found that his expensive Tamil film Chandralekha did not bring in the anticipated boxoffice returns, he planned a new strategy.
'Films fail only because of their prices'
Jyothi Venkatesh chats up Amitabh Bachchan, who is back with his latest film Bbuddhah Hoga Terra Baap
Tell me about Bbuddhah Hoga Terra Baap!
I liked the role when director Puri Jagannadh narrated the subject to me. He was an associate of Ram Gopal. It was Ram Gopal Varma, who recommended Puri to me. I had seen Puri's Pokkiri; the Telugu original of the Hindi hit Wanted.