Health proof likely for pilgrims from next year
Dehradun, July 5
With more than 12 deaths occurring during the ongoing Char Dham Yatra, the Health Department is contemplating compulsory submission of health certificates from participants who are frail, from the next year.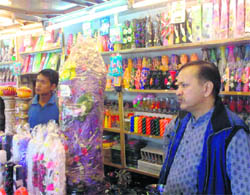 Lake City candle industry going strong
Nainital, July 5
Even after four decades of its existence, the lone indigenous industry of the Lake City involving the manufacture of ornamental candles continues to go strong. Hence a visit to Nainital without purchasing candles is considered to be incomplete.


Candles on display at a shop in Nainital. A Tribune photograph

Price rise to be BJP's poll plank: Gahlot
Pithoragarh, July 5
Hoping to cash in on the "failure" of the Congress government at the Centre on the issue of price rise, BJP general secretary and Uttarakhand in charge of the party Thawar Chand Gahlot said here today that the BJP was set to return to power with two-third majority in 2012 elections in the state as the people were angry with the Congress at the Centre.
BJYM to gherao Parliament House on August 9
Mussoorie, July 5
More than 7,000 Bharatiya Janata Yuva Morcha (BJYM) workers from Uttarakhand will gherao "Sansad" on August 9 in protest against the rising corruption and collapse of institutional democracy in the country. This was said by BJYM district president Amit Dabral at a press meet held here today.
'Don't call complainant, accused to police station'
Dehradun, July 5
The DGP has asked the police not to call a complainant or accused to police station or chowki for questioning and recording their statements.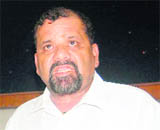 Panwar to protest against encroachment
Dehradun, July 5
President of one faction of the Uttarakhand Kranti Dal (UKD) Trivender Singh Panwar has decided to hold a protest in all districts of the state on July 19 against illegal encroachment of revenue land by a senior IAS officer in Sankri.


Trivender Singh Panwar

Kanwar Yatra
Minister holds meeting
Haridwar, July 5
With the advent of monsoon and just a week left for the Kanwar Yatra to begin, Uttarakhand Cabinet Minister for Urban Development Madan Kaushik chaired a high-level meeting of the officials concerned today.
SSA fails to attract kids
Pithoragarh, July 5
Despite spending crores of rupees on the Sarv Shiksha Abhiyan (SSA) in the district, more than 2,500 students from government schools move out to join private institutions every year.
A feather in BHEL's cap
Haridwar, July 5
A 525-MW unit of Tata-Maithon Power Limited, which has been developed by the city-based public sector undertaking Bharat Heavy Electricals Limited (BHEL), was successfully commissioned today. With the commissioning of the unit, BHEL has added another feather in its cap.
Almora admn takes stock of help provided to disaster victims
Nainital, July 5
The Almora administration has started tabulating the status of the assistance it has given to the victims of various rain-related disasters that hit the district last September. Almora had been the worst-hit district in the region accounting for the loss of several lives and large-scale infrastructure.