Thermal power projects
'Scrap pacts with pvt companies'
Chander Parkash
Tribune News Service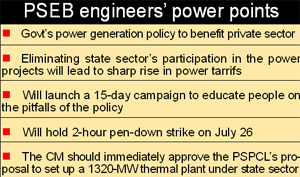 Bathinda, July 9
Strongly criticising the power generation policy of the SAD-BJP government, the PSEB Engineers Association has demanded that the state government and the Punjab State Power Corporation Limited (PSPCL) must scrap all the memorandum of understandings (MOU) entered into with private companies for setting up thermal power plants in Punjab.
Terming the government policy and the MoUs inked with private companies and the National Thermal Power Corporation (NTPC) as detrimental to the interest of commoners and against the national tariff policy framed under the Electricity Act-2003, the Association has decided to launch an agitation against the same.
In a meeting held here today, members of the west zone of the Association decided to hold a two-hour pen-down strike on July 26. They would not even attend calls on their mobile phones during the strike.
The Association also appealed to the Chief Minister, Punjab, to grant an immediate approval to the PSPCL's proposal to set up a 1320-MW thermal plant under the state sector.
HS Bedi, president of the Association, said they would also issue a white paper on the lopsided policy of the Punjab Government to hand over its entire future power generation plants to private companies. The white paper would reveal the ill effects and the pitfalls of the government's policy.
"The Association will launch a 15-day campaign to educate people, including elected representatives, about the pitfalls of the government policy. Later, a meeting will be held to decide the future course of action," he pointed out.
Bhupinder Singh, general secretary of the Association, said the MOUs entered into with private companies for setting up thermal plants were against the guidelines issued by the Central Electricity Regulatory Commission (CERC) from time to time, which mandated purchase of power only through competitive bidding.
"The Punjab State Electricity Regulatory Commission has also raised serious observations on the policy of the government under which thermal plants are being awarded through MOU route," he claimed.
The members of the Association pointed out that the PSPCL was meeting 52 per cent of the demand of its consumers from its own generation and rest of the power was being taken from the central sector allocation and from private players.
"With the commissioning of new plants under private sector without any addition in generation under the state sector, the share of own generation will go down to less than 19 per cent, which will be totally inadequate to run the grid operations in an economical manner," the engineers claimed.
They added, "Private sector is being allowed to take over the generation business in Punjab by eliminating state sector participation in new projects, which will increase the cost of power in the coming years leading to a sharp rise in the power tariff."