Wall on Patel Nagar-Kargi road demolished
Dehradun, July 11
A team of the Dehradun Municipal Corporation (DMC), under the leadership of Mayor Vinod Chamoli, today demolished a boundary wall of the Guru Ram Rai Institute of Medical and Health Sciences blocking the Patel Nagar-Kargi road. The wall had been raised in order to conform to the MCI norms, according to which the college as well as the hospital needed to be on the same premises. With the demolition of the wall the distance between Patel Nagar and Kargi will be shorten by half a kilometer.
CM cautions against growing population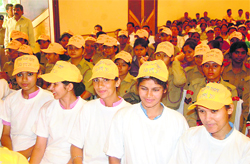 Dehradun, July 11
Chief Minister Ramesh Pokhriyal Nishank today cautioned against the imbalance that could result due to shrinking resources and rising population in Uttarakhand. He said if immediate steps were not taken to stabilise the population, a situation might arise wherein fights for control over resources might become a daily occurrence.

Nursing students and NCC cadets at a function to mark World Population Day in Dehradun on Monday. A Tribune photograph
Three Delhi residents killed in mishap
Dehradun, July 11
Three persons were killed while one sustained serious injuries when the car they were travelling in was hit by a dumper at Laltapad in Doiwala this morning. The deceased have been identified as Manohar (49), Prashant Sharma (45) and Pumi (22). The injured, Rupali, has been admitted to Jolly Grant Hospital.
Impounded vehicles rust at police stations
Dehradun, July 11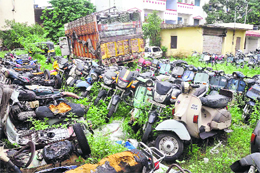 A large number of vehicles that had been impounded for traffic violations or recovered from thieves continue to be lying at different police stations of the state capital, as the authorities concerned have failed to dispose these of. Not only these two-wheelers and four-wheelers give an awful look to the police stations, but also take a lot of space.


Impounded vehicles at a police station in Dehradun. A Tribune photograph
Board to recommend 4 pc job quota for top players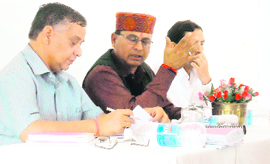 Mussoorie, July 11
A meeting of the State Youth Welfare Board executive committee held here today decided to recommend 4 per cent reservation in government jobs for players who represented the state in national or international competitions.
State Youth Welfare and Sports Minister Khajan Dass (centre) addresses the executive committee meeting of the Youth Welfare Board in Mussoorie on Monday.


Security Act: Doctors may resort to strike
Dehradun, July 11
The state government's inability to show commitment towards implementing the Security Act has stoked up the already prevailing anger among government doctors.
Placement drive at ICFAI varsity over
Dehradun July 11
The Faculty of Management Studies (FMS), ICFAI University, Dehradun, successfully completed the placements of its 6th batch of MBA students on June 30.
Army cycle expedition returns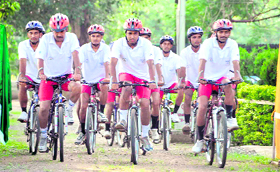 Dehradun, July 11
Although landslides and heavy rain may have forced their cycle expedition to get delayed by four days, the brave Army men today returned to their 72 Field Regiment, Dehradun, completing the journey. This was the first such expedition by the Army to Yamunotri. The expedition, which started from Dehradun, covered 170 km of mountainous route through remote areas.

An Army cycling expedition returns from Yamunotri, in Dehradun on Monday. A Tribune photograph
Uttarakhand Police defeat Indra Club 7-0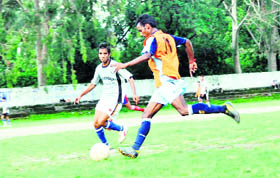 Dehradun, July 11
With a spirited team effort Uttarakhand Police rained goals on Indra Club to rout them 7-0 here today during the ongoing 60th Lala Nemi Dass Memorial District Football League. Anup (fifth minute), Harinder (21st), Sourabh (28th), Pradeep (35th), Deepak (41st and 50th) and Dharmveer (45th) were the scorers for the winning team. Indra Club cut a sorry figure, failing to score any goal.

Players in action in a match in the Nemi Dass Memorial District Football League in Dehradun on Monday. A Tribune photograph
NCC cadets organise plantation drive
Dehradun July 11
NCC cadets of Sardar Bhagwan Singh PG Institute of Biomedical Sciences and Research organised a plantation drive at Balawala here today. They planted saplings in nearby areas and created awareness among the local residents about afforestation and environment conservation.
Camp held
Dehradun, July 11
To mark World Population Day, a camp was organised by the US Agency for International Development (USAID) at Mahant Indresh Hospital today. Young couples were given information about the methods of family planning. "It is important that information about these methods is provided to them," said Tara Sharma, a representative of the USAID. — TNS