These brave men from state took challenges head-on
Sonika Bhatia
Tribune News Service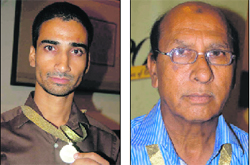 Santosh Singh Negi Rais Ahmed
Dehradun, July 13
Santosh Singh Negi, a 30-year-old physically challenged from Kotdwar in Uttarakhand, had never thought that he would become famous one day. It was one of the most important days of his life when he received a bravery award from UP Governor BL Joshi during the Godfrey Phillips Zonal Bravery Awards-2011 held at Lucknow recently.
He was conferred with the Mind of Steel Award. He was born with short and weak limbs. His mother had passed away when he was just 10-year-old and later his father also died. Despite struggle, he lived his life with dignity and excelled in academics. He started taking tuitions to take care of his siblings and arrange money for their education.
Santosh, a postgraduate in economics, is a teacher of science at Government Inter College, Kotdwar. He has also completed his MBA degree and is now preparing for the civil services. His younger brother is doing PhD in geography while his sister has completed MSc.
"I have seen worst days. Now I want to work for others," he says. "Recently, I had sought information under the RTI regarding facilities being provided by Garhwal University. It was found that students are not being provided proper facilities. I complained about the same to the government and it took action and provided funds to the university to provide proper services," he adds.
Rais Ahmed, a driver with the Uttarakhand Parivahan Nigam for 36 years and a resident of Dehradun, also received an award for his exemplary courage to protect the lives of 37 passengers.
"On April 4, 2000, I was driving a bus from Dehradun to Kotdwar with 37 passengers on board. When we reached near the Lachchiwala turn, suddenly the breaks failed and the worst was that we were on a slope. It was difficult to control the bus and it was running at a speed of 80 km per hour. The passengers got panicked and started crying, but concentrating on my driving, I kept on shouting others on the road to get out of the way. I asked all passengers to go at the back seats of the bus to slow down the speed of the vehicle. I drove it towards the office of the Forest Department, where it rammed into a boundary wall and stopped. Luckily, all of us escaped unhurt," he said.
However, he maintained that his department never appreciated his efforts. "Once the then Transport Minister Hira Singh Bisht had called on me and given an assurance that he would recommend his name for the President's award, but since then the file is lying pending in the Secretariat. When I ask officials, they keep on ignoring for one or the other reason," he added.
Prof Ajay Singh Rawat from Uttarakhand was also honoured for campaigning relentlessly against the builder mafia, mining mafia and timber mafia to protect the environment. It was due to his efforts that the construction of group housing and a building was stopped and 499 persons were penalised in Nainital.
Pahal, an NGO in Uttarakhand, also received the Amodini Award for its exemplary work towards the empowerment of poor women. It is credited with the formation of a maximum number of self-help groups in the state and has chosen micro-financing as the way to make women self-dependent.
All of them received a cheque for Rs 50,000 each along with a medal and a merit certificate except for the NGO, which received Rs 1 lakh as the prize money.
Harmanjit Singh, general secretary of the Godfrey Phillips Bravery Awards, said, " Five zonal awards will be followed by national awards which will take place in Delhi in November."