A few takers for traditional Jandu Singha pakkhis
Aparna Banerji
Tribune News Service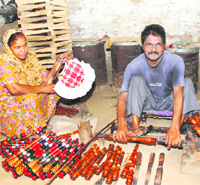 Mangat Ram sits at his little workshop making pakkhi handles and bars manually.
Jandu Singha (Jalandhar), July 14
While on the face of it, Jandu Singha is a nondescript Punjabi village with clogged, open drains and narrow alleys, its treasure lies in a vibrant little industry that has been kept alive by its residents for ages.
The practice of making traditional pakkhis (hand fans) almost goes down to about 300 years in the village.
The pakkhis find mention in Punjabi folk songs crooned by Surinder Kaur and traditional folklore.
But the once thriving industry is now witnessing sad days as an increasing number of people have been opting out of the profession due to lower returns.
From the ornamental wooden handles of a pakkhi to its beautiful weaving and decorative lace lining, it takes work from about five to six people on a single fan.
The men work on the fan's structure while the women take care of the weaving and sewing.
While earlier the work was done without machines, now people have started using motors to shape the wood.
Mangat Ram, who has been in the profession for about 40 years, is one of the few people who still stick to doing things manually. "The result of the work from the machines is not as clean. The fans bar and handle get a good finish only when we work on it manually. The groove left in the bar by the machine is also bigger and doesn't look nice. But who has the patience these days."
Mangat who had left the profession for a period of 15 years in between, took it up again in the 90s. But he rues about the present state of affairs.
"Back when I started, we used to make 1,500 to 2,000 pieces in a day, but now we only make only 100 to 150. A truck full of pakkhis used to be created at the village in a single day. But now workers are leaving the profession. Our kids don't want to take it up either. And honestly, the returns are not as much as they used to be. Cost of raw material has also escalated. The colour sticks (laakh) that we used to get at Rs 1 or less per kg back then are now priced at Rs 500 per kg."
The bigger fan bars sell for Rs 30 to 45 while the smaller ones sell for 25 to 30 and the one who order them then send them to the weavers.
Talking about the government's role, Mangat almost lets out an ironic laugh. "No one from the government ever came to see what's happening here. There are no loans for us, no subsidies. We could organise our business better with some financial help but there's none."
While Mangat still sticks on to the business the old fashioned way, there are others who have moved on to more lucrative options.
Vijay, a saw miller, who has been in the profession for the past 22 years, has been using machines to make the fans. A wholesaler, he supplies wood to other fan makers and makes his own fan handles too. His ancestors were also in the same profession. But with the decrease in dividends and orders, he has now moved on to making carom board edge bands, bats and wickets. "Earlier all our wood was used for fans only but now the takers have reduced. I do make fans and send them to Haryana and Rajasthan but a chunk of my business has been dedicated to sports goods. There's no other option."
For the women, however, it's still a recreational chore that runs along with their domestic work and retains its old charm.
Women mostly make it on order from millers who sell them to their clients.
Ranjit Kaur started making them 10 years ago, 15 years after she got married at Jandu Singha. Since then, she has trained many other brides who got married in the village after her.
"Almost every house in the village has two to three women who know how to weave the pakkhis. Many women keep quitting and new ones picking up the art. Our children, including our sons, also learn it from us but just for passing time. Though the amount of pakkhis we prepare of course depends on the orders from business owners."
Babli, another weaver says, "While a complete medium-sized pakkhi sells for Rs 80, we get only Rs 15 for weaving them. It's just a time pass so it's fine with us. The number of orders has considerably diminished. While a single owner used to summon 25 to 30 women earlier, now the work's given to only four to five women."
"Though the pakkhis are still an integral part of the bridal trousseau. The bulk of the orders we get are for a bride's dowry or when people use them for decorative purposes," Babli adds.
Kaushlya, another weaver, enthusiastically spells out the kinds of weave 'aath kalia, danedar dabbi, phulkari, sari ch phull, gobhi da phull, suraj lahiriya'
"Though there are very few women left in the village who know how to weave the complicated designs like the gobhi da phull," she worries.
Sarpanch Kanshi Ram Kaler says the vocation began with the Muslim fan makers of the village. "During the partition, the village elders hid the original Muslim fan makers of the village so they stayed on. Along with them the vocation spread to other families. But now there are only 50 families in all which pursue the vocation. Ours is the oldest village in Doaba which makes these fans, they are being made here for the last 200 to 300 years."