'Made in India'— a hit abroad
From the masters of miniature art to the best of contemporary art- Indian art is on view at various art galleries of Europe and America. The scale and scope of these exhibitions is inconceivable for the art galleries in India.
Vandana Shukla
Rudra veena exponent Ustad Asad Ali Khan once observed that the day is not far when Indians will have to go abroad to procure a veena, or, to just listen to the veena. In terms of visual arts, perhaps, the situation has already arrived. Blame it on the lack of good galleries, curatorial expertise, inadequate research facilities, or, sheer co-incidence- almost all the great artists from the land, from classic miniature art to contemporary art are showcased abroad this summer. Does that mean Indians have to travel abroad in order to see the best of Indian art?
Also, despite the very best organisational skills of the galleries abroad- with their vast experience in well researched documentation and technology assisted expertise in display, the curatorial attempt to identify Indian art with certain motifs and a strong urge to define 'Indianness' sometimes becomes a limiting factor of these vastly successful exhibitions. For, the Indian art scenario is thriving, is multi- hued, and is far more adventurous in its creative search than a few names that keep appearing in the foreign shows. Their signatures have become recognisable with the time-tested materials and motifs that represent a stereotyped India. This restricted insistence on defining Indianness by foreign galleries that invest millions of dollars and years of hard work in organising these mega shows leaves a first- time viewer of Indian art with certain biases about Indian art.
Indian Highways in Europe
It took over two years for the exhibition titled "Indian Highway" to reach Lyon in France, from London, where it started, and about five years in its preparation. The exhibition of contemporary Indian art does more than just travel- it takes a new spin with every stop it takes. With works of around 30 contemporary Indian artists–including Nikhil Chopra, Bharti Kher, Jitish Kalat and Subodh Gupta, the exhibition is reinterpreted each time to fit changing venues, by making room for new works and to satisfy curatorial whims for each of its new phase. The show found its first home in December 2008, in a crammed Serpentine Gallery in London before unwinding in Oslo, then it went to the Danish city of Herning, to reach Lyon this summer, where it will be on view till the end of July. It is supposed to come back to Delhi, but no one is sure when?
Some critics in London raised questions about Indianness of the works of artists like Bharti Kher, born and brought up in London, who they thought would have more in common with Damien Hirst than with Husain, whose works were later withdrawn from the show because of brewing controversy back home, adding to more confusion about what should and should not come under the parameter of Indian art in these shows.
Some also expressed concern that the Indianness of the work defined by bindis, rickshaws and steel tiffins may overshadow–and sometimes take precedence–over artistic merit. Others suggest that this is done to make the show more palatable to a Western audience, who may find it difficult to come out of its perceived 'image' of India. But the show has improved from its London avatar, with focus on themes like urbanization which has given it a sharper edge. Perhaps by the time it reaches Delhi, it will be an even better show for the home- viewers in India.
Indian Masters get a name-Zurich
One cannot help wondering why this could not have been done, here, in India. The Way Of The Masters – The Great Artists of India, 1100–1900, shown at Museum Rietberg, Zurich, between May to August, 2011, traces landmarks of 800 years of Indian painting with some 240 masterpieces by more than 40 artists. For the first time an exhibition offers a place of pride to the names of the anonymous painters who remained in oblivion for centuries despite greatness bestowed upon their art. The exhibition offers a comprehensive overview of the entire history of Indian painting. What makes it unique and exciting is that the focus throughout is on individual painters rather than on miniature art itself, as has been the practice.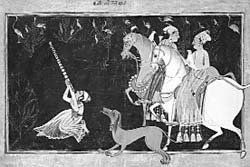 Zurich Reitberg-Rupmati and Baz Bahadur Hunting (c 1700) — Photo courtesy: Rainer Wolfsberger
A result of decades of painstaking research to identify individual artists- for which small signatures were deciphered microscopically, pilgrim registers were searched for artists' names and genealogies, and systematic stylistic comparisons were made to ascertain the names. In addition, the museum is accompanying the exhibition with a major publication on its findings on the unsung painters which would provide new bases for further research in miniature art.   
More than forty artists at the centre of the exhibition, whose works convey a broad and comprehensive idea of Indian painting to the visitors are picked from different geographical regions. The earliest exhibits are illustrated manuscripts from the twelfth century, the latest works- from the early twentieth century are large-format paintings from Udaipur, which in their choice of composition and perspective reveal the growing influence of photography. It is a unique effort on the part of its three renowned curators, Milo C. Beach (Smithsonian, Washington), B.N. Goswamy (India) and Eberhard Fischer (Zurich), to lend an identity to the most significant painters from over 800 years of history and area spread from Esfahan in Iran to Delhi and the Deccan in India. The exhibition will also be shown at the Metropolitan Museum of Art in New York from 26 September 2011 to 8 January 2012. Chances of its travelling to India are bleak.   
New masters in Venice
India is making a debut at the 116 year old Venice Biennale, one of the world's biggest and the most elite art carnivals that draws the best of visual art selected from across the world. The exhibition, with its 28 settled country pavilions, built inside the Giardini, has, for the first time given space of about 250 sq metre to India for four months ( June- Oct). The Indian pavilion showcases seven contemporary mixed media art works christened "Everyone Agrees: Its About to Explode" by four leading artists.
For a country of a billion people, with the diversity that only India can absorb, selecting such works that make a " strong symbolic statement about the country", in the words of Ranjit Hoskote, who curated the exhibition, was not an easy task.
The India exhibition includes new-age installations, video art and paintings by New York-based Zarina Hashmi, Gigi Scaria of Delhi, Amsterdam-based Praneet Soi and Guwahati-based Desire Collective Machine (DMC) – a multi-disciplinary art collaboration between two young artists, Sonal Jain and Mrigankya Madhukaillya. Zarina Hashmi represents "post-partition and diasporic sentiments". She challenges the perceptions of space and borders through her work – in the way familiar locations in the country are delimited, traversed and the memories they invoke in us. The DMC has shot a 35 mm film portraying cultures, realities and change in the region. Praneet Soi works across spaces with the marginalised potters and clay idol makers of Kumartuli – an old potters' colony by the bank of the Ganges in Kolkata, he has created a 50-feet mural in Venice. Mixed media artist Gigi Scaria represents the internal migration, his works portray the changing social realities and "interpretations of home". He has made video installations. The show is sponsored by the Ministry of Culture, this was for the lack of financial support that India could not participate in The Biennale for 116 years. And ordinary Indians who cannot travel to Venice will be deprived of seeing it.
Paris- Delhi- Bombay
For a country viewed as an emerging economic power, the form of unique confrontation of perspectives on its cultural complexity draws fresh artistic energy. Expressed through artistic experiences and creative visions, Paris- Delhi- Bombay, an exhibition of Indian and French artists on display at Centre Pompidou in Paris, is a unique amalgam of visuals on India, with all possible contradictions and genres, documenting and yet eluding India of a million shades.
Whereas the possibility of two cultures merging into one remains perennially debatable, the exhibition is certainly an unprecedented example of Franco- Indian collaboration, created on a scale that is enormous. With a long and impressive list of art historians, curators, sociologists, political scientists, philosophers and anthropologists from both the countries, who worked with a team from Centre Pompidou on the concept of the exhibition for over four years, the analysis and reports prepared by the experts were then sent to select artists, majority of whom then worked on special commissioned works. The 30 artists from India are well known names like Subodh Gupta, Atul Dodiya and Sudarshan Shetty, to the very young quirkier voices of Tejal Shah, who is never shy of expressing sexuality of a different shades and Nikhil Chopra, whose works with performance art have created a unique niche. The curators were careful to select artists who made their first mark in the India of the liberalized economy; therefore reflecting global aspiration in the Indian art. Most of the artists filtered for the show are in the age group of 35 to 60, barring Vivan Sundaranm and Nalini Malini, both of whom have continued the process of rediscovering themselves. The exhibition which started in May will run through September, 2011.
High art accessible abroad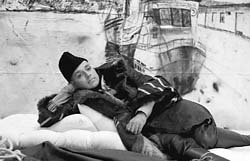 Director Amit Dutta, in collaboration with miniature art expert Eberhard Fischer created the first ever authentic, visually engaging documentary on Nainsukh, the greatest Indian painter of the eighteenth century. "Nainsukh" was shown at the Venice Film Festival and in shorter versions as well as in a special show at, The Way Of The Masters, Museum Rietberg, Zurich.
"One can be India in different ways from different locations. India is not a territorially bounded entity. It expands in the global space of imagination." Ranjit Hoskote, curator, Indian art show at Venice Biennale.