Cultural wastelands
Either the government of Haryana believes the state does not have any talent for visual and performing arts, or, it is not interested in promoting it. Why else would it not think it necessary to have state chapters of Sangeet Natak and Lalit Kala Akademi? Besides, it has not even designated
an independent director for the department of culture, which has been clubbed with the department of public relations.
Vandana Shukla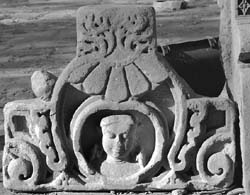 LIKE sedimentary rocks, the history of Haryana is formed by several layers of mythological, historical and cultural materials, precipitated over hundreds of years. But, the state government does not need cultural bodies to take care of its cultural landscape spread across its twenty one districts. This makes Haryana a state of contradictions. While the Disneyland of Indian culture showcased at Kingdom of Dreams in Gurgaon, shrieks in coarse and gaudy distortions of the culture of this land, on the outer periphery of the same town, khaps claim a different route to culture in the name of protecting tradition. In the middle of it all is a government, which is clueless about how to spell culture in a state where it is used as a synonym for agriculture.
The genesis of the state's cultural identity- crisis lies in the historical and geographical similarities, shared with the cultural roots and off -shoots of the state from which it was bifurcated in 1966- Punjab. Like Punjab, the state had been close to the seat of power in Delhi, for centuries invaders had marched through its lands, destroying all that it nurtured. All the three major battles of Panipat  (1526, 1556, 1761) were fought here, apart from the mythological dharm yuddh of Kurukshetra.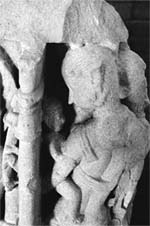 Panels from the site museum of Bhima Devi Temple in Pinjore, result of a chance discovery which led to unearthing of a large number of beautiful sculptures and architectural remnants of Gurjar Pratihara School of Art of 8th to 12th century AD. The Style and treatment of these Sculptures is very close to those of the Khajuraho temples in Madhya Pradesh.
Photos by the writer
The Babel effect
Almost the same could be said of Punjab. Yet, there are differences.
Right after the state's inception, the emphasis was laid on providing better infrastructure ( with peripheral towns of Delhi turning to industry). As a result, the bureaucracy provided one of the best infrastructures, especially a network of 44 bird-named tourist complexes dotting the five national highways, in a state which had almost nothing to boast of in terms of tourist attraction. Not that the best hands to nurture and promote culture belong to bureaucracy, it is perhaps the only state which does not have a separate department of culture, to identify and promote talent in the field of arts. Hence, there is no director for the department of culture in Haryana, which, in fact, is clubbed with the department of public relations. Understandably, the state has no cultural policy. Since there is no dearth of money in the state, impeccable infrastructure is created for the cultural bodies. Buildings and auditoriums with marbled floors and furnishings gape in awe of their own emptiness, as the occupants to suit their grandeur remain awaited.
The state boasts of four language academies, perhaps the only state to offer such respect to so many languages! Apart from Hindi, Sanskrit and Punjabi, it also has an Urdu Academy. A multi-storeyed impressive building is in place at Panchkula to house them with honour, but, do not ask the relevance of the work carried on in these academies?
Haryana Sahitya Academy, which is also responsible for taking care of Haryanvi literature initiated a novel project, of starting pathak manch( reader's club) in all the 21 districts of Haryana. The project did well for promotion of creative writing and reading in small towns, but, for reasons best known to the government, it was scrapped. Not that availability of funds was a problem, the budget was raised from Rs 70 lac to Rs 2 crore.
The academies do not have a plan to promote and propagate the languages by way of bringing in fresh talent. And, people of the state have a legitimate reason to demand, why is there no separate academy for Haryanvi in Haryana? Even though poets like Suresh Sharma and Ashok Chankradhar have popularised Haryanvi.
Lost in separation
Whereas Punjab could get a college of art, in lieu of the Mayo School of Art, it was forced to leave behind due to the partition of India in 1947, Haryana could not get any, when it bifurcated from Punjab. No wonder, it does not have any achievements in the field of fine arts. Art flourishes with institutions and patrons, the state has created none. Even though, most famed artists of the country like Subodh Gupta, Krishen Khanan, Raghu Rai etc live in Gurgaon, the state can claim no share in their greatness.Neither serious buyers nor promoters of art take the state under their radar.
Then, the state never thought of creating a state chapter of the national academies for art and culture; Sangeet Natak Akademi, and Lalit Kala Akademi. For years a few voices in the state, who would like to see the state come out of its cultural inertia, have been demanding establishment of the Akademies, but, to no avail. Last year, Pt Jasraj, the renowned vocalist of the Hindustani classical music, who hails from Pili Mandori village of district Fatehabad, requested the state chief minister to let Sangeet Natak Akademi be opened in Haryana to promote classical music, no concrete development has taken place on this front so far. A few universities and colleges have introduced courses in fine arts, but none has been able to produce artists of repute. For namesake, the state claims to have its own Haryana Kala Academy, whose scope remains confined to folk music and dance.
2000-year- old grazing fields
A state so rich with layered histories of different periods, from the time of Mahabharata to the last battle of Panipat, does not have a state museum of its own to showcase evidences of historical richness of the land. The state is littered with Buddhist sites of great historical relevance at Palwal, Srughna at Sugh, Kurukshetra, Agroha and Asthal Bohar. The Asandh stupa, said to be more than 2000-year-old is nation's biggest Buddhist Stupa at 25-metres of height and at least 75 metres in diameter. It is a grazing field for cattle, bricks used in the stupa are removed by villagers for domestic use. These precious sites are wastelands of our heritage, turned barren with neglect and callousness.
The story of the Sufi sites is no different.The sole Shri Krishna Museum that the government created in 1987 at Kurukshetra lacks imagination in both creating an ambience, and for the manner of showcasing artefacts in a structured and planned manner.
The state has immense untapped potential in the field of arts and literature which can be explored only by creative interventions, feels Desh Nirmohi, former director, Haryana Sahitya Academy. While Kamal Tiwari, chairperson, Chandigarh Sangeet Natak Akademi, who had been associated with the Dept of Culture Haryana, says, "A well-defined cultural policy alone can monitor and promote cultural growth in a proper manner. In the absence of it, whims and fancies of the bureaucracy will continue to shape or distort it."
Small endeavours for a vast reach
These are tales of sincere endeavours taken up by resolute individuals. Late Swami Omanand Saraswati who established Jhajjar Museum, or the Archaeological Museum of Gurukul in 1959, collected artefacts for the largest museum in the state by personally travelling through the length and breadth of the country. His collection of antique coins, rare manuscripts, sculptures, idols and the famous 427 copper leaves, on which Satyartha Prakash - the great work of Swami Dayananda Saraswati had been written, were bought for a selfless cause, to be preserved for the land where Arya Samaj movement had made a great impact.
Karnal based HIFA ( Haryana Institute of Fine Arts), in its concerted effort achieved what the cash-rich government failed in doing; recognising and promoting unsung talent from the field of art, culture and heritage conservation. The organisation started working in 1994, by organising school level music classes and painting workshops. In the absence of support from the government and the corporate sector, it involved people for support- in raising funds as well as promoting cultural events in a well planned, organised and phased manner. Today, apart from preventing many dying traditions and arts of the state- like the been players, the sarangi players, terra cotta artisans, to facilitating art exhibitions of contemporary art from the state, and organising music festivals and kavya sammelans, the organisation is working towards preserving and protecting saang and ragini, in its true form, free of vulgarisation that has seeped in due to absence of patronage. They have also instituted 21 awards, in almost all fields of art and culture and have been honouring artists without fail, every year.
Sangeetlok of Ambala organises its annual festival of classical music on a regular basis despite grave financial constraints. Adi Manch, another city based NGO has been relentless in organising and promoting theatre festivals in the state. Dr Piyush Kumar of HIFA says, "If sports persons could be recognised and promoted with cash and kind, why not artists?"
Country side music
Strangely, many villages in Haryana are named after the ragas from Hindustani and Karnatik music. In Dadri tehsil, several villages have names related to well known ragas like Nandyam, Sarangpur, Bilawala, Brindabana, Todi, Asaveri, Jaishri, Malakoshna, Hindola, Bhairavi, Gopi Kalyana etc. Similarly, in Jind district there are Jai Jai Vanti and Malavi villages.