He translated literature and music for celluloid
Vandana Shukla/TNS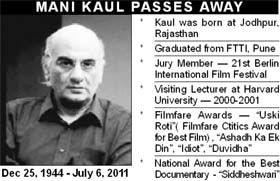 For him, film making was a social act, an attempt to understand the world we live in, distorted by education and media. One of the pioneers of parallel cinema in India, Mani Kaul passed away on Wednesday morning in Delhi.
He was 66. For a film-maker whose films like Uski Roti ( 1969), Ashadh Ka Ek Din, Duvidha and Naukar Ki Kameez, rarely managed a national release, the popularity he enjoyed was immense. Perhaps, for the fact that he won more awards for his films than the releases and new-wave cinema was more written about than seen in the 1970s.
Even after the demise of the new-wave cinema, Kaul's films remained at the centre of creative appreciation for two reasons; he made outstanding documentaries and his amazing understanding of Indian classical music, which he explored in his films and documentaries, not only as a subject but as a technique as well.
Secondly, he belonged to that rare breed of film-makers in India who tried to translate complex works of literature for celluloid. Both "Uski Roti" and "Ashaadh Ka Ek Din" were based on the short stories written by Mohan Rakesh, a celebrated Hindi writer from Jalandhar. "Duvidha" ( 1970)was based on a folk- tale from Rajasthan written by Vijaydan Detha- the story explored purity of extra-terrestrial love as compared to the physical love of a man. "Naukar Ki Kameez" , authored by well-known novelist Vinod Kumar Shukla was based on the tale of an ordinary boy whose house was flooded every year during rains, in a novel by the same name. "Idiot" based on Fyodor Dostoevsky's novel, received the Filmfare Critics Award for the best film, four times. All the characters explored by him were complex, vulnerable beings.
His films were different from the way films were made in the 1970s because he did not treat celluloid as a visual medium. To him, films were temporal, therefore time acquired greater significance in the narrative rather than visually engaging sets. Highly influenced by the French film maker Robert Bresson, Kaul treated his characters as acted upon, people who surrender to the unknown forces of time.
Kaul was a trained Dhrupad singer and will be best remembered for the finesse with which he made documentary films based on Hindustani classical music. "Siddheshwari", based on the amazing life of thumri singer of Banaras, Siddheshwari Devi, which he described as a poetic documentary, won several laurels ( including the National Award for the best documentary in 1989). "Dhrupad", was made on the delicate fabric of composite culture represented by Dagarvani, the Dhrupad singers of the Dagar lineage, descendants of Pt Haridas, who later had to convert to Islam.
He was aware of the limited audience for his films, he knew his films were better-known in Europe than in India. Perhaps he was ahead of his times. The Indian audience is now mature enough to appreciate the new idiom of cinema which Kaul explored in the 1970s and 1980s.