Terror threatens economy
Investors losing confidence in India
by Jayshree Sengupta
The recent terrorist attacks in Mumbai have sent a chill down the spine of the Indian economy. The Bombay Sensex fell the next day and there is apprehension about what the government is doing to fob off such attacks in the future. Internationally also, India's preparedness for such attacks and the state of its intelligence collection are going to be watched by investors and tourists.
Ever since the 1990s there have been sporadic attacks by terrorist groups that have claimed innocent lives in India. In fact, the economic success that India is proud of today can be ruined if such terrorist violence continues. Most of these are from groups with ideology and are masterminded by educated people, but recruitment is mainly from youth who are disgruntled and often without jobs and education. These groups, which may remain dormant, can become active to catch public attention anytime. New indigenous groups are being formed all the time. There is imported terrorism also.
The rise in terrorist acts in India has been noted by the Institute of Economics and Peace, a Sydney-based think tank, which has ranked India as 135th out of 153 countries as one of the least peaceful nations in a recent survey. India has been ranked as less peaceful than Bangladesh and South Africa. Iceland and New Zealand are most peaceful. The ranking is based on more than 20 internal and external indicators of peace, including the number of deaths from conflicts, threat of terrorism, likelihood of violent demonstrations and the expenditure on the national military budget.
There is a high correlation between the high and low levels of corruption and peace. Low corruption is strongly correlated with greater peace. India is ranked 87th out of 178 countries, according to Transparency International's Corruption Index and this indicates a high level of corruption. There have also been many violent demonstrations in recent years and India's military budget has been increased manifold over the years — all indicating that there are serious threats present.
The ongoing Maoist insurgency remains uncontrolled and it is playing havoc with investors' and industrialists' confidence and expectations. It has spread over many states — Andhra Pradesh, Orissa, Chhattisgarh, Bihar, Jharkhand and parts of West Bengal and Maharashtra. It is also true that many criminal elements are operating under the Maoist banner. The spread of Maoism has affected the mining and metal sector adversely, and terrorism in general has led to damage to assets, disruption of production and hurdles on further industrial expansion. It is a very serious problem and has claimed many lives. It is spread over 40 per cent of India's geographical landmass.
There are other groups, especially in the Northeast, which have been claiming responsibility for derailing trains and planting bombs in crowded places. It is not just the failure of the government to collect intelligence but also its inability to maintain law and order. Much crime is being perpetrated in the name of one or the other of these terrorist groups, and this can escalate in the future.
Since many of the members of terrorist groups in poorer states are local village youths, rehabilitating them with proper jobs and training can prevent them from being active in these groups. Development in the areas affected by Maoist activities has to be rapid. Though these areas are developing, progress there is slow compared to that in cities.
It is sad that while 350 million Indians are doing well and belong to the middle classes, there still are thousands who have been left behind with little education, health care, assets, skills and a future. While a large section of the urban population is living comfortably, the slums are growing rapidly with few amenities. These glaring inequalities are breeding discontent, which is being tapped by criminal and anti-social elements and terrorist outfits. Ideology of terrorist groups is often not understood by those who join them but inequalities, hunger and exploitation drive many to take to violent means. Other countries also have inequalities, but in India this has grown rather suddenly and sharply. The level of inequality is also not adequately reflected by the Gini coefficient, which has risen from 34 to 37.8 reflecting moderate inequality. (When Gini coefficient is 0 it means no inequality and when it is 100 it means total inequality.) Also when ranking is done according to income, the lowest 20 per cent people have only a share of 8 per cent of the total income of the country and the top 20 per cent have 45 per cent income.
The rise in India's growth by around 8 per cent in recent years has also been uneven across states and sectors. Many states remain poor and this has led to mass migration to cities. If rural areas had been provided better health care and good education facilities, there would not have been such heavy migration. Also, if agriculture had been more productive, rural poverty would have decreased rapidly.
The urban infrastructure is clearly overstretched, and the police and the judiciary are overburdened. It seems an impossible task to monitor every corner and round up every suspect. The task is vast and daunting unless civil society cooperates.
Land disputes and inequalities in land distribution in rural areas are also glaring. The marginalisation of the Scheduled Castes, the Scheduled Tribes, the Other Backwards Classes and the minorities has gone on for decades in some states which has triggered off conflicts there. Over 85 per cent of the rural population is either landless or comprises sub-marginal or marginal farmers; they can become paupers with one big illness in the family or a harvest failure. How to prevent them from joining the Maoists and other such groups is going to be a major challenge.
If India becomes a hotbed of conflicts — many think this may happen in the future — attracting foreign investments will be a major problem. Even foreign institutional investors (FIIs), which are driven by short-term gains, have withdrawn money from Indian stock markets. Our domestic investors are also looking for investment opportunities abroad.
The result of an increase in terrorist acts will also mean that the cost of raising capital will go up. Indian companies, which have not been spending much on security, will have to spend more on keeping track of the movement of goods and personnel. Shopkeepers will have to be vigilant and individuals will have to arrange for their own security as is already the case in big cities. The government will have to spend a lot more on intelligence gathering and combing crowded areas for bombs on a regular basis to prevent such incidents as occurred in Mumbai on July 13.

Lady Chandu Lal's ring
by R.K. Kaushik
Only two Indians became Governors during British rule. The first was Lord Satinder Pal Sinha, who became the Governor of Bihar in 1915, and the other was Sir Chandu Lal Madhav Lal Trivedi, who became the Governor of Orissa in January, 1946. He was an ICS officer of the 1909 batch of the UP (United Provinces) cadre. He took over as Governor of Punjab on August 15, 1947.
He visited Amritsar after 3-4 days and along with his wife stayed in the circuit house. Sardar Bahadur Narinder Singh was the Deputy Commissioner of Amritsar and Mr A.K. Kaul was the Superintendent of Police.
Next morning Lady Chandu Lal noticed that her diamond ring was missing. Immediately, the DC and the SP were informed. Both rushed to the circuit house in a perplexed state. There was confusion — nay amazement — among the officials as to who had the audacity to steal the Lady Governor's costly ring.
The Governor was livid and did not hesitate to show his anger at the loose arrangements for him and his wife's stay. Mr Kaul deputed Inspector Imtiaz Ali, in charge of the detective wing, to investigate the case. Sir Chandu Lal went back to Shimla and a week passed without any success.
Ultimately, the SP and the Detective Inspector went to the shop in Delhi from where Lady Chandu Lal had purchased the ring. They bought an exactly similar diamond ring with their own money and to cover up their action, arrested the head sweeper of Municipal Committee of Amritsar and forced him to confess that while cleaning the circuit house he had stolen the ring from Lady Chandu Lal's purse.
Mr Kaul and Inspector Imtiaz Ali boisterously and pompously announced their "success" to the Press. Sir Chandu Lal was happy and instructed the Chief Secretary of Punjab, Mr Mulkhraj Sachdev, and Inspector-General of Police Sant Parkash Singh to give four special increments to Mr Kaul along with an appreciation letter for his investigative skills and an award of Rs 5,000. Inspector Imtiaz Ali was promoted as DSP along with an award of Rs 2,500.
Sant Parkash Singh also hosted a dinner in honour of these officers. All were happy and gleeful.
Suddenly, Lady Chandu Lal found the original ring in her jewellery box placed in the almirah of her bedroom. Now, it was a strange situation as she had got two diamond rings, one allegedly recovered from the head sweeper and the other one lying in the jewellery box. She told the entire story to her husband who did not take much time to understand the trick played.
He rushed to Amritsar and suspended Mr Kaul and dismissed the newly promoted Imtiaz Ali. He also released the head sweeper arrested in this case and gave him Rs 2,500 from his own pocket and apologised to him in front of the district officers. The Deputy Commissioner also sought his pardon.
Mr Kaul remained under suspension for a long time and later died of a heart attack. Imtiaz Ali went to Pakistan, where he got his job restored and retired as IG in the Punjab Police in 1975. The released head sweeper got promoted as Supervisor in the Municipal Committee of Amritsar. The extra ring was returned to the government treasury.

Journalists may have learnt not to overreach themselves, and to obey the law, though I strongly suspect that these were lessons most of them had no need of, says Stephen Glover.
A drama that's no cause for celebration
As the smoke lifts from the battlefield after the most tumultuous week in the modern history of the press, it is possible to discern a number of figures, living and dead. There lie the mutilated corpses of Rebekah Brooks and of Murdoch lieutenant Les Hinton, a far more substantial player. Over there is Rupert himself, badly, possibly fatally, wounded, and that staggering, mud-caked man by his side is his son James, who will never lead his father's bedraggled army.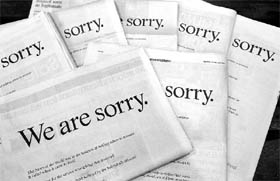 The Times, Sun, Guardian, Financial Times, Independent, Daily Mail, and Daily Telegraph newspapers displayed featuring an apology from News Corp chairman and chief executive officer Rupert Murdoch, in London on July 16, 2011. "We are sorry," Rupert Murdoch said in British newspapers on Saturday, as News Corp tried to quell the uproar over a phone-hacking scandal that has shaken the company and claimed its top two newspaper executives. — Reuters photo
A few onlookers may find this scene affecting; most are exultant. But what of the future of our newspapers? Of individual titles? Pleased as I am to see proud Rebekah humbled, I believe the press as a whole is weaker than it was a week ago. If, as seems quite likely, the tribunal under Lord Justice Leveson recommends statutory regulation of newspapers, that will inhibit high-minded titles as well as the tabloids. Incidentally, those elevated papers which have been making a nice living from the off-cuts of the News of the World will find the board is bare.
Look at individual titles. As an unregenerate lover of newspapers Rupert Murdoch will never willingly sell The Times, Sunday Times and Sun, but he may soon be kicked upstairs by hard-hearted moneymen in New York, for whom these papers are an embarrassment or irrelevance. What then? God knows, I have criticised The Times over the years for dumbing down, but it is still a fine paper, and honest enough to write fearlessly about the Murdoch empire over the past week. Since he acquired it 30 years ago, Mr Murdoch has stoically borne losses running into hundreds of millions of pounds. Whoever picks it up next may be less accommodating than he has been and, believe it or not, less respectable. Ed Miliband, who apparently wants to expel the Murdoch papers from Britain, should take note.
In the short-term, The Guardian, Daily Telegraph and The Independent may garner a few disgruntled Times readers dismayed by the re-demonisation of Rupert Murdoch. After all, such was the prospectus on which The Independent was launched 25 years ago. But the potential benefits are probably slight. When the fuss has died down, all three titles will still face contracting sales and, in the case of The Guardian and The Independent, very significant losses. By the way, I should apologise to The Guardian for suggesting in November 2009 that it was exaggerating the phone-hacking affair. It was right and I was wrong. And yet I cannot believe its editor, Alan Rusbridger, views the wreckage with serenity.
There is the Daily Mirror, accused by some of indulging in the dark arts of phone hacking. Perhaps Lord Justice Leveson's inquiry will enlighten us. Having lost so many sales over recent years, the paper is in no state to withstand the kind of onslaught experienced by the News of the World. On the other hand, being left-of-centre and Labour-supporting, it may not, if guilty, be subjected to the full vitriol of the chattering classes.
Which brings me to the Daily Mail. In a swirling piece in Saturday's Guardian, Polly Toynbee rejoiced at the disintegration of the Murdoch empire ("Rejoice! Roll on the tumbrils") and ardently wished the same fate on the Mail, which she hates more than anything on earth. I doubt this will happen as a result of phone hacking since the paper's editor, Paul Dacre, has reportedly assured its proprietor, Lord Rothermere, that such practices have not been countenanced. Polly's desire to close down newspapers she does not like seems a shade totalitarian.
Reuters reported last Thursday that the Mail group is planning to launch a Sunday red-top to fill the gap created by the (quite pointless) closure of the News of the World. A new paper possibly called Sunday, and described as "light, breezy and not too sleazy", may appear as soon as next weekend, partly drawing on the resources of Mail Online, which runs many more celebrity stories than the Mail. (Press pundits who declare that the red-top business model is irretrievably broken are probably wrong. Celebrity culture is strengthening.) Murdoch plans to launch a Sunday edition of The Sun to replace the News of the World, but he may feel that to do so soon would invite charges of bad faith.
The Mail group may have stolen a march on him, though given the reduced condition of the Sunday red-top market, in which by far the strongest player, The News of the World, was barely profitable, it seems unlikely that it will make an enormous fortune out of its new venture.
Unlike the Polly Toynbees of this world, I want a strong, pluralist press, with a wide variety of newspapers, many of which do not reflect my point of view, and all of which feel robust enough to stand up to power without fear of over-regulation.
Before the recent travails of the Murdoch empire, falling sales and declining budgets meant that the prospects of such a strong and diverse press were much less certain than they once were. It would be hard to argue, following recent developments, that the lookout for newspapers has improved.
Of course, journalists may have learnt not to overreach themselves, and to obey the law, though I strongly suspect that these were lessons most of them had no need of. After all the sound and fury of the past week, I am left with the following rather grim thoughts.
The assault on the press by the political class and parts of the media is mostly regrettable. The diminution of Murdoch's power is a good thing but his complete exit from this country, and in particular his abandonment of The Times, could well be a bad one. And this great crisis, with its attendant tribunals and name-calling, distracts us from a vital truth – that our supposedly fearsome newspapers are all less buoyant than they were, and many of them are growing ever more feeble.
—The Independent

a Newspaper shut down, Apologies Tendered, some resignations, but British Public Still Angry : A timeline
Here are the main events in the phone-hacking scandal leading to Rupert Murdoch closing the 168-year-old News of the World tabloid and the resignation of his top executives:
2000: Rebekah Wade is appointed editor of Britain's best-selling Sunday tabloid News of the World. Aged just 32 and the youngest national newspaper editor in the country.
2002: Schoolgirl Milly Dowler, 13, disappears in the London suburb of Walton-on-Thames in March. Her murder was one of the most notorious of the decade and her killer was convicted only last month.
2003: Wade becomes editor of daily tabloid The Sun, sister paper to the News of the World and Britain's biggest selling daily newspaper. Andy Coulson, her deputy editor since 2000, becomes editor of the Sunday paper.
Nov. 2005: The Sunday tabloid publishes a story on a knee injury suffered by Prince William, Queen Elizabeth's grandson and second in line to the throne. That prompts complaints by officials of the royal court about voicemail messages being intercepted. The complaints spark a police inquiry.
Jan. 2007: The News of the World's royal affairs editor Clive Goodman is jailed for four months. Private investigator Glenn Mulcaire is given a six-month prison term.
May 2007: Coulson becomes the Conservative Party's director of communications under leader David Cameron.
June 2009: Rebekah Wade becomes CEO of News International. She marries, for a second time, becoming Rebekah Brooks.
July 2009: The Guardian newspaper says News of the World reporters, with the knowledge of senior staff, illegally accessed messages from the mobile phones of celebrities and politicians while Coulson was editor.
Sept. 2009: Les Hinton, chief executive of Dow Jones tells a committee of legislators any problem with phone hacking was limited to the one, already well-publicised, case.
Sept. 2010: Members ask parliament's standards watchdog to begin a new investigation into the hacking allegations at the Sunday tabloid and its former editor Coulson.
Pressure for a new investigation grows after the New York Times reports allegations that News of the World reporters "routinely" sought to hack phones.
Jan. 2011: British police open a new investigation into allegations of phone hacking at the tabloid. Police had said in July 2009 there was no need for a probe into the hacking claims. The News of the World announces it has sacked senior editor Ian Edmondson after an internal inquiry.
April: News of the World chief reporter Neville Thurlbeck and Edmondson are arrested on suspicion of conspiring to intercept mobile phone messages. They are released on bail. The News of the World admits it had role in phone hacking.
June 23: Levi Bellfield is found guilty of murdering Milly Dowler in 2002.
July 4: A lawyer for Dowler's family says he learned from police that her voicemail messages had been hacked, possibly by a News of the World investigator, while police were searching for her.
The list of those possibly targeted by the paper includes victims of the London suicide bombings of July 7, 2005, and the parents of Madeleine McCann, who disappeared in Portugal in 2007.
July 6: Cameron says he is "revolted" by allegations that investigators from the paper eavesdropped on the voicemail of victims of crime.
July 7: News Corp announces it will close down the News of the World. The July 10 edition was the last.
July 8: David Cameron announces two inquiries, one to be led by a judge on the hacking scandal, another to look at new regulations for the British press.
The News of the World's former royal editor, Goodman, is re-arrested.
July 10: Rupert Murdoch arrives in London to handle the crisis.
July 11: Murdoch withdraws News Corp's offer to spin off BSkyB's Sky News channel. This opens the way for the government to refer News Corp's bid for the 61 percent of BSkyB it does not already own to the competition commission which will carry out a lengthy probe.
Allegations surface on the same day that journalists at several News Corp papers have targeted former prime minister Gordon Brown. Police confirm to Brown that his name was on a list of targets.
July 13: News Corp withdraws its bid for BSkyB. Cameron gives details of a formal public inquiry into the affair.
July 15: Brooks resigns as chief executive of News Corp's British newspaper unit. Les Hinton also resigns as chief executive of Murdoch's Dow Jones & Co., which publishes the Wall Street Journal.
July 16/17: A direct apology from Rupert Murdoch is carried in all UK national newspapers under the headline "We are sorry."
July 17: Brooks is arrested. — Reuters