M A I N N E W S
Row over, Army Chief to retire in May
Decision about age controversy taken after Defence Ministry consulted Law Ministry & AG
Tribune News Service
New Delhi, July 21
Ending months of raging controversy that threatened to vertically split the 1.3-million-strong Army, the Ministry of Defence has decided on the date-of-birth issue of Army Chief Gen VK Singh.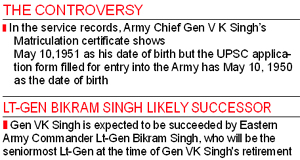 The Army Chief will now retire, as slated, in May next year as the ministry has decided that his date of birth, May 10, 1950, will be considered for his superannuation, rejecting his claims that he was born in May 1951.
Though the Army Chief can move court or the Armed Forces Tribunal in appeal, such a move can embarrass the Army Chief, the Army and the government. The Defence Ministry took the decision on the basis of the opinion given by the Attorney-General and the Law Ministry, sources said.
The dispute had arisen after two DoBs - May 10, 1950, and May 10, 1951, - were detected in Gen VK Singh's service records.
The matriculation certificate showed May 10, 1951, as his date of birth, but the UPSC application form filled for entry into the Army has May 10, 1950, as the date of birth.
Determination of the correct year of birth was crucial as Gen VK Singh's tenure as the Army Chief will be for three years or till he turns 62, whichever is earlier.
With May 1950 being considered as his date of birth, Gen VK Singh will have to retire in May next year, when he will complete 62 years of age.
Gen VK Singh had contended that May 1951 should be treated as his date of birth and sought the view of three former Chief Justices of India. However, in view of the controversy, the Defence Ministry had sought the opinion of the Law Ministry as well as the Attorney-General, which opined that May 10, 1950, should be treated as the date of birth since it was entered in the UPSC form at the time of his joining the National Defence Academy.
If there had been any discrepancy, the Army Rules, 1954, allow it to be corrected within two years of joining and not at this stage. As per the military secretary's record, the date of birth was May 1950. Gen VK Singh was commissioned in the Army in 1970, but it was only in 2006 that the military secretary branch asked him about the two dates of birth in his official records.
General VK Singh had given a written undertaking that he would abide by any decision on his date of birth.
With today's decision, eastern Army Commander Lt-Gen Bikram Singh is the senior-most Lt-Gen at the time of Gen VK Singh's retirement. Had the ministry accepted the date of birth as May 1951, Lt-Gen Bikram Singh would have retired at 60 years of age and then the senior-most officer would have been Lt-Gen KT Parnaik, presently the northern Army Commander.