Scaling new walls
Unlike Egypt, Iraq and Afghanistan, where circumstances forced the youth to come out of their cocoon, middle- class youth in India and other democracies are facing a different kind of challenge. They are trying to negotiate the limits of a world of privilege, comfort and security.
Samina Mishra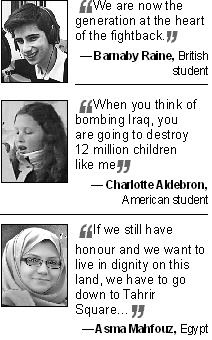 Poor children can't understand the colour purple, we are informed by teachers of a prestigious Delhi school via a recent article in the Wall Street Journal. Not having access to blackcurrant ice- cream and potassium permanganate to clean fruits and vegetables at home can be a serious shortfall in socialisation—a gap so huge that it can bring trained teachers of one of Delhi's supposedly best schools to tears.
It's hard to explain a colour, I suppose. I mean you can't just pick up an object and point to its colour, can you? It's the sort of thing that one has to imbibe. Like social hierarchies and the place of those who sweep the floors.
Perhaps, that's what another prestigious school, that generously donates bake sale proceeds to a charitable institution, was trying to do when its officious administrative staff tried to keep a domestic help away from the seated parent body at the school's annual function. I suppose what they were trying to communicate was that these lines have to be taken seriously and children must imbibe that. So, yes, we must tell them to protect the environment, to donate to charities and to learn that our Constitution guarantees equality. But alongside that, we must teach them to safeguard the privileges they were born with, to preserve their turf as simply theirs, not to be encroached upon by those flung on the margins. This is the new world order and certainly, schools are not immune to it.
Pedagogy of exclusivity
In her significant book, Coining For Capital, Jyotsna Kapur writes about the construction of the idea of childhood and how that was "the final frontier, the final niche market to be captured by capital's incessant drive to turn every aspect of our lives into a source of profit." One can see how today's new progressive schools fit into this scheme. By selling the idea of creativity and imaginative pedagogy, these schools have turned the parent-child combination into consumers and so, if you can pay for it, you can have access to imagination, to creativity, to clean, wholesome education. But if you can't, well then, yours is not to reason why. Yours is just to stay in the corner. So, when the Indian state — that has failed to deliver quality public education for over six decades — steps in with the Right to Education bill and pressurises these schools to allot a certain number of seats to poor children, the consumer-service provider relationship kicks in. Naturally, the service-provider, in this case the school, assumes the role of wanting the best for the paying customer. And so we have the stories of teachers breaking down and saying that the presence of these poor children with insufficient learning in their home environments is impacting the learning of the other children. Parents' feathers get ruffled and they close in protectively, demanding that they get what they are paying for. Spelt out in bald terms: Keep the poor kids separate.
Parenting is, by and large, an act that induces conservatism. To provide for and protect our children, we often fall into patterns that are about maintaining hierarchies, pushing privileges, seeking favours. We want the best for our children, we want their lives to be less difficult than ours, we want them to be happy and free. Paying the rent and putting food regularly on the table can turn even a rebel into a paper-pusher. And the political economy of a world- order that seeks to produce a workforce that will unquestioningly do as it is bid and measures success only by visible wealth is a huge structural pressure for many to buckle under. Our children are part of this process and so many will grow up unable even to recognise the buckling-under. So, ranting apart, is there anything we can do to counter this?
Coining a new word
I believe, I have to believe, that there is. For starters, we can listen to some wise children out there who are struggling and refusing to buckle under. Young kids, some as young as 13, are engaging with a powerful world order and shouting to be heard.
There is Asma Mahfouz in Egypt who recorded a video and helped start a revolution. "I'm making this video to give you one simple message," she said, "We want to go down to Tahrir Square on January 25. If we still have honour and we want to live in dignity on this land, we have to go down on January 25… Whoever says it's not worth it because there will only be a handful of people, I want to tell him you are the reason behind this, and you are a traitor just like the president or any security cop who beats us in the streets. Your presence with us will make a difference, a big difference! "
There is 13-year-old Charlotte Aldebron, an American girl, who spoke at an anti-war rally and said, "When people think about bombing Iraq, they see a picture in their heads of Saddam Hussein in a military uniform or maybe soldiers with big, black moustaches carrying guns …But guess what? More than half of Iraq's 24 million people are children under the age of 15. That's 12 million kids. Kids like me…So, take a look at me - a good long look. Because I am what you should see in your head when you think about bombing Iraq. I am what you are going to destroy."
And then there is 15-year-old Barnaby Raine who was part of the protests against the hike in university tuition fees that the police tried to stop with force. He later spoke at the Coalition of Resistance in London: "This was supposed to be the first post-ideological generation, right? "This was meant to be the generation that never thought of anything bigger than our Facebook profiles and TV screens. I think now that claim is quite ridiculous. I think now that claim is quite preposterous. I think now we've shown that we're as ideological as ever before. Now we've shown that solidarity and comradeship and all those things that used to be associated with students are as relevant now as they've ever been….When I tried to get out and I was told it was a sterile area by police officers standing and not letting anyone out, I thought well, that's why we need a university education. If we don't get one, we end up in police uniforms… They can't stop us demonstrating, they can't stop us fighting back, and however much they try to imprison us in the streets of London, those are our streets. We will always be there to demonstrate, we will always be there to fight... We are no longer that generation that doesn't care, we are no longer that generation that's prepared to sit back and take whatever they give us. We are now the generation at the heart of the fight back."
Out of comfort zone
Were we, Barnaby's parents' generation, the generation that gave in, that did not fight? So eager to embrace the freedom of choice that globalisation and liberalisation seemed to open up, didn't we easily blind ourselves to the walls that were being erected in our everyday lives. The apartment buildings with gate passes, the malls, the CCTV cameras. Things that were supposed to provide security and comfort but that also ended up shortening our vision and narrowing our world.
Change brings with it myriad stories and there are certainly stories of progress and of old walls being scaled, but there are also stories of exclusion. So, what makes it acceptable to even say that rich kids and poor kids cannot learn together? While the modalities of how the learning should take place certainly need discussion and careful consideration, to assume as first principles that this is an untenable proposition is a horrific acceptance of class differences as an immutable reality.
Juxtaposing the different
Missionary schools in India have for years been teaching mixed groups of children and even non- missionary private schools in our country used to have a fairly mixed student body. So, the argument that socialising with kids from richer families can raise expectations in poorer kids is frankly a dubious one. There have and there will always be children who have more interacting with children who have less. Even among the middle class and the rich. So, if one child goes to London for the summer holidays and another goes to Simla, are we then going to say that this is awkward for the parents and to avoid this, let's segregate the children some more? Is parenting not about teaching children to negotiate this complicated world that we live in? We need to teach our children that it is possible to forge alliances with people who live differently. We need to teach our children that it is possible to share a dream even if you speak in another language. We need to teach our children not just to make sense of difference, but also to celebrate it.
Is it not time to take inspiration from Barnaby Raine's speech and to seek the best not just for our own children but for children everywhere. As one more batch of 18 year olds with dreams in their eyes throngs entrance examination halls and college cut-offs threaten to veer towards the almost hundred percents, what we need is for the voices of Asma, Charlotte and Barnaby to ring in their heads, to make sure that education is about more than the cut-off and the colour of blackcurrant ice-cream.
Samina Mishra is a documentary filmmaker and writer based in New Delhi.