Governor for archaeology dept in HPU
Varsity celebrates 42nd founder's day
Tribune News Service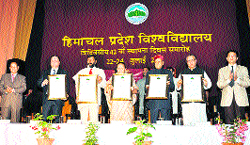 Governor Urmila Singh and Chief Minister PK Dhumal release the HPU anthem in Shimla on Friday. Photo: Amit Kanwar
Shimla, July 22
Governor and Chancellor of Himachal Pradesh University (HPU) Urmila Singh today stressed the need for starting an archaeology department and introducing a tourist guide course to generate employment avenues for the youth.
She was speaking at the inaugural function of the three-day-long 42nd founder's day celebrations of the HPU here.
"Himachal has a rich cultural heritage and history and setting up of a department of archaeology will make people aware about all these aspects," she said.
The Governor said the university should prepare the Vision-2020 document on priority for achieving the targets in a planned manner. "No institution can make a mark unless it has its priorities clearly spelt out and this can be done only if it has a vision document," she said.
She said free education was being provided to girls in the state and various steps had been taken to ensure that they were provided the best opportunities in all fields.
Speaking on the occasion, Chief Minister Prem Kumar Dhumal said Himachal was spending 18 per cent of its budget on education, which was the highest in the country.
He said in today's highly competitive world, students needed to be imparted quality education. "The state has financial constraints and in such a scenario, I see no harm in allowing private universities to set up quality institutes which will be regulated by a commission with respect to the fee structure, staff qualification, courses and other aspects," he said. He added that now private universities would be allowed to come up only in the districts of Bilaspur, Chamba, Kullu and Mandi.
Assuring full help to the HPU, Dhumal said efforts must also be made to generate resources. "I am all for upholding the autonomy of the HPU, but for this the institution will have to be more independent and self-sufficient," he said. He made a special appeal to the youth to stay away from drugs.
Vice-Chancellor ADN Bajpai said 42 years was a long period in the life of any institution and the time was ripe to undertake introspection and set new goals. "We will be ready with the vision document by August 15 so that the HPU can excel and make a mark at the international level," he said. He said this year 149 students from the HPU had cleared the NET conducted by the UGC.
A newsletter, a research journal and "Kul Geet" was unveiled on the occasion along with the release of several other publications. Local legislator Suresh Bhardwaj, who is a member of the executive council of the HPU, also spoke on the occasion.