Terror attacks rock Oslo
* Bomb kills 7 in Norwegian capital * Nine die in shooting at youth camp
Oslo, July 22
A bomb ripped through Oslo's central government district today killing seven persons and hours later a gunman opened fire at a youth camp on a nearby island, killing at least nine persons, the police said. One witness said he saw 20 dead at the youth camp, but the police said they had no confirmation of deaths on the island.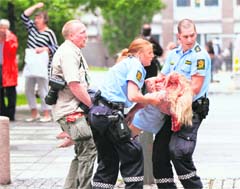 Policemen evacuate an injured woman after a powerful explosion rocked central Oslo on Friday. — Reuters
"I've seen it with my own eyes, at least 20 dead lying in the water," Andre Skeie said. He said he had gone to Utoeya island to help people evacuate the island. The police declined to comment on casualties at the youth camp at Utoeya, northwest of Oslo. The state television said a man was arrested.
The Oslo bomb blew out the windows of the Prime Minister's building, damaged the finance and oil ministries and scattered glass and masonry across the streets.
A witness said he had seen soldiers taking up positions around the centre of the capital, while the police said they feared there might be explosives at the youth camp.
With the police advising people to evacuate central Oslo, apparently in fear of more attacks, Prime Minister Jens Stoltenberg told Norwegian TV2 television in a phone call that the situation was "very serious". He said that police had told him not to say where he was speaking from.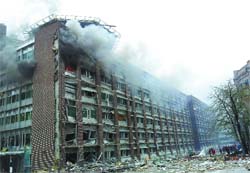 Smoke billows out from a government building after a powerful explosion rocked central Oslo on Friday. — Reuters
The bomb ripped through the main government building in the Norwegian capital in mid-afternoon, killing seven persons and injuring many more.
"It exploded — it must have been a bomb. People ran in panic...I counted at least 10 injured persons," said a bystander. Shortly afterwards, a gunman opened fire at the island of Utoeya north-west of Oslo, where Stoltenberg's Labour party youth section's annual gathering was taking place. — Reuters
Most violent 'since World War II'
A correspondent said the streets had been fairly quiet in mid-afternoon on a Friday in high summer, when many Oslo residents take vacation or leave for weekend breaks. "This is a terror attack. It is the most violent event to strike Norway since World War II," said Geir Bekkevold, an opposition parliamentarian. The district attacked is the very heart of power in Norway, with several other key administration buildings nearby. Nearby ministries were also hit by the blast, including the oil ministry, which was on fire. Nevertheless, security is not tight given the lack of violence in the past.