Govt draft on Lokpal excludes PM
New Delhi, July 25
The government draft on Lokpal Bill, which is expected to be considered by the Cabinet this week, does not include the Prime Minister in the purview of the Ombudsman but the final call on the ticklish issue will be taken by the Parliament and its Standing Committee.
Crime Branch sleuths grill SP, BJP MPs
New Delhi, July 25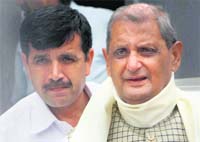 Samajwadi Party MP Rewati Raman Singh and Bharatiya Janata Party MP Ashok Argal were on Monday questioned in the 2008 parliamentary cash-for-vote scam. The SP MP was questioned on the alleged calls he received from former BJP Yuva Morcha member Suhail Hindustani to strike a deal with BJP MPs before the trust vote in the Lok Sabha.
Samajwadi Party MP Rewati Raman Singh (R) leaves after being quizzed by the Delhi Police in connection with the cash-for-vote scam, in New Delhi on Monday. — PTI
Academic certificates in electronic form now
New Delhi, July 25
India will take the first step tomorrow to dematerialise academic certificates and qualifications and end the era of fake certifications.
SC approves new norms for medical admissions
New Delhi, July 25
The Supreme Court today approved the proposal for holding a common National Eligibility-cum-Entrance Test (NEET) for medical admissions - both graduate and postgraduate courses.
Accused's submission in court no evidence: Sibal
New Delhi, July 25
Attacking the BJP for demanding resignation of Prime Minister Manmohan Singh and Home Minister P Chidambaram on the 2G issue, Telecom Minister Kapil Sibal today said submission by an accused, former telecom minister A Raja, in a court cannot be construed as an evidence.
Pulok Chatterjee to be next Principal Secretary to PM
New Delhi, July 25


Sonia Gandhi confidant Pulok Chatterjee is set to be appointed as the next Principal Secretary to Prime Minister Manmohan Singh. The 1974-batch IAS officer will replace present Principal Secretary TKA Nair, who will be re-designated as adviser to the Prime Minister, well-placed UPA sources said today. A formal announcement on these top-level changes is expected by the weekend. The Appointment Committee of the Cabinet (ACC) had issued orders last week that Chatterjee be recalled from his assignment with the World Bank and "be put at the disposal of the PMO".
Noida buyers invite all stakeholders to join stir
New Delhi, July 25
The Noida Extension Flat Buyers Welfare Association, which represents nearly 30,000 affected flat owners, today invited customers of the entire Noida and Greater Noida to join its protest and also decided to rope in other parties hit by court order to quash land acquisition.
CAT-2011 to have one section less
New Delhi, July 25
The Common Admission Test for the IIMs this year will have two sections instead of three and students will have 70 minutes to answer each of them. The test will be conducted online within a 20-day period from October 22 to November 18.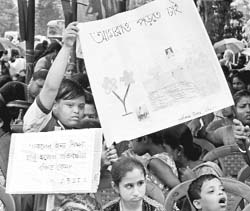 Rallying for a cause: Special children take part in a rally under the banner of West Bengal Special Educators' Association to press for their demands in Kolkata on Monday. — PTI
Nagaland Cabinet gives nod to autonomy for frontier districts
Guwahati, July 25
With the demand for a separate "Frontier Nagaland" state gaining ground in four eastern districts of Nagaland under the banner of the Eastern Naga People's Organisation (ENPO), the Nagaland Cabinet has adopted a resolution recommending to the Centre to create an autonomous council comprising eastern districts of Tuensang, Mon, Longleng and Kiphire having border with Myanmar.
Shadow of terror over 10-day Ganesh festival in Mumbai
Mumbai, July 25
Last week's triple bomb blasts have forced the authorities to reconsider security preparations during the 10-day Ganesh festival in the city which begins on September 1. Local-level organisers who are busy seeking permission to install idols of Ganesh across Mumbai speak of strict verification by local police stations.
All TRS MLAs put in papers
Hyderabad, July 25
It was yet another day of resignations in Andhra Pradesh over Telangana issue. All 11 MLAs of the Telangana Rashtra Samithi (TRS) submitted their resignations afresh to mount pressure on the UPA government to concede the demand for a separate state.
Two bombs found near railway track
Sriganganagar: Two powerful bombs were found near the railway track outside Birdhwal village on the Suratgarh-Hanumangarh section on Sunday. The Army had cordoned off the area upon getting information from the state police and the GRP. The bombs were spotted while digging the track using JCB machines as part of the rail line gauge conversion work. The RT type bombs were of 2 ft size, each weighing about 8 kg. The men of the Army Engineer Core diffused the bombs on Monday. Preliminary investigation indicated that bombs might have got dumped following devastating fire and explosion in the army stores in May 2003. — OC