Kargil War: Need to learn strategic lessons
General (Retd) V P Malik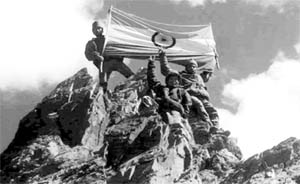 Victorious Indian soldiers pose atop the formidable Tiger Hill during the Kargil War.
On the 12th Anniversary of the Kargil war, it would be appropriate to reflect on the key strategic lessons of the war and the geo-political changes that have come about in the Kargil-Siachen-Ladakh Sector since then.
Historically, Kargil war was the second limited conventional war between two nuclear weapons armed nations over territorial dispute, the first being the Sino-Soviet border conflict on the Ussuri River in 1969. In the Kargil war, the Pakistan Army tried to make use of the nuclear threshold to grab Indian territory in the garb of militants. The experience shows that as long as there are territory-related disputes, despite nuclear weapons deterrence rationality, the adversaries can indulge in limited border wars. In fact such wars have now become a more likely norm in the strategic environment where large scale capture of territories, forced regime change and extensive military damage on the adversary are ruled out. India's defence planners have to bear this in mind as two of its largest neighbours, China and Pakistan, possess nuclear weapons and have longstanding territorial disputes with India.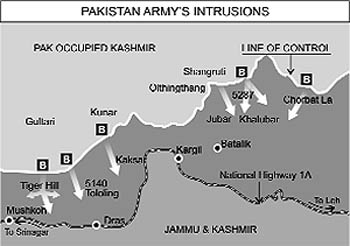 In the Kargil war, Pakistan attempted to make use of its proxy war with India to escalate it to a regular conventional war. That was a repeat of Pakistani war initiatives in J&K in 1947 and 1965. India's intelligence agencies and armed forces must cater for such a contingency, particularly while defending J&K territory.
A major military challenge in India is the political reluctance to a pro-active grand strategy or engagement. This disadvantage is enhanced because no loss of territory is acceptable. This is a strategic handicap and a risk in any war setting, which increases in a limited war scenario. It implies greater attention to surveillance, committing large force levels along the borders/ LoC and thus depletion of combat reserves.
A pro-active grand strategy and capability to wage a successful conventional and nuclear war is a necessary deterrent. A war may remain limited because of credible deterrence or Escalation Dominance, when one side has overwhelming military superiority at every level. The other side will then be deterred from waging a war. (Over the years, we have managed to erode such a deterrence capability.) That also gives more room for manoeuvre in diplomacy and in conflict.
Changing environment
The new strategic environment calls for speedier, more versatile and flexible combat organisations in mountainous as well as non- mountainous terrain. The successful outcome of a border war depends upon the capacity to react rapidly to an evolving crisis.
The new strategic environment in wars requires close political oversight and politico-civil-military interaction. It is essential to keep the military leadership within the security and strategic decision- making loop.
Information operations are important due to the growing transparency of the battlefield. The political requirement of a military operation and to retain the moral high ground, (and deny that to the adversary) needs a comprehensive media and information campaign.
When Kargil war broke out, our holdings and reserves of weapons, ammunition and equipment were in a depleted state due to continuous lack of budgetary support, tedious procurement system, and raising of units without sanctions for weapons and equipment. To the media, I had to say "We will fight with whatever we have". The war highlighted gross inadequacies in the nation's surveillance capability. To some extent, this has now been made up with indigenous satellites, Unmanned Aerial Vehicles, thermal imagers, surveillance radars and ground sensors. That apart, the modernization of armed forces continues to lag behind due to the absence of holistic and long-term defence planning, complex acquisition procedures, fear of scams and inadequate self reliance. Despite a large net work of Defense Research and Development Organisation laboratories, Ordnance factories and defense public sector undertakings, we continue to import over 70 per cent of our weapons and equipment. So far, the Defense Procurement Organisation has failed to speed up the process. What we require is an integrated acquisition structure with relevant expertise under one roof and under one controlling authority to oversee the entire process of acquisition, right from the planning process to the final disposal of the weapon/platform.
Optimise defence planning
There is no point talking about revolution in military affairs, information systems and net centric warfare if we cannot even induct relevant weapons and equipment in time.
The armed forces have followed up on most of these lessons. For example, action has been taken to improve all weather surveillance and closer defence of border and lines of control. Individual service and joint services doctrines have been revised. Some Special Forces units have been added to the strength of each service. At the politico-military strategic level, however, there has been little progress. After the war, the government had carried out a National Security Review in 2001-02. Many reforms were recommended to improve the higher defense control organisation, its systems and processes. Changes made so far have only been cosmetic. The willingness and spirit to change has been lacking.
The National Security Review had recommended the appointment of a CDS to provide single point military advice to the government and to resolve substantive inter-service doctrinal, planning, policy and operational issues. This is necessary because in India, turf wars, inter service rivalries, bureaucratic delays and political vacillation in decision making become major hurdles in defence planning and its implementation. In the new strategic environment of unpredictability and enhanced interactivity, it is essential to create synergy and optimise defence and operational planning. A face to face dialogue and military advice is critical to success in politico-military-strategic and operational issues. The creation of the post of CDS is still pending and interaction between the political authority and service chiefs continues to suffer due to inter service rivalries and the dominant position retained by the civil bureaucracy. In this context, the recent appointment of a committee under Mr. Naresh Chandra to review defense reforms in India is a welcome step.
Sino-Pak nexus
Twelve years after the Kargil war, the security situation in Kargil-Siachen-Ladakh has deteriorated further due to the Sino Pakistan nexus and deployment of PLA troops in the Gilgit-Baltistan area of Pakistan Occupied Kashmir.
Two years ago, a Ministry of Defence report had stated that 'the possibility of China and Pakistan joining forces in India's farthest frontiers, illegally occupied by the two neighbors, would have direct military implications for India'. That possibility has become a reality now in the light of several credible reports of the presence of Chinese troops in the Gilgit-Baltistan area. The Chinese military presence in the area, purportedly to repair, upgrade and re-commission the Karakoram Highway and to improve infrastructure, became visible last year. This has a direct bearing on our defenses in the Kargil-Siachen-Ladakh sector. The Chinese would not be pointing guns towards our posts but the fact that they are co-located and working alongside Pakistani troops reflects joint strategic interest and enhancement of operational preparedness.
It should be noted that the Chinese have been willing to negotiate and settle the boundary issue of J&K (West of Karakoram Pass) with Pakistan but have refused to discuss that boundary with India on the ground of it being 'disputed'. The Chinese have been stapling visas for Indian citizens belonging to J&K.
With China becoming a new, assertive factor, the dispute over accession of J&K to India is no longer a bilateral issue but a tri-lateral issue between India, Pakistan and China. In the security scenario and defence planning for the North Western sector, Indian armed forces have no alternative but to factor in joint, two front Pakistan-China threats.
The Kargil war was not the first time when Pakistan initiated a war. In the present circumstances, when the ISI continues to wage proxy war through its jehadi organisations, we cannot assume that it would be the last time. Every good military would like to be pro-active. But it has also to develop the will and capability to react. The essence of military leadership lies in the manner in which we react to restore a situation, however, adverse the circumstances of the battle.
An enduring lesson of the war is that for national securit. Sound defence enables sound foreign policies.
The author was Chief of Army Staff during the Kargil War
FACTFILE
Theatre: About 160 kms along the LoC through Mushkoh, Dras, Kaksar, Kargil and Batalik in J&K, at heights up to 18,000 feet
Duration: May—July 1999
Operational names
Op Vijay: (Indian Army)
Op Safed Sagar: (Indian Air Force)
Op Talwar: (Indian Navy)
Op Badr: (Pakistan)
Cause: Pakistani troops occupied about 130 vacated posts on the Indian side of the LoC.
Significance: Pakistani aim was to interdict the critically important National Highway 1-A, thereby cutting off Ladakh from Kashmir.
Result : Pakistani troops evicted. Tactical and diplomatic victory for India.
ORDER OF BATTLE
India
n 15 Corps
n 3 infantry Division
n 8 Mountain Division
n 121 (I) Brigade
n 50 (I) Para Brigade
Pakistan
n 10 Corps
n 19 Infantry Division
n FCNA: Force Commander Northern Area
n Artillery units: 18
n Engineer Battalions: 2
n SSG Companies: 2
ROLL OF HONOUR
Gallantry Awards (India)
Param Vir Chakra: 4
Maha Vir Chakra: 8
Vir Chakra: 51
Battle / Theatre Honours
Total: 23
Infantry: 17 battalions (3 bns, 18 Gren, 2 Raj Rif & 14 J&K Rif) got honours twice)
Engineers: 3 regiments
Artillery: 3 regiments
CASUALTIES
India
Killed: 527
Wounded: 1,363
POW: 1
Pakistan
Killed: 4,000 (stated by ex-PM Nawaz Sharif)
Wounded: 1,000 (estimate)
POW: 8
CONFLICT CHRONOLOGY
May 3, 1999: Pakistani intrusion in Kargil reported by local shepherds
May 5: Army patrols sent up; Five Indian soldier captured and tortured to death.
May 9: Heavy shelling by Pakistan damages ammunition dump in Kargil
May 10: Infiltrations first noticed in Dras, Kaksar and Mushkoh sectors
Mid-May: Army moves in more troops from Kashmir Valley to Kargil Sector
May 26: IAF launches air strikes against infiltrators
May 27: IAF looses two fighters — MiG-21 and MiG-29;. Flt Lt Nachiketa taken POW (Prisioner of War)
May 28: IAF MI-17 shot down by Pakistan; four air crew dead
June 1: Pakistan steps up attacks; bombs NH-1-A
June 5: Indian Army releases documents recovered from three Pakistani soldiers indicating Pakistan's involvement.
June 6: Indian Army launches major offensive in Kargil
June 9: Indian Army re-captures two key positions in the Batalic sector
June 11: India releases intercepts of conversation between Pakistani Army Chief Gen Pervez Musharraf, while on a visit to China and Chief of General Staff Lt Gen Aziz Khan in Rawalpindi, as proof of Pakistani Army's involvement.
June 13: Indian Army secures Tololing in Dras
June 15: US President Bill Clinton, in a telephonic conversation, asks Pakistani Prime Minister Nawaz Sharif to pull out from Kargil
June 29: Indian Army captures two vital posts — Point 5060 and Point 5100 near Tiger Hill
July 2: Indian Army launches three-pronged attack in Kargil
July 4: Indian Army recaptures Tiger Hill after an 11-hour battle
July 5: Indian Army takes control of Dras. Sharif announces Pakistani army's withdrawal from Kargil following his meeting with Clinton.
July 7: India recaptures Jubar Heights in Batalik
July 11: Pakistan begins pullout; India captures key peaks in Batalik
July 14: PM Vajpayee declares operation Vijay a success. Government sets condition for talks with Pakistan
July 26: Kargil conflict officially comes to an end. Army announces complete eviction of Pak intruders