Maruti net profit rises 18%
Result beats forecasts; RBI rate hike clouds outlook for demand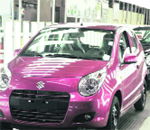 Mumbai, July 26
Maruti Suzuki, India's top car maker, beat estimates with an 18 per cent rise in its fiscal first quarter net profit on Tuesday that coincided with another interest rate hike by the Reserve Bank of India that made the outlook for the car sector murkier.
The company reported net profit of Rs 549 crore ($124 million) for its fiscal first quarter ended June 30, 2011 up from Rs 465 crore a year earlier. Sales climbed 3.3 per cent to Rs 8,320 crore.
Net profit for April-June was helped by Rs 180 croreof other income, mainly due to higher returns on the company's investments, compared with Rs 100 crore in the year-ago quarter.
Car makers in the country are seeing a drop in demand amid surging interest rates and fuel prices in the world's second-fastest growing auto market after China.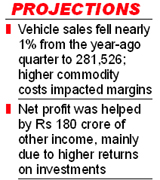 The demand outlook has weakened further after the RBI surprised investors by raising interest rates by 50 basis points on Tuesday, showing unexpected resolve in fighting persistently high inflation.
"The surging interest rates accentuates the problem for companies, especially in a market where customers are very sensitive to prices," said Vijay Chugh, a sector analyst with Ambit Capital In Mumbai.
Indian car sales, which grew at a breakneck 30 per cent in the fiscal year that ended in April, are now expected to grow by just 10 to 12 per cent this fiscal year, down from an earlier forecast of 16-18 per cent, an industry group earlier said.
Car sales in Asia's third-largest economy, which in June saw their slowest pace of growth since March 2009, are driven by a burgeoning middle class that mostly relies on bank loans for purchases.
Petrol and diesel prices have also gone up in recent months, putting increased pressure on wallets.
"It will be a challenging demand environment for automobile companies this year," Chugh said, adding that increasing competitive pressure will also weigh on the financial performance of companies like Maruti Suzuki.
Maruti expects the higher interest rates to dent investor sentiment, but expects demand to pick up momentum during the festive season that starts in September and peaks in November after Diwali.
"It is unfortunate that interest rates are moving up so frequently. So, there is bound to be an impact on consumer sentiment," Maruti's Chief Financial Officer Ajay Seth told Reuters in a phone interview.
Maruti, 54.2 per cent owned by Japan's Suzuki Motor, said vehicle sales fell nearly 1 per cent from the year-ago quarter to 281,526, while higher commodity costs weighed on margins.
Maruti also faced more than $90 million in lost output this quarter as a 13-day strike by employees at one of its facilities crippled production.
Shares ended down 0.4 per cent at Rs 1,176.95 on Tuesday, after having risen as much as 1.7 per cent earlier in the Mumbai market that closed 2 per cent down. — Reuters