How many school teachers know about various career options after + 2? How many college professors go out of their way to guide students for various competitive exams? How many teachers have time to identify the strengths of the students and mentor them for the right career path? Well they are not to be blamed.
They are just paid for completing the time-bound syllabus, as required by our education system.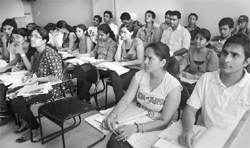 Students in a coaching class in Chandigarh. Preparation for competitive exams is difficult without help
Coaching institutes these days are run by expert teams of academicians and industry experts who have diverse knowledge and relevant expertise and experience. They are in a better position to provide proper guidance and correct information.
No doubt schools and colleges provide the basic education, but to succeed in today's cut-throat competition, strategic inputs are required. The qualified faculty members with their experience can guide the students at formulating the strategy for cracking even the highly competitive examinations like Civil Services, MBA, BANK PO, medical and various other entrance examinations.
Most of the coaching centers in India concentrate on providing regular classes and relevant study material to students, hence instilling in them a sense of discipline. Apart from pointing out the most important topics and probable questions, they provide strategies for shortcuts, hints and other strategies to sail through various exams easily.
Many good coaching institutes have the necessary infrastructure and technology to enhance learning. From lab facilities to well-stocked libraries, online labs to audio video aids, all are provided by coaching institutes to make learning an enriched experience. Unlike schools and colleges, coaching institutes prepare the students to confidently face exams by taking simulated tests.
These days these institutes not only focus on completing the academic aspects but also go beyond to provide other value added inputs. These institutes provide various sessions on personality development, soft skills, general knowledge and other industry-related modules in which experts from diverse fields are invited to interact with students which is not a common phenomenon in schools and colleges.
Coaching institutes bring students with the same goals and diverse backgrounds on a common platform, so the best advantage I see is that this enhances the student's awareness level, instills a sense of competition and confidence. It gives them an opportunity to interact with peers and share their anxieties, doubts and strategies, thus mutually benefitting all.
These institutes have also emerged as a good career option for academicians and professionals as they provide a good salary package and flexibility. Not the least, they are definitely contributing to India's economy and are giving a boost to other allied services like printing and software market for educational products.
Overall, the coaching industry in India is doing a great job at helping the students in optimum utilisation of their limited time. They not only help the average student but also fine-tune the skills of an intelligent student by constant motivation and timely guidance.
(The writer is a Senior Academic Trainer with a reputed coaching institute with an experience of 12 years in the industry)

Through good coaching, we can acquire the real knowledge of the subject and can lay more emphasis on the basic concepts rather than just cramming. However, its drawback is the excess pressure on students. So this system can be easily rectified if good faculty is provided within the schools itself and syllabus of all the competitive examinations is made identical.
Samridh Amla, 18, recently appeared for competitive examinations in non-medical stream, Jammu 

Somehow the entire process of learning is flawed in India where students learn because they have to learn and not because they want to learn. Hence, blaming just coaching institutes, schools, parents or student won't be justified in true sense. Keeping the level of entrance exams in mind, it becomes mandatory for a student to take extra coaching. However, as far as an average student is concerned he has just become the source of funds for the booming coaching industry where little concern is shown for such students.
Ashima Singla, 21, M.Sc. (Tech) Information Systems student, BITS Pilani, Rajasthan

One must always bear it in mind that hefty amount of fees cannot assure a higher rank and the hard work has to come from the student's side. However, coaching institutes with the help of professional faculty and streamlined curriculum do put us on the right trajectory which definitely helps us in achieving our goals.
Naveen Kumar, 21, B. Tech student, Punjabi University, Patiala

In my opinion coaching as a profession has reached a stage where young scholars prefer it as a form of employment over the formal educational institutes. I see no harm in both these structures coexisting as both have their own space and purpose in the educational system of this country.
Dimple Grover, 22, Management student, Amity University, Noida