Home SECOND home!
They say home is the most popular and will be the most enduring of all earthly establishments. Giving a whole new meaning to this sentence are a chosen few in Chandigarh, who have been busy setting up not one, but two homes in their one life span. The selected few painstakingly maintain and add a personal touch to the two homes!






A view of Samrat Hundal's house in Dagshai, Himachal Pradesh.

Watch the word
With Hindi cinema becoming more and more realistic, the use of expletives is becoming more common. There are examples galore — Omkara had Ajay Devgn abusing left, right and centre, so was Salman in Wanted (though in a humourous way).

Digging deep
The entire theatre is buzzing; carpenters are engaged in cutting and chopping, directors are looking after the actors and someone sitting somewhere is fine tuning the sound. The stage, which saw the first play on Monday, is ready for an experiment.




Vishnupad Barve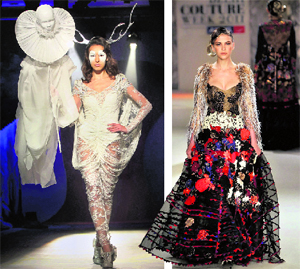 Forest Glam
Gaurav Gupta's enchanting forest collection, attended by Bollywood actors Jacqueline Fernandez and Shraddha Kapoor, was the highlight of the concluding day of Delhi Couture Week on Monday. Fernandez was speculated to walk the ramp for the designer but she said the focus should be on the collection. "I strongly feel that there should be a separate show for Bollywood people. If we walk on the ramp, the whole focus shifts on to us rather than the collection," said the former Sri Lankan beauty, who wore a grey saree designed by Gupta.

Ebony & Ivory: (L-R) Models showcase the creations of Gaurav Gupta and Rohit Bal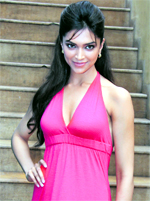 Ranbir and I talk everyday
Deepika Padukone plays the female lead in Prakash Jha's male-dominated Aarakshan, a film on reservation in educational institutions and related political issues. The beautiful actor talks about being part of the challenging film, her equation with Saif Ali Khan, Ranbir Kapoor, and Kareena Kapoor.




Way to go: Deepika Padukone

Melodious tribute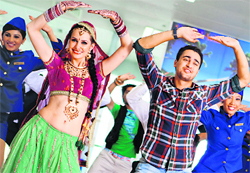 The Mere Brother Ki Dulhan title song has been shot widely across India including Mumbai, New Delhi and Dehradun. In the song, Imran Khan goes searching for an ideal bride for his brother. The song uses the three modes of transportation – air, road and train in a very interesting and captivating style, in his hunt for his brother's dulhan. Watch Imran at his charming best paying a delightful tribute to the three Khans – Aamir, Salman and Shahrukh.

Three in one: A still from the title song
Celeb Point


Book of life
I visited Shabana Azmi and Javed Akhtar to gift them a book written by my mother on short stories Katra Katra Zindagi. They could not make it to the release function but were very helpful as always. I was very keen to give it to my favourite actor! We got chatting over chai and bhelpuri! Shabanaji is a superb conversationalist and I felt completely at home!
CLICK HAPPY
Navneet Saxena loves to click 'happy' pictures. Be it pictures of people or landscapes, his camera lens looks only for joy. Be it India or abroad, he has travelled across the globe clicking bright-happy frames.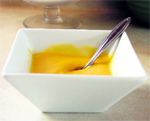 Drink vegetables
A new study has found that adding pureed vegetables to children's foods nearly doubles their intake of vegetable while reducing calories in the recipes. Preschool children consumed nearly twice as many vegetables and 11 per cent fewer calories over the course of a day when Penn State researchers added pureed vegetables to their favourite foods.
Fat chance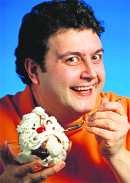 It's bad news for overweight people. A 55-year study in Britain has found out that once people gain weight, they can never return to their original size. Of the 12 million Britons who diet every year, less than 10 per cent succeed in losing significant amounts of weight - with most putting it back on within a year. The national survey by the Medical Research Council followed 5,362 men and women since their birth in 1946, and 20,000 people born in 1958. The study measured weight and blood pressure and assessed the lifestyles of the people. "Both groups began increasing in weight in the 1980s and since then people have been increasing in mass all through life," Rebecca Hardy of the council was quoted as saying.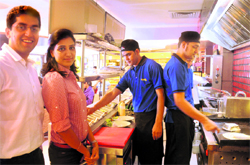 Wrap 'n' roll
Half way through eating the Cheesy Moroccan wrap makes you realise why the chefs propagate it as a complete meal. It is filling, heavy, nutritious and prepared in a live kitchen. "We began with the concept of wraps and rolls with two objectives. The first is to inform them that these can be served as a complete meal."


Roll on: Wraps from all over the world are on offer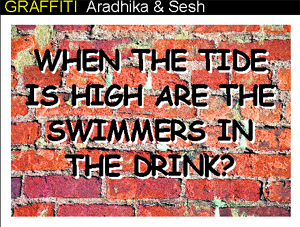 BOLLYWOOD diary
Master Chef
Simply sweet