Manhole mishap: Civic body, sewerage board disclaim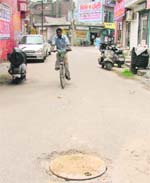 jurisdiction over area
Ludhiana, July 28
With both the municipal corporation and the state water supply & sewerage board refusing to acknowledge the area in Madhuban Enclave, where a motorbike on which three of a family were riding got stuck in an open manhole, falls in their jurisdiction, it now appears no official will be held accountable for the mishap.



The manhole in Madhuban Enclave in which three members of a family almost fell yesterday was finally covered on Thursday. Photo: Inderjeet Verma
'MC shirking responsibility for mishaps'
Ludhiana, July 28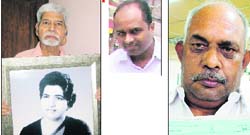 City residents, especially families of those who died after falling into open manholes, have accused officials of the municipal corporation as the state water supply & sewerage board of evading responsibility whenever such accidents occur. "It's a sad state of affairs and the government should ensure the officials concerned are held accountable", they said.
Fom left: Anand Sagar with a photo of his wife who died after falling in a manhole; Viji Raj who nearly fell in a manhole; and Rakesh Talwar with his compensation cheque. Tribune photos
Salary of building inspector withheld
Ludhiana, July 28
Delay in providing information to a city resident under the Right to Information Act has proved costly for a building inspector. The Ludhiana Municipal Corporation (MC) Commissioner has revoked his monthly salary and has directed that the salary will not be released until he provides information.
'Eve-teasing' leads to clash between schoolboys
Ludhiana, July 28
An "eve-teasing" incident spiralled into a clash between two groups of students of a school in Deep Nagar, situated at the rear of Arya College, this afternoon. A girl who emerged from the school crying reportedly told her male classmates that some boys of a senior class had "called her names" and "tried to hold her hand".
GLADA bulldozes 6 illegal colonies
Ludhiana, July 28
Continuing its drive against unauthorised colonies in and around the city, officials of the Greater Ludhiana Area Development Authority (GLADA) today demolished structures, roads, sewerage lines and electricity poles in six colonies in the periphery of the mega city.



An earth moving machine of GLADA digs up a road; and (right) pulls down a boundary wall of an unauthorised colony at Kanech village in Ludhiana on Thursday. Photos: Inderjeet Verma
Brick-kiln owners grapple with high input cost, labour shortage
Ludhiana, July 28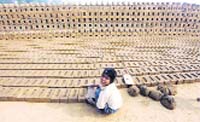 Even as brick-kiln owners (BKOs) in the state are grappling with high coal prices, labour shortage and repressive labour laws, unrestricted entry of cheaper variety of bricks from neighbouring states is making things difficult for them. Making these observations at a press conference here on Wednesday, the Ludhiana Brick-Kiln Organisation president Inderpal Singh Walia said need of the hour for the organisation was to come together on a single platform and fight a concerted battle to save the sector from annihilation.
Double delight for Green Land lads
Ludhiana, July 28
Boy of Green Land Senior Secondary School, Jalandhar bypass branch, stamped their superiority by clinching titles in the under-17 and under-19 categories, while those from BCM Senior Secondary School, Shastri Nagar branch, came out triumphant in the under-14 category in the Inter-School Chess Tournament organised by the Punjab education department that concluded at Bhartiya Vidya Mandir Senior Secondary School, Kitchlu Nagar branch, here today.
Project yet to see light of the day
Ludhiana, July 28
Tall claims of the District Transport Department (DTO) of imparting training to the staff of government and private college managements in preparing learner's licences have fallen flat as none of the college has so far been contacted by the department to start the process.
Commissioner in vehicle-counting drive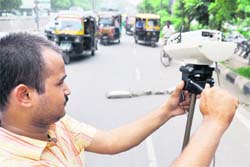 Ludhiana, July 28
Barely three days after he joined the office as the Commissioner of Police, Dr SS Chauhan took stock of the city's most niggling problem -- traffic. congestion.




A technician installs a CCTV camera on the busy Ferozepur Road in Ludhiana on Thursday. Tribune photo: Himanshu Mahajan
Cochlear implant performed on six-year-old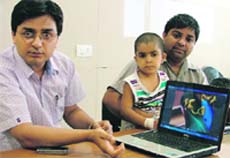 Ludhiana, July 28
There is ray of hope for deaf and dumb children of the city as Deep Hospital has successfully treated a six-year-old by cochlear implant surgery. Dr Rajiv Kapila, an ENT specialist of Deep Hospital, said: "Cochlear implant is a boon for such children and can now be done in Ludhiana too. A six-year-old patient, Kashni Bhagat, became deaf and dumb about two years ago after suffering from meningitis.
Dr Rajiv Kapila with six-year-old Kashni Bhagat and her father. Photo: Inderjeet Verma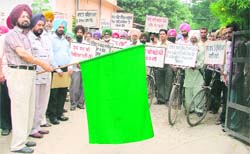 Awareness rally on dengue
Ludhiana, July 28
The district health department today organised a dengue awareness rally, which was flagged off by district health official (DHO), Dr Kulwinder Singh.


District Health Officer Dr Kulwinder Singh flags off an awareness rally on dengue in Ludhiana on Thursday. Photo: Inderjeet Verma
Schools seek amendments to affiliation rules
Ludhiana, July 28
To apprise of the difficulties faced by schools affiliated to Punjab School Education Board (PSEB), a deputation met Punjab education minister Sewa Singh Sekhwan and Dalbir Singh Dhillon, chairman, PSEB, Mohali.
School heads in fix over ACR forms
Ludhiana, July 28
Headmasters and principals of government schools in the state are in a tizzy as the Punjab School Education Board, Mohali, did not issue subject-wise result of all subjects for Classes X and XII.
Students need to focus on goals: Psychologist
Ludhiana, July 28
Dr VV Upmanyu, a professor in the department of psychology, Panjab University, Chandigarh, while reading the behaviour of aspiring students of MCom business innovations here found that students lacked focus on their goals and behaviour. Their attitude towards life was also not focussed, he added.
'Nutritious diet for animals a must'
Ludhiana, July 28
The dairy sector spends about 60-70 per cent of the total expenditure on feeding of animals. But this diet of animals has to be balanced and nutritional if dairy farmers need to get good returns.
Training in dairy farming
Ludhiana, July 28
Dr HK Verma, head, veterinary and animal husbandry, extension education, GADVASU, said the Ministry of Agriculture, Government of India, has sanctioned an eight-day "model training course" to the department on "Eco friendly and modern dairy farming practices" for field personnel and funds will be released soon.


Gang of thieves busted, five arrested
Mandi Ahmedgarh, July 28
The Sadar police has nabbed five members of a notorious gang that had been active in committing theft and robberies in roadside shops and establishments in connivance with transporters and traders. Five vehicles, including a Tata 407 mini-truck, have been recovered from the accused.


Satnam, Anil, Deepak book berth in TT quarterfinals
Ludhiana, July 28
Paddlers from Shimla and Delhi divisions dominated the proceedings and moved into the quarterfinals of Life Insurance Corporation of India North Zone Table Tennis Tournament being conducted by LIC of India, Ludhiana division, at the Punjab Agricultural University here today.