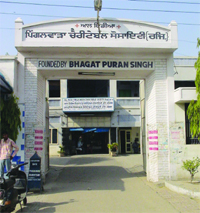 Amritsar, August 2
All-India Pingalwara Charitable Society, commonly known as Pingalwara, needs no introduction. The institution --- a shelter for mentally challenged, handicapped, diseased, old age persons and destitute --- is known all over the globe for the yeoman services it provides to suffering humanity.
It was the outcome of single-minded dedication of a holy soul, Bhagat Puran Singh, who also known as Mother Teresa of Punjab because of his selfless services to poor and needy people.
Since its inception in 1950s, it has come a long way adding new feathers to its cap. It has taken a lead in environmental causes, providing free education to the poor as preached in Bhagatji's philosophy.
It has extended the facilities and adding state-of-the-art infrastructure for the benefits of its inhabitants by opening a school for special children and another one for deaf children.
Meanwhile, as the two campuses of Pingalwara situated at Manawala, GT Road, and opposite bus stand gear up to observe the 19th death anniversary of Bhagat ji falling on August 5, Dr Inderjit Kaur, director of the institute feels proud at the rare and distinguished achievements of the Pingalwara.
"This gives us inner satisfaction as we see patients getting cured and reuniting with their families after getting treatment," says Dr Kaur. Every year about 150-200 patients return to their families after getting treatment, she informs.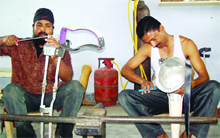 Artisans make artficial limbs at prosthetic centre at Pingalwara in Manawala.
From August 2010 to July 2011 as many as 288 patients admitted in Pingalwara out of which 180 patients were sent to their homes after they got cured, says Dr Kaur.
The society has now 1,521 inmates including mentally challenged, diseased and old age persons.
She says philosophy of Pingalwara is unique. Bhagatji believed that the collective efforts of the society are capable of achieving anything and these cannot be matched by that of a government or an individual. The efforts, which the whole staff and management of the society and persons associated it, put it has resulted in the involvement of more and more philanthropists with the institution.
Cochlear implants of two children
Dr Kaur considers the cochlear implants on two the deaf and dumb children --- Harmandeep Kaur and Jagjivan Singh --- as the biggest achievement of the Pingalwara as it helped in bringing new ray of hope in the lives of two children who were ailing from deafness from their birth.
"The implant was very costly but we did it free of cost with the help of donations by various philanthropists associated with the organisation. Dr JM Hans, eminent cochlear implant surgeon and personal physician to Prime Minister, Dr Manmohan Singh along with Dr Jagdeepak Singh of Government Medial College conducted the operation voluntarily," she says. Now these children are undergoing speech therapy showing great results.
Sensory room for cerebral palsy patients
Another feather in the Pingalwara's cap is a school of special children equipped with sensory room for acute cerebral palsy patients wherein the senses of such children are developed with the helps of lights, sounds and colour. Multi sensory room situated in Manawala complex provides an environment where a child can begin to focus on their senses such as feel, vision, touch, sound and smell.
Anita, who herself is an inhabitant of the society and trained the children, informs that there are 27 children with spastic cerebral palsy and they are being trained for eight minutes.
There is perhaps no such school in Punjab which is equipped with the facility of sensory room, claimed Dr Kaur. Various experts who visit the Pingalwara feel very impressed with the facility, she adds.
Deaf and dumb school
Schools for deaf and dumb are one of the sought-after institutions in Punjab and setting up of Bhagat Puran Singh School for deaf could be another major achievement of the Pingalwara society.
The school is equipped with latest electronic audio/video gadgets in order to provide its students with the necessary training for communicating with others and receive the necessary education.
Admission of HIV patients
The test, conducted during the admission of patients, brought startling revelation with as many as 12 patients, some of them from Andhra Pradesh and Hyderabad, were found to be HIV positive. They were found roaming in the city streets after the police and NGOs brought them to Pingalwara.
"As per our practice, we used to conduct tests including HIV on all the patients being brought to the Pingalwara during which they were found infected with HIV virus. We immediately started treatment with the help of government schemes which provide free treatment and medicines to the patients," says Dr Kaur while adding that they were never discriminated and were kept with the other patients taking all the precautionary measures.
Bhagat Puran Singh Adarsh School
Pingalwara is also doing yeoman services for providing education to the children of down trodden people. In order to achieve this aim, Bhagat Puran Singh Adarsh School, affiliated to Punjab School Education Board, was opened in the premises of Manawala complex.
At present about 650 children get education in the school. These students are provided free education along with books, uniform and transport facility, who came from far away places.
Natural farming
Taking the environmental causes, Pingalwara has set up its own farming at Dhirekot village near Jandiala Guru strictly following the natural farming techniques. Use of pesticides and chemical fertilisers is a strict 'no' here.
"The production has doubled after adopting the techniques," said Rajbir Singh, a teacher and trustee member of the Pingalwara society. He is the chief organiser of natural farming and nursery of the society besides organising awareness programmes at villages, schools, colleges in the city.
The society planted innumerable saplings of flower plants, fruit and shady trees in various parts of the city.
Opening of TB block
Recently, the society opened a new TB ward for the patients suffering from the disease. A number of patients arrive with TB infections or they contracted infection after their arrival in the centre. A special 20-bed TB ward has been opened such patients who were provide free treatment under government DOTs programme. They were kept in the ward till they are cured.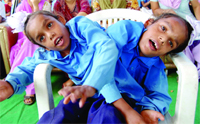 Sona and Mona, conjoined twins adopted by Pingalwara about seven years back, remain the centre of attraction for many who visit the society. Abandoned by their parents they were being brought up at Manawala Complex. They are now the students of second class at the Bhagar Puran Singh Adarsh School.
"They are sharp and intelligent and respond to the questions quickly as compared to normal children," says Rajni Bala, their teacher. Sona and Mona are joined at their lower abdomen.
"They are conjoined yet they are different from each other in habits," she said.
Sona and Mona got birth at Lady Hardinge Medical College, Delhi. They were referred to AIIMS where their parents abandoned them due to their poor financial conditions.