Every Wednesday & Saturday

Defaulters cause huge loss to AIT
Amritsar, July 26
Scores of commercial and residential dwellers on the properties of the Amritsar Improvement Trust (AIT) have not paid their dues causing losses to the AIT in crores of rupees.
75 trees make way for multi-lane flyover
Amritsar, July 26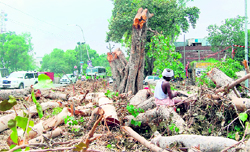 Chopping of about 75 trees to make way for the construction of multi-lane flyover on Upper Bari Doab Canal (UBDC) in the place of Tara Wala Bridge on the Amritsar-Jalandhar road has hurt.
Labourers chop trees on the Amritsar-Jalandhar GT Road. Photo: Vishal Kumar

PSPCL nod to power hotline for TB hospital
Amritsar, July 26
The Punjab State Power Corporation Limited (PSPCL) has given its nod to the government-run TB hospital in Amritsar on having a power hotline. The arrangement will be made after the hospital deposits the requisite amount with the department.