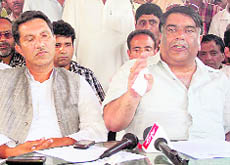 Striking employees give ultimatum to govt
Jammu, August 6
On the second day of the strike of the government employees here today, the Joint Consultative Committee (JCC), an amalgam of several employees' unions, gave a one-month ultimatum to the government.

Leaders of the Joint Consultative Committee address mediapersons in Srinagar on Saturday. Photo: Amin War

Four-laning of National Highway
No company ready to take up work on Nashri-Ramban-Ramsoo stretch
Jammu, August 6
The centrally-sponsored project to four-lane the Jammu-Srinagar National Highway is facing a hurdle between Nashri, Ramban and Ramsoo, as no construction company has so far come forward to take up work on this 50 km hilly and treacherous portion, which is also prone to landslides.
Student's Murder Case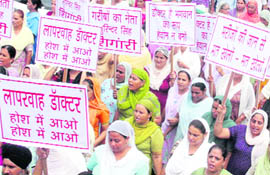 Jammu residents hold rally in Cong leader's support
Jammu, August 6
Several protesters, including men and women, held a rally here today in support of Congress leader Surinder Singh Shingari, against whom an FIR had been lodged for allegedly provoking the family members of deceased Class XII student Sukhbir Singh to stage protests.

Residents hold a rally in support of Congress leader Surinder Singh Shingari in Jammu on Saturday. A Tribune photograph

Shops remain closed in Srinagar areas
Srinagar, August 6
Business establishments and shops in some parts of old Srinagar city today remained closed against the alleged highhandedness of the security forces during clashes with protesters here yesterday, official sources said.


Cultural collaboration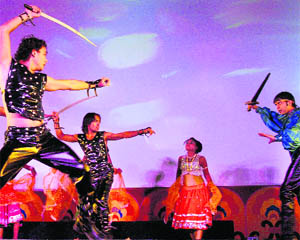 Indian and Iranian artistes perform at a function organised by the Jammu and Kashmir Tourism Department in Srinagar on Saturday. — PTI
Upcoming Dogri film to have music by Surinder Manhas
Jammu, August 6
He has dispelled many wrong notions about the contemporary Dogri music. Since his hit Dogri song "Likh-Likh Chithiyan…" way back in nineties, distinguished music composer and singer Surinder Manhas has come a long way. These days, he is giving the final touches to the music of an upcoming Dogri film, "Kuggiay Maar Dooari", which is likely to be released by the year-end.
Director, Census calls on Governor
Srinagar, August 6
Farooq Ahmad, Director of Census Operations, Jammu and Kashmir, called on Governor NN Vohra here yesterday and presented a copy of the "Census-2011 Report on Provisional Population Totals of the State" to him.
BSF holds workshop on Hindi
Jammu, August 6
On the directions of the IG, BSF, a five-day workshop on Hindi was organised at the BSF's frontier headquarters from August 1 to 5.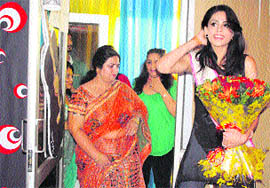 Femina Miss India 2011 finalist Jyotpriya Sud at an exhibition in Jammu on Saturday. A Tribune photograph
Two cops held for Sopore youth's custodial death
Srinagar, August 6
Two policemen were arrested today for their alleged involvement in the custodial death of a youth in Sopore town of Baramulla district last Sunday, officials said.
Seminar on rights of street children
Jammu, August 6
The District Legal Services Authority, Ramban, organised a seminar on the Pre-Natal Diagnostic Techniques Act and the rights of street children, under the chairmanship of the Principal District and Sessions Judge, Ramban, Bala Jyoti, here today.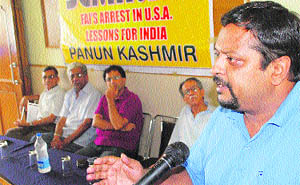 A speaker addresses the gathering during a seminar organised by the Panun Kashmir in Jammu on Saturday. A Tribune photograph
Employ locals in development works: Harsh Dev
Jammu, August 6
Saying that the locals are being neglected in the development projects funded by the Union and state governments, working chairman of the Panthers Party Harsh Dev Singh regretted that the government was not concerned about the problems of the people, who had contributed their land for development activities.
Three drug peddlers nabbed
Jammu, August 6
The Samba police arrested three drug peddlers and seized nearly 6,000 intoxicant capsules from their possession today.