Surbahar, pakhawaj weave Dhrupad magic
Aparna Banerji
Tribune News Service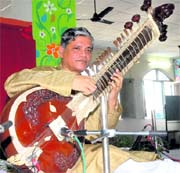 Surbahar maestro Pandit Pushpraj Koshti performs at Police DAV Public School in Jalandhar on Wednesday. Tribune photo: Malkiat Singh
Jalandhar, August 11
Cities that see serious music concerts rarely, graciously welcome when they happen.
The rare combination of the surbahar and pakhawaj in the performance of maestros Pandit Pushpraj Koshti and Pandit Udhav Shinde, respectively, at a concert organised at the Police DAV Public School by Spic Macay, here on Wednesday, gave the audience a blessed afternoon.
The duo's visit, as some at the event said, was being awaited by city music lovers for the past many years.
Beginning with a brief introduction of the surbahar --- how it is bigger and characterised by more 'gambhir naads' (solemn intonations) as compared to the sitar --- Pandit Koshti, who is a disciple of legendary Dhrupad exponent Ustad Zia Fariduddin Dagar, presented a Dhrupad recital in Raga Bilawal to the accompaniment of the Chautal Gat on the pakhawaj.
As buzzing murmurs of restless, talkative schoolchildren rose and fell with the early-August breeze pouring in through the open windows of the hall, Pandit Koshti's beguiling alaaps gave way to masterful layakaris.
As he later explained to children, the alaaps are meant to elaborate on the swaras of a raga and present a clear picture of the raga form.
He even shared an incident wherein an attempt to quieten two talkative and ignorant old men during the alaap of the Gundecha Brothers had got him the response, "But the concert has not started yet."
Pandit Koshti's alaaps, for the elders at least, were much more than just that. He took his time playing with the swar combinations and making effortless transitions from one swara to another deftly employing the meendh.
His graceful meendhs and gamaks made people nod and wince.
As his raga picked up speed, the layakaris --- with their flowing-river feel, brought in a different sort of charm to the concert. Soon, Pandit Udhav Shinde joined in with the pakhawaj.
Listening to both the instruments, at their aroused best, was a treat. Both the exponents responded to the cues left by each other, with the final spells being the most electrifying moments of the event.
A question and answer session with the students in the end saw Pandit Koshti answering children's queries (many prompted by the teachers, even making the maestro demand that he wanted no help from teachers for kids).