M A I N N E W S
Shammi Kapoor: 1931-2011
More than K-factor
Vandana Shukla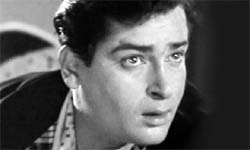 He kept company with his irrepressible boisterousness long after bidding adieu to the strapping lover- boy image of the silver screen, people knew as Shammi Kapoor . The boy- who could dance his way to the most beautiful damsels' hearts of his times (Junglee –Saira Bano, Tumsa Nahin dekha- Ameeta, Dil Deke dekho- Asha Parekh, Kashmir Ki Kali- Sharmila Tagore ), was just a fraction of his persona. The handsome, restless, romantic young hero had to struggle and persevere patiently to create a place for himself in the film industry dominated by stalwarts like his older brother Raj Kapoor, Dilip Kumar and Dev Anand in the 50s and 60s.
It was his never- say- die spirit that shaped the 'yahoo' and 'sukku sukku' phenomenon that was filled with rebellion for the way life was portrayed on the screen. No hero of his times could think of breaking into a maddeningly back- breaking dance on music that would have some juvenile gibberish to tickle but lacked the established seriousness of his times. In the times of highly successful tear- jerker family dramas he introduced the stiff Hindi film goers a thing about 'letting go' and boy, what a success he made of this rebellious- self.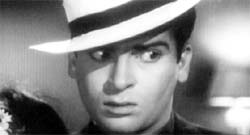 Time gave way to a man growing bald with a mid-riff and double chin. Yet, his charm and energy and the glint of his blue eyes remained in-tact. Shammi Kapoor alone could say that he loved the remaining four days of a week - after three days of being on dialysis.
It was this attitude that shaped the phenomenon called Shammi of the famous Kapoor clan. Born into a family where fame and glory was not unknown, he had to carve a niche for himself through hard work and a series of failures. As such he was overshadowed by his father Prithviraj Kapoor's towering personality, and the success of the showmanship of Raj Kapoor. After successive failures of films like Rail Ka Dibba, Chor Bazaar, Shama Parvana, Hum Sab Chor Hain, Memsaheb and Miss Coca Cola, where he tied to get into the shoes of his older brother, realisation dawned that he had to be 'different' to be taken notice of.  
And so was born the rebel. Nasir Hussain's Tumsa Nahin Dekha in 1957 metamorphosed Shammi Kapoor into a kind of hero
nobody could hate despite his boisterous playfulness which often turned rowdy, to elicit just a 'ja' 'ja' from the nubile damsel he chased rolling over mountains and plains, shaking his handsome head, followed by the rest of the body. He was so easy with his body one would think he did not own it. Nor could anyone imitate him. He was funny and he was unique. Films were specially written for this fun-loving uniquely creative persona of his, and they all turned out to be great hits. China Town, Dil Tera Deewana, Professor and the unforgettable Teesri Manzil, which had added charm of young R D Burman's foot- tapping music. Brahmchari earned him the Best Actor Filmfare Award.
His personal life too was filled with challenges. He married Geeta Bali, against the wishes of their parents, unfortunately she passed away soon due to small pox, leaving two young children behind. His film career too suffered a different kind of challenge, when obesity struck he had to move to character roles, but he essayed each on of these with the same energy and passion he would put in for his 'junglee' song.
It was this rebellion that stayed with him, the way he fought his failed kidneys — refusing to be bowed down by betrayal of the body. He lived every moment of life to the hilt. This made Shammi Kapoor an adorable person, who inspired patients suffering from fatal diseases to love life as it comes and never- say- die.
Internet Pioneer
Shammi Kapoor was the founder and chairman of Internet Users Community of India (IUCI). He had also played a major role in setting up internet organisations like the Ethical Hackers Association. Kapoor also maintained a website dedicated to the 'Kapoor family'.
Major films
n Tumsa Nahin Dekha (1957)
n Dil Deke Dekho (1959)
n Junglee (1961)
n Teesri Manzil (1966)
n Professor (1962)
n Brahmchari (1968)
n Dil Tera Diwana (1962)
n China Town (1962)
n Kashmir Ki Kali (1964)
n An evening in Paris (1967)
n Janwar (1965)
n Rajkumar (1964)
n Andaz (1971)

There cannot be a second Shammi Kapoor
Dolly Ahluwalia Tewari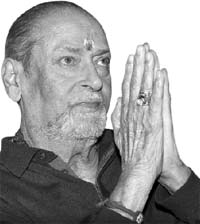 I was told he might come on a wheel chair. We were at his tastefully done home in Mumbai. Everything in that house had a regal touch. There was nothing plastic about it. And, this was the first time I was going to meet my 'heart throb.' Because, to say that I am a great fan of Shammi Kapoor would be to be counted one among millions.
He walked into the room, with the support of a helper. He was dressed in crème colour and I felt as though a light walked in. He held his usual Rudraksh and the tilak made him more radiant. I was so excited that Imtiaz teased me " Are you blooshing?" Well, was I? I was both nervous and excited. The man of Kashmir Ki Kali, Junglee, Professor and Brahmachri, the quintessential hero was there before me and I forgot his age and his sickness. Or, perhaps, there was something about his look that made me forget the unpleasant reality. I touched his feet. Then I couldn't resist and saying, " Can I hug you?" He spread his arms, saying, " I wouldn't miss the opportunity."
This was my first meeting with Shammi Kapoor. The more I got to know him, the more I admired him. I also found him saintly— this is something you cannot explain, you just feel in a person's presence.
The day I was told that Shammi Kapoor will be doing a role in Imtiaz Ali's film Rock Star, I jumped with joy, at the same time I could not believe it. We all knew how serious his health was. It was Ranbir Kapoor and Imtiaz Ali's joint effort that Shammiji agreed to do the role of a Ustad for the film. I was doing the costumes, so, before deciding on how I was going to dress him, I wanted to see him— in flesh and blood.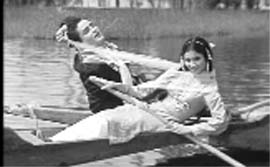 I told him, I would be doing the costumes for him and he asked me to take care that nothing rough is given to him for prolonged dialysis had turned his skin fragile. I found this was a privilege to work with Shammiji and I took it upon myself to dress him, personally, no assistants were required when it was between me and my hero. And I selected the softest of fabrics for him. He liked the head gear I selected for him. He was gracious enough to admire my work.
Despite his illness, I found him extremely handsome, his pink glowing skin gave him a touch of royalty. So were his hands, chiselled and sophisticated, I think his films did not do justice to his looks.
The first day when he drove to shooting, straight from his dialysis, the entire crew stood with garlands to welcome him. Everyone adored him and his spirit to live with verve. I felt honoured to help him get into his mojri ( shoes). The second day he had befriended everyone in the unit. He loved food and wanted to share it with us all. He would say, " You know Kapoor khandan's weakness for food, is bimari ne ye chhin liya, par kabhi kabhi hum bhi badmashi kar lete hain( my sickness has robbed my gluttony, but sometimes i cheat on it) ," and he would gobble!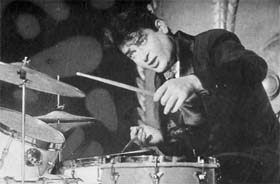 Teesri Manzil: Drumming up a different beat
He would electrify the unit with his energy. One day he broke into the song "Yeh chand sa roshan chehra", and sang the whole song in perfect tune, and then he winked, "Arre humne bhi khoob ishq kiya, kya ek mota aadmi ishq nahi kar sakta?"
He broke all rules to establish his own uniqueness. His unique gait, his props like a rumal and chhadi were all his own, he created his screen persona and breathed life into it. He would say, " Why only women would wear flowery clothes, why not men?" He wore them with such élan that it became a style. He was the first hero Hindi film screen, who danced. His style was copied by many but none could succeed.
But, he would also tell Imtiaz, " Don't prolong the film, I may not be there to complete it." He did the film for his love for Ranbir and Imtiaz. Their respect and admiration was mutual.
And he had nothing but 'God Bless' on his lips for everyone. I feel blessed to have worked with him. I will work with many more stars but I know, there will never be a second Shammi Kapoor. ( as told to Vandana Shukla)
Dolly Ahluwalia Tewari is the costume designer of soon-to- be released Rockstar, the last film Shammi Kapoor acted in.


the YAHOO !!! man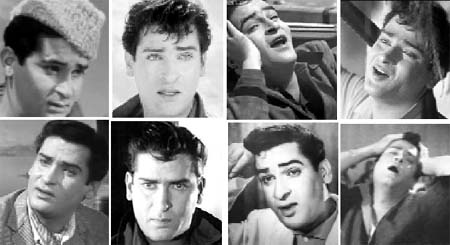 "Shammi Kapoorji passed away this morning at 5:15 am. Rushing there now. The flamboyance and 'joie de vivre' of the Industry lost!. An entire life full of optimism and happy spirit, caring loving to all. Now suddenly silent." — Amitabh Bachchan
"Courageous and lively person. I am saddened
by the demise of Shammi Kapoorji. He was very lively and courageous. He was a great singer too and used to call me as his sister. May his soul rest in peace" — Lata Mangeshkar
"Shammi will always remain in this heart. I am a great admirer and a huge fan of his. His energy on screen is a treat to watch and I have loved every bit of it. His demise is a huge loss to the film industry and fraternity and mainly to his millions of fans. I convey my heart felt condolences to all in his family. O mere sona... you will always live in our hearts" — Rajinikanth
"It is certainly an end of an era. He was one of a kind, completely unique" — Sharmila Tagore
"I am in shock. He was an institution in himself" —Yash Chopra
"My father lived life to fullest. He was a very happy and lively person. He was unwell for sometime...he was on dialysis. He died of kidney failure,please pray that his soul rests in peace. I miss him and I know so will you. We are his fans, so are you. I just hope to see him more and more on Television" — Aditya Raj Kapoor
"More than the industry's loss, this is my bigger personal loss. I was very close to him and we used to meet often. I used to go and see him. I was to make a documentary on him. But I didn't expect that he will leave us like this. Even at the age of 79, he was the representative of youth. His spirit was so young and youthful, He even told me about his shooting for (grandnephew) Ranbir Kapoor's film 'Rockstar', for which he shot sometime back. He was so excited, he explained each and everything to me. He was looking forward to the movie" — Subhash Ghai