Water woes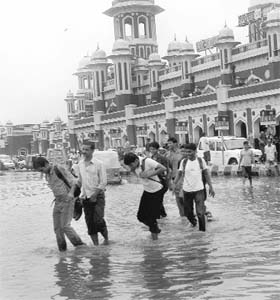 People wade through rain water outside the Charbagh railway station in Lucknow on Sunday. — PTI
3 Army docs get Sena Medals for thwarting terror attack in Kabul
New Delhi, August 14
Three doctors of the Army have been conferred with the Sena Medal for their acts of bravery in thwarting a terrorist attack on the Indian Embassy in Kabul last year. Their names figure on the list of around 200 gallantry awards announced by the President Pratibha Devi Singh Patil on the eve of Independence Day today.
Army to cut litigation cases involving veterans
Chandigarh, August 14
In a proactive move to reduce litigation, the Army Headquarters (AHQ) has asked all army commands to ensure that contested litigation concerning retired personnel are withdrawn where the issue involved is well settled by previous judgements.
Modernisation of armed forces top priority: Antony
New Delhi, August 14
Defence Minister AK Antony today asked the armed forces to "uphold the trust of the nation". A few cases of corruption in the armed forces have come to light recently and this has created "a somewhat negative impact on the image in the public eye", he said while reminding them that it was the responsibility of each one of them to perform their tasks "with complete devotion, fairness, honesty and truthfulness".
Bhagat Singh executed illegally: Researcher
New Delhi, August 14
At a time when India is celebrating its Independence Day, a research paper has shown that the much-acclaimed freedom fighter Shaheed Bhagat Singh was illegally detained, tried and executed.
Jantar Mantar
Pawar is a fighter
While the exact nature of Congress president Sonia Gandhi's medical condition remains a mystery, even ten days after she underwent a surgery abroad, Agriculture Minister Sharad Pawar does not shy away from talking about his ailment.
Highway blockade hits life in Manipur
Guwahati, August 14
The prices of essentials have hit the roof and scarcity of fuel and medicines have crippled life in Manipur, which has been hit hard by another bout of blockade of arterial NH 39 and NH 53 by the Kuki tribe organisations demanding a separate district comprising the Sadar Hills areas in the Naga tribe-dominated Senapati district of the state.
CAG finds irregularities in MLA development funds
Lucknow, August 14
The people's representatives sitting in the Uttar Pradesh Assembly are also not above board. Due to delayed submission of proposals by them, a sum of Rs 385.58 crore of their development funds remained unspent in the Personal Ledger Account (PLA) at the close of each financial year.
SC: Forest owners entitled to relief on land acquisition
New Delhi, August 14
The Supreme Court has ruled that owners of forest land were entitled to compensation under the Kumaun and Uttarakhand Zamidari Abolition and Land Reforms (KUZALR) Act, 1960, even if they were not earning any income from that.
Jagan way ahead of his rivals: Survey
Hyderabad, August 14
For YSR Congress Party President and India's richest MP YS Jagan Mohan Reddy, caught in the eye of a storm over his alleged illegal assets, here is some good news. According to the "State of the Nation" poll, commissioned by English news channel CNN-IBN, Jagan is way ahead of his rivals in Rayalaseema and Coastal Andhra regions of Andhra Pradesh, which together account for 175 seats in the 294-member State Assembly.
Hi-tech radars to check bird hits
New Delhi, August 14
To tackle the menace of birds flying around its bases and putting the fighter aircraft in danger, the Indian Air Force (IAF) is now looking out for procuring sophisticated radars to monitor bird activity as an integral part of its flight safety procedure.
Murder charge against ex-minister
Cornered, CPM left to fight case alone
Kolkata, August 14
Cornered politically over the arrest of Sushanta Ghose, a former minister and a powerful party leader in West Midnapore, the Communist Party of India-Marxist (CPM) now wants other Left parties to come forward and launch a massive agitation against Chief Minister Mamata Banerjee.
UP scraps provision for restoration of acquired land
Lucknow, August 14
The Uttar Pradesh state Assembly has passed a Bill to do away with the provision which allowed people to seek restoration of their acquired land if it remained unused for more than five years.
Alert sounded in Chhattisgarh
Raipur, August 14
An alert was sounded across Chhattisgarh Sunday and security strengthened as the outlawed Communist Party of India-Maoist (CPI-Maoist) threatened to disrupt Independence Day functions Monday, police said.
BSF refurbishing Mi-17 helicopters for VIP use
Chandigarh, August 14
The Border Security Force, the only Central Armed Police Force (CAPF) under the home ministry to have an air wing, is refurbishing its Mi-17 helicopters for VIP use. The upgradation of the helicopters into VIP configuration includes retrofitting a few executive "Maharaja class" seats with folding dining table as are used by airlines, additional less luxurious airline type seats both with and without tables, wall to wall carpeting and internal trimmings.