Simply Sunny
Continuing batting collapse hard to understand
By Sunil Gavaskar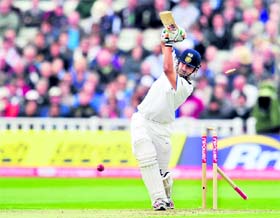 Gautam Gambhir is bowled by England's Tim Bresnan on the first day of the third Test at Edgbaston. — AFP
To see the much-vaunted Indian batting line-up collapse for the sixth consecutive innings was hard not only to see but to understand. Yes, there was some good bowling but it certainly was not unplayable stuff.
The England bowlers were definitely charged up and they knew that the Indian batsmen were out of form and tentative but even they must be most pleasantly surprised at the ease with which they have got them out.
Any innings needs a take off point be it batting or bowling and India did not have it in either department in the third Test. In limited overs cricket especially the T20 format the take off has to be almost vertical but in Test match cricket there is a chance to climb slowly and then get to cruising height and speed.
India's openers who have given the team some splendid starts in the past were consumed even before take off speed was reached and it was no surprise that with 'the stabiliser' Rahul Dravid having one of his off games there simply wasn't enough to keep it going.
Just like bowlers hunt in pairs, so do batsmen and even after Gambhir - Sehwag failed, the other trusted rescue 'combo' of Dravid and Laxman also were unable to lift the team.
Tendulkar is also tentative and a bit uncertain around the off stump especially after his dismissal shouldering arms in the earlier Test. Once that happens then a batsman tends to play at deliveries he should be leaving well alone especially at the start of his innings. He made a conscious effort to play straight in the second innings and was looking as if he was getting his touch back when the unfortunate run-out occurred.
The skipper batted brilliantly in both innings in a game that brought his unbeaten streak as captain to an end but he will now be in a better position to ask for a big effort from his team in the last Test. When the leader is not doing well, he loses a bit of his authority and so 'Mahi' getting runs is a good thing for Indian cricket for he is still the man to lead the team.
The bowling after a strong start has looked jaded and while Praveen has been magnificent and tireless, the same cannot be said of Ishant and Sreesanth.
The left-handed opening duo has definitely caused massive problems because it seems that both these bowlers are trying too hard to get the ball away from the batsmen and lure them into driving. Ishant's stock ball is the one that leaves the left-hander and so he should be actually enjoying bowling to Strauss and Cook but his length has been too short which allows the batsmen to play or leave the ball alone and Sreesanth is losing his best weapon which is the incoming ball to the left-handers by opening his wrist and spraying the ball way outside their off-stump.
The less said about the fielding the better, but there aren't too many sides in international cricket slower than the Indians. The Indians are down and out. They have lost their number one ranking and only an unbelievable individual performance is going to help them save the last Test.