SALUTE to courage
Mahesh Bhatt's play The Last Salute, based on Iraqi journalist Muntadhar-al-Zaidi's book The Last Salute to President George Bush, created a sensation even before it was staged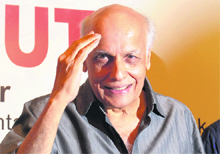 A city gripped with Anna Hazare fever, a hard-hitting play called The Last Salute, a man like Mahesh Bhatt, and a bunch of mediapersons looking for sensational bytes—perfect ingredients for the recipe of disaster!




Rebel without a pause: Mahesh Bhatt

Under the lens' eye

On World Photography Day, here's a sneak peek into the photography scene at different schools of Chandigarh
They are found scattered all over the house and now on the computers. Photographs, memories etched in paper are the representations of all joys of the family, friends, wedding and parties. As the world celebrates Photography Day, we find out more about the photography scene in different schools of Chandigarh.

Happy clicking: Students of Vivek High School-38
Makeover BRIDE!
Brides today do not shy away from experimenting and are becoming more and more daring with their choice of colour and attire
The big, fat Punjabi weddings are getting jazzier. And brides are in the experimental mode. The traditional image of a coy bride, her head covered demurely with yards of saree, walking with a respectable-stoop is in for a change!
Umrao Jaan meets Lady Gaga …
The first day of the Lakme Fashion Week (LFW) Winter/Festive 2011 brought to the table an eclectic mix of paparazzi culture and a unification of Umrao Jaan and Lady Gaga at a dual show presented by designers Jatin Varma and Payal Singhal.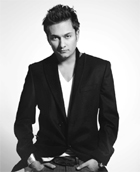 Debut with a bang
Indo-Canadian artiste Raghav Mathur had a successful debut album Storyteller (2003) with hit songs like Let's Work It Out, Can't Get Enough and Angel Eyes that were popular in India and the UK. After his second album Identity (2009), his third album The Phoenix was recently released. Now Raghav is all set for his Bollywood debut by recording the title track of the upcoming movie Hum Tum Shabana, called Hey Na Shabana, a hybrid of eastern and western vocals.

all set: Raghav Mathur
Win some, lose some
Aamir Khan is back from his holiday from Coonoor and Bali. And now he will resume shooting for Reema Kagti's film which also has Kareena Kapoor and Rani Mukerji. Our source informs us that 10 days are left for shooting to complete.
Films to fitness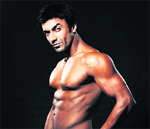 Post the box office bonanza of Double Dhamaal, actor Ashish Chowdhry was heavily involved in his entrepreneurial security agency venture. But looks like the success of one business isn't enough for him, as sources close to him are talking about his plans of opening an exclusive fitness project very soon! Ashish, who is one of the fittest actors, has been encouraged to start his own business as he has a vast knowledge of fitness.

muscle power: Ashish Chowdhry
Fashion's blue eyed boy
How does one describe a show so magnificent in a few hundred words? Adjectives are not enough when Rohit Bal, the master of Haute Couture chic presents a show. Clearly the audience has no option but to applaud every entry, for each ensemble is a work of art that should be preserved and savoured by generations of fashion devotees.
In love with Kashmir
Actor Udita Goswami was in Kashmir for a corporate event but she fell in love with the valley and decided to stay for a little more time and enjoy the place, "Dal Lake and the shikharas were so beautiful. I also saw the Chashm-e-Shahi gardens and the Shankaracharya temple," says Udita.
Astro turf
Chatter box
The year ahead
New releases