Astro turf
P Khurrana

ARIES: The Magician casts smiles on health. Useful day for discussing long term plans. A telephone call from a friend gives pleasure in the evening. A wealth of opportunity and ideas could keep you busy all day. Tarot message: Meet experienced people. Lucky colour: Crimson. Magic number: 37.

TAURUS: The Queen of Swords reveals that new love attractions are likely to be serious. Businessmen: spend spare time in the company of your loved ones. While shopping, stick to your budget. Tarot message: Make things happen out of the most unlikely circumstances. Lucky colour: Brown. Magic number: 56.

GEMINI: A day of mixed luck. Your patient stand will begin paying dividends. Any projects connected with study, travel and cultural pursuits will be very satisfying. You have the ability to work hard and overcome the obstacles in your path. Tarot message: Avoid ending all the deadlocks at one go. Lucky colour: Ebony. Magic number: 25

CANCER: You may find the day quite tiring. Businessmen: avoid making any important business move. Don't rely on anybody else to help you achieve your goals. Legal matters could take an expected turn. Tarot message: Let trivial problems not haunt you. Lucky colour: Deep red. Magic number: 28

LEO: Avoid speculation. Early morning surprises can turn into afternoon achievements. The need for balance between work and pleasure is paramount. Those trying to juggle work and family should take some time out for themselves. Tarot message: Don't trust others. Lucky colour: Forest green. Magic number: 32.

VIRGO: Put more effort into completing unfinished work. Businessmen: it is advisable not to take new starts. Your health could be worrying you a little. An interest in alternative lifestyles and travel to interesting places is on the cards. Tarot message: Don't do anything at the cost of health. Lucky colour: Cherry red. Magic number: 43.

LIBRA: An improvement in your fortune is indicated. Today you are likely to come into contact with people who have a different take on your situation. Emotional contact with a friend could be informative. Tarot message: Lack of persistence can be disastrous in business matters. Lucky colour: White. Magic number: 47.

SCORPIO: Try to reduce the amount of cash you spend on groceries. Do not hold back anything from your boss. Take some advice on jointly held accounts. Tarot message: Don't waste an opportunity by being rash or impulsive. Lucky colour: Turquoise. Magic number: 44.

SAGITTARIUS: Check all figures related to jointly held funds. Your friends support you strongly. A new project can engage your attention single-mindedly. A romantic and passionate attraction might land you in danger. Tarot message:

Concentrate on your future. Lucky color: Fiery red. Magic number: 28.

CAPRICORN: A hazardous day for speculation. Be more discriminating in the choice of your company. Pace yourself, since your energy levels can be low. Take some time out for meditation. Retire to bed early tonight. Tarot message: Time will heal all pains and wounds. Lucky colour: Lotus pink. Magic number: 33.

AQUARIUS: Avoid careless spending. Avoid delegating responsibilities. Problems can be resolved without any major stress. While you sit at home and worry about your situation, the phone might ring and somebody will offer you a solution. Tarot message: Be positive. Lucky colour: Peacock blue. Magic number: 36.

PISCES: Good day for negotiating contracts. Seek publicity for business plans. You are unlikely to get much chance to relax this evening. You may feel restricted by your family circumstances. Tarot message: Do not be in the rush to spend extravagantly. Lucky colour: Silver grey.Magic number: 54.

Metti Oli delayed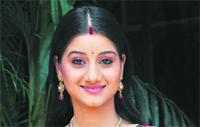 Late start: Anjali Abrol
Buzz about UTV's next big project on Sony TV— remake of the popular Tamil show Metti Oli—is that it has been delayed.
The show that came into news for hitting Sony had Eijaz Khan and Anjali Abrol as leads, but now we hear that due to some issues in the production house the show is on hold. 
Bigg Boss 5 gets more stars
Bigg Approach: Karan Singh Grover
Bigg Boss Season 5 is indeed gearing up for a bigger season and bringing more controversial people on board. The latest one to be approached is Karan Singh Grover, but as he is shooting for his film with former Miss World Diana Hayden in Bangkok, so he hasn't reverted. Other people who have been approached are Mike Tyson, Nandini Singh, while Navjot Singh Sidhu, Divyendu Sharma aka Liquid of Pyaar Ka Punchnama, Poonam Pandey and Kratika Sengar have signed on for the show. 
More trouble for Pavitra Rishta
Zee's Pavitra Rishta seems to be heading for a major overhaul as after the leads - Archana and Manav aka Ankita Lokhande and Sushant Singh Rajput — plan to quit the show due to the 18-year leap planned in the show. Now, Satish aka Anurag Sharma too has decided to quit Pavitra Rishta. Sources claim that the actor has already informed Balaji about his decision. The show is all set to take another leap in the next two months and Anurag does not want to play an old man in the show!
Love rings for Preeto-Rajbeer!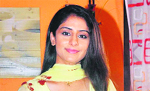 Playing cupid: Ankita Sharma
In Imagine's Sawaare Sabke Sapne – Preeto, the lead couple who are attracted to each other but get stuck with silly fights and arguments, will get opportunities to come closer. While Preeto (Ankita Sharma) and Rajbeer (Aditya Redij) will try to help their friends get married, which broke off due to a family issue, they will realise the good qualities of each other. 
Marriage blues
Sameer Dharmadhikari's entry in Zee's Yahaaan Main Ghar Ghar Kheli will bring dramatic twists in this tale. He will play a shrewd business tycoon Raj Singhania, will buy Swarna Bhavan and help Karan and Abha clear their debt. However, Raj will allow them to stay in the Bhavan only on one condition. He will ask Karan to marry Koyal.
A dramatic affair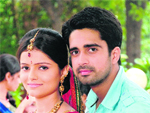 Twist & turn: Rubina Dilaik and Avinash Sachdev
The maha episode of Zee TV's Chhoti Bahu will be a dramatic affair with the wedding of Radhika (Rubina Dilaik) and Dev (Avinash Sachdev).
Yet the dual celebration of wedding and Dev becoming Raj Purohit will be tarnished when the pandit will claim that Radhika can't be his wife as she was married to Rohan (Saurav Chakrabarti). Barkha (Benaf Dadachanji) will step forward and marry Dev in an attempt to help Radhika.
Family & business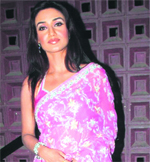 Building passions: Rati Pandey
Television actress Rati Pandey, who shot to fame with her bubbly role of Nupur Bhushan in Star One's iconic college show Miley Jab Hum Tum, is busy spending time with her family members as of now. She is following up on her passion - construction business. Here is Rati talking about her passion, her physiotherapy and more.
How is your physiotherapy treatment going on?
Pretty well; my doctors have told me to exercise and they have prescribed medicines. They have suggested surgery, but that would mean I will be bed-ridden for over two months. So, for now I am just concentrating on medication.
What are you passionate about apart from acting?
Apart from acting, I am passionate about starting my own business, and if not, then I would like to help my family members in our business. My brother and I had dreamt of opening a hotel in Patna, but that has been put on hold and instead we have started a construction business in my hometown. We have been handling that and now looking forward to expanding our business in Mumbai as well.
Now that you have ventured into business, are you planning to quit acting?
If I get typical roles then I might not get interested, but if I get challenging roles that I haven't done or if I get good travel-based shows, then I would love to do them. As of now, I haven't thought about quitting acting.
What's keeping you busy these days?
I am spending time with my mother, who has come from Patna. She is pampering me a lot by making delicious food. We went shopping too. I am so much into shopping that if I get bored I shop online!
— HRM
The year ahead
Madan Gupta Spatu
If your birthday is August 19...
Your birthday on the August 19 gives a greater will power and self-confidence, and very often an original approach; but with this comes a somewhat self-centered approach to life that may conflict with some of the other influences in your life. A negative 1 is apt to dominate situations and people; home, spouse, family and business. Emotions aren't strong in this nature. If you possess an excess of 1 energy, you may, at times, be boastful and egotistic. You must avoid being too critical and impatient.
Business: Financial issues burst your bubble, but your attitude helps you deal with them perfectly. You may need to call in a few favours, though. Career: Many important opportunities are in store for you. You could run into problems due to forgetfulness at work so be careful. Young, inexperienced people will have to ask for advice. Education: Too often you have either shown up too late or departed sooner than you should have done. Try acting opposite to what you feel. Family: Spending time at home gives you tremendous pleasure so try to work from home. Remain calm or risk a clash, especially with a Sagittarius, Capricorn, Scorpio and Taurus people.
Finance: A beneficial phase begins bringing in huge monetary rewards. Friendship: A pushy relative may try to work his or her way into your guest room. Be polite but firm in your refusal.
Health: Do not neglect your regular exercise schedule. It is necessary to devote some time to keep your body in shape. Love: Being able to operate in comfortable surroundings makes you far more productive. Your place is so beautiful and comfortable that people are always lobbying for invitations. Travel: Check all your documents ,contact numbers, bank accounts, ATM cads, et al before leaving the country to avoid problems. Mood: Slightly 'pushy' at times. Compatible signs: Aquarius, Pisces, Leo. Lucky colors: Silver, Red. Lucky days: Thursdays and Sundays for this year. Lucky numbers: 14, 21, 22, 39. Lucky flower: Rose. Lucky gemstone: Ruby.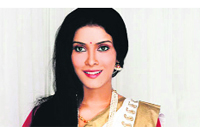 Nandana Sen (August19 , 1970 ,Calcutta) is daughter of Nobel Prize winning economist Amartya Sen and Bengali writer Nabanita Dev Sen. She spent her childhood in India and the USA.
Sen started her career with the movie The Doll. In 2008 she appeared in the British television series, Sharpe. She will experience a chequered career.
New releases
Not A Love Story
Producers: Sunil Bohra and Shailesh R. Singh
Director: Ram Gopal Varma
has revealed a mastery over a variety of cinematic genres. He has to his credit a film on naxalites Rakta Charita. After this film he is ready to take centrestage with Not A Love Story a film based on the Neeraj Grover murder case. The film revolves around the life of an aspiring actor who bumps into a youngman. Ram Gopal Varma has claimed that the film is simply his version of the famous Neeraj Grover case. The film stars Deepak Dobriyal as Emile Jerome and Mahie Gill as Maria Susairaj. Not A Love Story, a drama takes a close look at Neeraj Grover's murder case.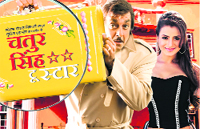 Chatur Singh Two Star
Producer: Mohammed Aslam
Director: Ajay Chandok
Chatur Singh Two Star, finally hits the theatres today . Sanjay Dutt is back in action with this film which has a baseline - 'he is on a mission' — to destroy himself. Sanjay Dutt plays a bumbling cop. The movie also has Suresh Menon as Dutt's right-hand man. Ameesha Patel also plays an important role in this film.
Sahi Dandhe Galat Bande
Producer: Preeti Jhangiani
Director: Parvin Dabas
Actor Preeti Jhangiani turns producer with this film. The film is a blend of action, comedy and emotion. It stars Parvin Dabas, Ashish Nayyar, Vansh Bhardwaj, Kuldip Ruhil in the lead roles. The gang comprising of four friends are given a lucrative job that will make all their dreams true. But to achieve the same they have to go against their consciences.
— Dharam Pal