High jump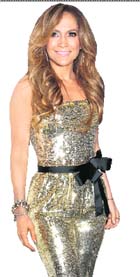 Jumpsuits, the latest craze with celebrities, look 'oh-so-fashionable' and the best part is that they can be experimented with…
Given her reputation, anything that Lady Gaga wears gets tagged as experimental. Or if it is not as appalling as her raw meat dress or bubble costume, the singer adds her bit of surprise element to make it one! Like she did with the jumpsuit she wore for the cover of a popular fashion magazine - a sheer black jumpsuit to make the point that she was 'born this way'. For her, the outfit was an extension of her personality but for a dozen other celebs, a jumpsuit makes for a great style statement. Supermodel Tyra Banks flaunted a leather one at the recently held Teen Choice Awards. Other celebs include Paris Hilton, Jennifer Lopez, Gwyneth Paltrow and Rani Mukerjee. Back home, Priyanka Chopra and Anushka Sharma have scored well on fashion critics' charts as far as jumpsuits are concerned. Even Rani Mukherjee, who has been inconsistent with her style statement, sported a perfect one at a film premiere.
Go by gut feeling
While setting goals one should go by his or her gut feeling, as more often than not it will be right, say researchers.According to a study by Canada's University of Alberta, when it comes to working out where the future lies, the unconscious mind is both smarter than we think and can be a great motivator.




In race

: Miss Universe India 2011 Vasuki Sunkavalli is all set for Miss Universe. The pageant will take place at Sao Paulo on September 12. — Reuters
Star track
Filmmaker Dibakar Banerjee doesn't guarantee an image change for Emraan Hashmi with his political thriller Shanghai, but says the film will bring out the "true acting capability" of the actor who is otherwise tagged as a "serial kisser".
Nature care
Want to get away from the busy life for a while? Here are five holiday destinations within your reach where you can have fun as the sky pours or if it's a bright sunny day.
SPORTY spirit
Marks for Sports is one campaign that has found rousing support from Chandigarh students. As representatives from different schools gathered at St Stephen's-45 on Friday morning, they found three celebrities from the city supporting their cause.
Luck by chance
Remember Neetu from Zee TV's 12/24 Karol Bagh and Geeta of Apno Ke Liye Geeta Ka Dharmyudh? Our very own Chandigarh di kudi, Sargun Mehta, is taking big strides on the small screen! Her very recent appearance is in the lead role of Color channel's Phulwa. We catch up with her.
Every inch a designer…
It's a fact that everything Bollywood spills into the fashion industry, but the reverse is also true. Reinforcing this thought, Rohhit Verma, of the Bigg Boss fame, spoke at length about his tryst with everything fashionable. As part of the Wedding Asia — the royal Edition, he brings a tad bit of Hollywood wrapped in his kitty.


Pun'jab'

Sandeep Joshi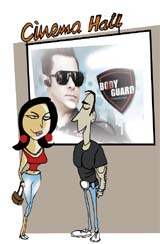 help at hand

: Hey babe, you certainly need a bodyguard.
House on wheels
A Bentley or a Lamborghini might make a screeching statement of how you've arrived, but it wouldn't let you take a shower while you're travelling or take a nap over a flat bed! If one of the studies is to be believed, Rajasthan tourism is short by several thousand beds; travelling long distances by roads in increasingly becoming a norm.
Eat as the Romans do
The best of Italian cuisine prepared in extra virgin olive oil, to suit the palate of Chandigarh folks, is what Kava-26 promises with its ongoing Italian Food Festival!
Peppy treat
The song, Fukre Na, reminds us of Diljit Dosanjh's earlier hit, Panga. Although in the case of Panga, the credit was shared by Honey Singh. This time Diljit is the sole creator. The lyrics are the superhit, Fukre Na, from Jihne Mera Dil Luteya, is jazzy, witty and full of praise for the Punjabis. Fans are loving it and give us ample reasons for it.
Oriyan odyssey
Sandstone sculptures, colourful umbrellas, hammocks in different shapes and sizes along with famous filigree work are what you can see and buy at Orissa Handloom and Handicraft Fair at Lajpat Rai Bhawan-15.



celeb footsteps

: Actress Sofia Vergara attends the ceremony for the unveiling of actor Ed O'Neill's star on the Walk of Fame in Hollywood, California. — Reuters
Something to get psyched about
A study indicates that one out of every 25 bosses is a 'psychopath' who disguises it by charm and manipulation Researchers have revealed that one in 25 company bosses are psychopaths.
Today's youth less creative?
It may sound like the complaint of a jaded adult, but the youth today are less creative and imaginative as they used to be, scientists have found. In a study of about 300,000 creativity tests going back to the 1970s, researchers at the College of William and Mary in the US found that creativity has decreased among children in recent years.
Mughal-e-Awesome
With the festive season on, can the foodies be far behind? The current food festival is an unimaginable culinary combo treat of Kebabs vs Biryani at Punj Spice in Park Plaza.
Astro turf
Chatter box
The year ahead