Nature care
A vast expanse of greenery, fun activities and a little self-indulgence without having to drive far ! A weekend getaway is the sure-shot way to de-stress oneself
Jigyasa Kapoor Chimra
Want to get away from the busy life for a while? Here are five holiday destinations within your reach where you can have fun as the sky pours or if it's a bright sunny day.
Hit the hills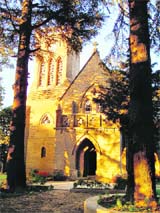 Soul searching: The church at Kasauli
Kasauli is an ever-loved destination for people in Chandigarh or even Delhi. Hardly two hours away from the city, this is a perfect holiday spot for people who love serenity.
Things to do: A perfect hill town, Kasauli is still a dream come true for people living in concrete jungles. Though there are not much activities that one can do here, long walks, shopping from small Tibetan shops and eating on the street is what you can enjoy here.
Where to stay: Since this town is always packed with weekend tourists, prior bookings are recommended for Kasauli. Though there are a number of hotels and private cottages on rent, Hotel Ros Common of HPTDC is one good place to stay.
Though the rooms are not very large in size and have an old look to it, the stay is quite comfortable and food is superb.
Price: The room tariff starts from Rs 1,400 onwards.
Fort full of fun
Fort Ramgarh in Panchkula is another spot where you can relax if you don't want to go very far from the city. Located in Sector 28, Panchkula (Haryana), it is just 17 km from Chandigarh and is ideally situated on National Highway 73. A 37-feet high door welcomes you into this house of royalty.
Things to do: This place is for people who actually want a holiday and don't intend to do any sightseeing or shopping. With a glorious 360-year old history to it, you can enjoy the health club and rejuvenate yourself in the jacuzzi, steam and sauna bath. There is a gymnasium for those who don't want to miss on their fitness routine. And for some adventure, try archery and croquet or you could swim your stress away in the indoor swimming pool. Traditional Kerala ayurvedic masseurs too are available for your pleasure.
For the adventure freaks there is also a tree mansion in the hotel. Perched atop a banyan tree, it is actually a machaan, or one can say a treehouse, complete with an attached bathroom. A tunnel museum underneath the central courtyard displays old weapons, photographs and household items. Vintage cars too are parked for men who love machines.
Where to stay: You can choose your rooms from vintage to royal and Imperial suite.
Price: The room tariff starts from Rs 3,850 to Rs 14,777.
Bloom's day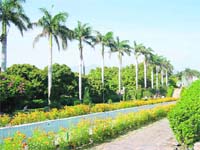 Green path: Yadavindra Garden In Pinjore
Yadavindra Garden in Pinjore is another place where you can enjoy your holiday amidst the greens. Just 20 km from Chandigarh, Yadavindra or better known as Pinjore garden, deserves a special mention.
This seventeen-century-old garden is spread in an area of 100 acres.
Things to do: The garden houses a mini zoo, go carting, Japanese garden, nursery and a number of picnic spots. According to the Hindu mythology, the Pandavas rested here during their exile.
Where to stay: The garden complex has rooms where you can stay and have fun exploring these Mughul gardens.
Price: On request
Hill sojourn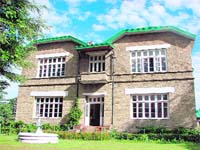 Majestic feel: Maharaja's Palace at Chail
Chail is another hill town to be explored. Nestled in the lap of nature among the tall deodhar trees, Chail came into being when Bhupinder Singh, Maharaja of Patiala, was banished from Shimla, the summer capital of British India, after a dalliance with the Commander-in-Chief's daughter in the late 19th century.
Things to do: Here you can walk around the town and enjoy the hills or pay a visit to Sidh Baba ka Mandir. Maharaja's Palace is another place to visit, but a must is a visit to the cricket ground. Surrounded by deodar trees Chail cricket ground is the highest cricket ground in the world. Other than that you can visit the Chail sanctuary.
Where to stay: Chail Palace is the best option available. Built in 1891 it was originally a private mansion of the Maharaja of Patiala. Himachal Tourism purchased the Palace in 1972 and converted it into a heritage hotel. Set in 75 acres of land the hotel is a treat. The Palace has cottages, deluxe rooms, and suite but mind it have prior bookings.
Price: Rs 7,000 onwards
Scale the heights
Situated on National Highway 22 in Parwanoo, Timber Trail is another option to be explored. Spread in 1.6 acres of land the Timber Trail resort is one quiet place for relaxation. The best thing is the entry to the resort is through a trolley which takes you up by 2,000 feet.
Things to do: Relax and enjoy the walks in the green hills. The resort provides golf putting, tennis, health club etc.
Price: The packages start from Rs 5,500 plus taxes per night.