Marketing of MESSI MOMENT
The recent Messi mania did display that there was a huge market to be tapped for the benefit of Indian soccer, but will this really kick off football tourism in the country? M.S. Unnikrishnan checks out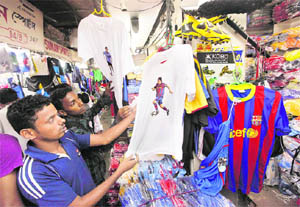 Lionel Messi mesmerised over 86,000 fans at the behemoth Salt Lake stadium with his magical soccer wizardry to emphasise the fact that fans are willing to shell out big bucks to watch a quality game. The Argentina versus Venezuela friendly match, sanctioned by the International Football Federation (FIFA), generated huge enthusiasm from spectators around the country, and the sports-crazy people of Kolkata made it an event to remember and cherish.
The Messi visit gave a temporary boost to the sale of soccer merchandise


An architectural wonder
Spain's Guggenheim Museum is a must see for the students of modern and contemporary architecture, writes Kiran Soni Gupta
Any art tour of Spain is incomplete without a visit to the most talked about 20th century structure — the Guggenheim Museum in Bilbao. A magnificent example of avant-garde architecture is the museum building on the riverside of Nervion. One is struck by the beauty of horticulturist skills in the form of flower-studded bear at the entrance. Undoubtedly it is the first halt for the photographic session for any visitor.
He scratched his way to Guinness book
Bijay Sankar Bora in conversation with Apuraj Barooah, an artist of different ilk, who has made a world record with his scratching
It was sheer inquisitiveness that prompted Apuraj Barooah of Dibrugarh town in eastern Assam to pick up a piece of bromide paper lying on the floor in a photo studio about 18 years back. A man with creative instincts, Barooah tried his artistic talent on it in his ingenious way. That was the beginning of an innovative journey in the field of Art that has finally earned him a place among the Guinness World Records.
Nature's own poet
Poetry is an addiction for octogenarian Yash Sharma, whose favourite subject has been nature. He is the most loved and respected poet in Dogri language, writes Ashutosh Sharma
His looks seem to be quite misleading. He may appear to be a grand old man but his ideas sound quite young, amusing and enlightening. There is no stopping this 84-year-old Dogri poet and Sahitya Akademi awardee, Yash Sharma. He has been writing tirelessly and has recently compiled a new poetry book, Boond Trailu Di (Drop of dew). The book would be in the hands of Dogri poetry lovers after it is released shortly.
Matchless saris
To the Indian lady, a classy sari means it should be either from Banaras or from the temple town of Kanchipuram in South India, says Sita Mehta
The Indian sari has its own image in different parts of the country, ranging from the plain gold bordered sari of Kerala (three days to make one) to the costly Paithani of Maharashtra, which takes often an year to weave. Pattern and content are often dictated by the traditions of the region where the sari is produced.`A0But to the Indian lady, a really rich sari means it should be either`A0Benarsi brocades or the Kanchipuram`A0silk ones from the temple town of Kanchipuram in South India.
House of magnificent machines
The Technik Museum is a unique technology museum in Speyer, Germany. Having more than 2,000 exhibits, the museum is an enjoyable historical experience of 150 years of German history and much more, writes Inder Raj Ahluwalia
The best way to describe it is to say it is 'refreshingly different'. And indeed it is quite unique. A brave new world with its head wistfully turned back to the past, it is an institution that offers an insight into the glory and nostalgia of automobile and aviation combustion that ruled the roads, seas and skies of generations past and present.
Songs of change
Luke Kenny, in conversation with Madhusree Chatterjee, says film songs acted as a catalyst of change in India
Hindi film music has echoed the changes in Indian popular culture for the last 60 years, mirroring the growth of the country in sync with global trends, says India's first male video jockey (VJ) Luke Kenny.
Salman to promote History channel
Superstar Salman Khan is the face of new US-based factual entertainment channel HISTORY, a joint venture between A+E Networks and TV 18 in India. The channel hopes that the actor whose popularity cuts across all age groups and gender will play a pivotal role in changing the perception of history in India. "Salman symbolises the brand personality of History perfectly. He is stylish, trendy, versatile, fun and his all encompassing popularity makes him the perfect fit for our brand," says Ajay Chacko, President of A+E Networks-TV 18.
In the name of comedy
Beginning as comic relief in Hindi films, comedy has evolved as an independent genre in Indian cinema, writes Shoma A. Chatterji
Remember Sholay where Asrani, playing a jailor, was taken for a ride by Veeru and Vijay? He was modelled after Adolf Hitler's image — his walk, the moustache and clipped dialogue delivery, including the way he swung his baton. But Sholay was no comedy film. Nor did Asrani create gags to make people laugh. He did it simply through his body language, the way he delivered his lines and his general attitude. His refrain "Hum Angrezon ke Zamane ke jailor hain" made the audience go into splits. This is a brilliant example of comic skits inserted into a serious film. It was funny, caustic and intelligent. The 'suicide' act of Veeru is another example.
'I used to smoke rolled tobacco'
Kalki Koechlin, the French-descent actor, in conversation with Sreya Basu about her latest film That Girl in Yellow Boots
What kind of film is That Girl in Yellow Boots?
It's about a young girl and her journey through the underbellies of Bombay. It's an uncomfortable subject. It's not a film that will make you feel good about yourself, but one that I think is very relative to what life is like today in Mumbai.