Cong raises voice against corruption
P K Jaiswar/TNS
Amritsar, September 15
The Punjab Pradesh Congress Committee (PPCC) President Capt Amarinder Singh organised a rally and dharna outside the Deputy Commissioner's Office here on Thursday. Thousands of workers and local Congress party leaders were present. They were agitating against the alleged corrupt practices adopted by the Punjab government.
Harpartap Ajnala, former MLA and president of District Congress Committee (rural), called the state government the most-corrupt government ever.
The government lands and properties were sold to the loyalists of SAD-BJP leaders at throw-away prices causing huge loses to the state exchequer, he alleged.
He said the revenue and police departments were virtually hijacked by the Akali leaders. The Congress leaders alleged that the Akali-BJP government in Punjab was responsible for inflation. Congress said the government increased Value Added Tax (VAT) on food grains from 4 to 5 per cent, while VAT on petroleum products continued to be more than the neighbouring states.
They submitted a memorandum to the DC which is to be forwarded to the state government.
Improvement Trust chief flayed
Gurdaspur: The Congress targeted Gurdaspur Improvement Trust Chairman Ravinder Verma during an anti-corruption rally held here today. Former Minister and Gurdaspur District Congress Committee Chief Sukhjinder Randhawa said if the Congress comes to power in the forthcoming assembly elections, the first thing it would do is to cancel all the contracts awarded by Verma. — TNS
Factionalism to the fore
Amritsar: Factionalism came to the fore during the protest when Shahbazpuri, a senior Congress leader, had an altercation with another Congress leader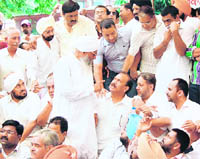 Krishan Kumar Kukku. Shahbazpuri was going to deliver a speech when the incident took place. It is learnt that altercation was over a petty issue of seat-sharing on the dias. In another incident, former mayor of the city, started delivering his speech separately when Shahbazpuri was delivering his own. Both continued with their speeches. Later, Dutti took a seat away from the other Congress leaders. He came on stage after repeated requests. — TNS


Congress leader Sukhdev Singh Shahbazpuri involved in an altercation with another party leader during a protest rally in Amritsar on Thursday.