Rift in Mussoorie Congress as MC members gun for MLA


Mussoorie, September 19
Mussoorie Municipal Council (MC) ward members criticised Urban Development Minister Madan Kaushik and Congress MLA Jot Singh Gunsola in a hurriedly called press conference at the MC Camp office today.
Protest over unavailability of ration cards
Dehradun, September 19
Aggrieved over the unavailability of new ration cards, members of the Mahanagar Mahila Congress Committee today protested outside the office of the District Food and Supply.
Artistes demand film board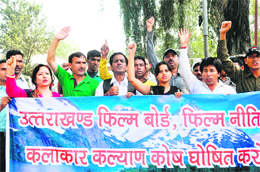 Dehradun September 19
Members of the Uttarakhand Film and Artiste Joint Committee in favour of their demands took out a march from Hindi Bhawan to the Clock Tower here today. A large number of artistes gathered with dhols and damaos (folk instrument) to join the demonstration.

Theatre and film artistes hold a demonstration in support of their demands in Dehradun on Monday. Tribune photo: Vinod Pundir


Rangers' College Ground: Tug of war between admn, FRI
Dehradun, September 19
Currently, a fierce tug of war is on between the Dehradun district administration and the Forest Research Institute (FRI) over the playing field of Rangers' College situated on the Cross Road. The Dehradun District Magistrate had formally taken charge of the ground a couple of weeks ago.
196 participate in yoga championship
Dehradun, September 19
As many as 196 persons from seven districts participated in the Third Uttarakhand State Yoga Championship organised by the Yoga Association of Uttarakhand at Premnagar yesterday.
80 give auditions for Karan Johar's film
Dehradun, September 19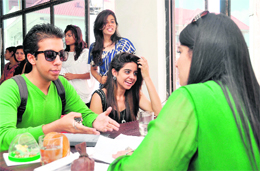 In search of fresh faces for the upcoming film of Karan Johar to be shot in Dehradun, Sinmit Communications organised final auditions here today. A total of 80 aspiring models and actors from different places participated in the event. Prior to the final auditions, two preliminary rounds were held where candidates were shortlisted on the basis of their acting skills.
Aspiring actors give auditions for a feature film of Karan Johar to be shot in Dehradun. Tribune photo: Vinod Pundir


Forest corp staffers cancel planned fast
Dehradun, September 19
Fourth class employees of the Uttrakhand Forest Development Corporation cancelled their intent to go on fast today when noted socialite Ravinder Jugran assured them to fulfill their demands of grade enhancement and assured career promotion (ACP) within a week.
Repair city roads, says consumer council chief
Dehradun, September 19
Brig KG Behl (retd), President, All-India Consumers Council, Uttarakhand, has expressed deep concern over the deteriorating condition of roads in the state. He stated today that the condition of roads had worsened and needed immediate repairs, particularly in the hilly areas.
Pestle Weed, Dolphin institute get NAAC accreditation
Dehradun, September 19
After getting National Assessment and Accreditation Council (NAAC) accreditation from the University Grants Commission (UGC), the Dolphin (PG) Institute of Biomedical and Natural Sciences and the Pestle Weed College of Information and Technology have come under the category of reputed institutions.
Surya Roshni workers to protest in front of CM's house
Dehradun, September 19
Employees of Surya Roshni at Kashipur in Udham Singh Nagar will protest in front of the Chief Minister's residence on Tuesday after their one-month-old dharna before the office of the SDM, Kashipur, failed to evoke any positive response on their demand to reinstate 3,400 employees of Surya Roshni Limited.
KV IMA enter quarterfinals
Dehradun, September 19
KV IMA qualified for the quarterfinals beating ITITI, Jhajra, 4-2 in a tiebreaker during the ongoing 3rd ONGC Ram Bahadur Chhetri Memorial Football Tournament held at Ambedkar Stadium here today. The well-fought encounter ended in a goalless draw. The two halves of the play saw a neck-and-neck contest between the two sides.However, none of them could succeed in scoring a goal.
Hopetown, Welham Girls to meet in final today
Dehradun, September 19
Hopetown Girls' School and Welham Girls' School have registered the final berth in the Gardner Silver Jubilee Inter-School Basketball Tournament today. The final will be played tomorrow at 4:30pm.
Govt schools to get basic amenities
Dehradun, September 19
To facilitate government schools with the basic amenities of potable water, toilet and electricity by the month of November this year, Chief Secretary Subhash Kumar held a monthly-review meeting with the department here today.