Medical services partially hit by doctors' strike at GMCH-32
Chandigarh, September 20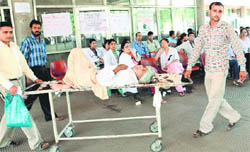 Medical services at Government Medical College and Hospital (GMCH), Sector 32, were partially hit as nearly 60 resident doctors of the hospital went on mass casual leave today to protest against the shortage of doctors in the hospital.

Khan Mohammad (65) of Yamunanagar being taken back to his town as senior doctors (in background) went on strike at GMCH-32, Chandigarh, on Tuesday. Tribune photo: Manoj Mahajan
Nod to 4 pc luxury tax on weddings
Chandigarh, September 20
This year wedding parties and other get-togethers held in the city's hotels and banquet halls will cost more with the UT administration deciding to levy a 4 per cent luxury tax on such functions with immediate effect.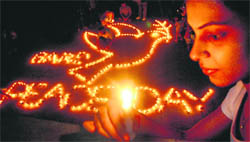 Earthen lamps lighted by the Global Alliance for Rights and Duties on the eve of International Peace Day in Panjab University, Chandigarh, on Tuesday. Tribune photo: Vicky Gharu
Academic chairs at PU vacant for years
Chandigarh, September 20
Having failed to get a nod from Nobel Prize winning economist Amartya Sen, the Manmohan Singh Chair established by Panjab University two years ago is the latest addition to a long list of vacant chairs meant to promote academic excellence and the culture of debate in key disciplines at the varsity.
Doc, woman booked for female foeticide
Panchkula, September 20
In a district of the state where women are heading key administrative departments, the police on Tuesday booked a woman and a doctor for preventing a resident giving birth to a female child under section 312 of the Indian Penal Code (causing a miscarriage) and the Medical Termination of Pregnancy Act, 1971. The doctor's two clinics in Manimajra (Batra clinic) and in Panchkula have been sealed.


Nonagenarian stages sit-in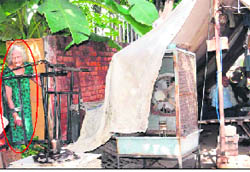 Chandigarh, September 20
A 93-year-old Sector-18 resident, Dayawanti Sharma, staged a sit-in in front of her neighbours' — DGP (Punjab) Shashikant and former DGP AP Pandey — houses today, following alleged encroachment by security personnel on the service lane at the rear of her house.
Nintythree-year-old Dayawanti Sharma (encircled) yells out at security personnel of DGP (Punjab) Shashikant staying in tents pitched in the service lane at the rear of her house in Sector 18, Chandigarh, on Tuesday. She has sought the removal of tents, which have been breeding rats, besides causing congestion. Tribune photo: Manoj Mahajan
Weekday drive zaps drunk drivers
Chandigarh, September 20
The Chandigarh traffic police caught drunk drivers by surprise on Monday night by carrying out a surprise drive on a weekday. While the police has been conducting the drive on weekends this year, a large number of drunk drivers were in for a shock after they ended up getting challaned on a weekday, when they had least expected.
Spurious ghee came from Delhi
Chandigarh, September 20
A day after the UT police seized 75-kg spurious ghee being supplied to a temple in Sector 29, the police said the ghee was being supplied to accused from Delhi.
Cop's statement recorded
Chandigarh, September 20
DSP Kamaldeep Singh, inquiry officer in a case of brawl involving an inspector at a discotheque, today recorded the statement of Inspector Jaswinder Singh. The police official has been accused of creating ruckus at Scores in Sector 8 on Saturday night.
Govt's retired staff express resentment
Mohali, September 20
With just a day for launch of Mullanpur Eco City by the Greater Mohali Area Development Authority (GMADA), retired employees of the Punjab government settled outside the state have expressed their resentment for not allowing them to apply under the scheme.
Nuances of music bared
Chandigarh, September 20
Musicologist and tabla maestro Guru Sushil Kumar Jain of the Punjab 'gharana' delineated and demonstrated the role of Vedic principles in music during a seminar at the GCG-11 auditorium here today.

Human resilience amid Indo-Pak conflict
Chandigarh, September 20
Sans a conventional storyline, a plot and thrilling actions, Mumbai-based Essay Communication's play 'Lakeerein' was staged on Day Four of the Chandigarh Theatre festival here today. Written by Gulzar and directed by Salim Arif, the play presented the political dialogue of times like Partition, Emergency and the wars and tension across the border.
60,000 professionals return to India annually: Study
Chandigarh, September 20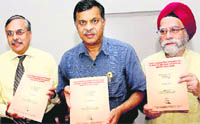 India is among top few countries that have been witnessing strong "return migration". While a study revealed that nearly 60,000 top professionals are returning to India every year for the past three years, the Ministry of Overseas Indian Affairs puts the number of returning professionals at a lakh a year.
From left: Union Secretary A. Didar Singh, Punjab Chief Secretary SC Aggarwal and former diplomat Paramjit Singh Sahai display copies of the "Study of Indian Diaspora" in Chandigarh on Tuesday. Tribune photo: Manoj Mahajan

Fire breaks out in factory, 1 injured
Dera Bassi, September 20
One person was injured and loss of lakhs was caused by a fire that broke out in a factory situated at the Focal Point, Dera Bassi, this evening.
PU convocation on Dec 16
Chandigarh, September 20
Panjab University (PU) plans to have its convocation on December 16. The convocation, generally held in Feburary, has been advanced. Chancellor Hamid Ansari is expected to pay a visit to the PU.