Sunny days are here again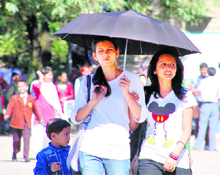 Girls use an umbrella on a sunny day in Shimla on Tuesday. Photo: Amit Kanwar

MP sanctions Rs 12 lakh for development works
Dalhousie, September 20
Kangra Lok Sabha Member of Parliament Rajan Sushant has sanctioned a sum of Rs 12 lakh for various development activities in different parts of Chamba district from the MP Local Area Development Fund during his two-day visit to the district.
State seeks Rs 27,556 cr for 12th Five-Year Plan
Shimla, September 20
Chief Minister Prem Kumar Dhumal has sought Rs 27,556 crore from the Planning Commission of India for the 12th Five-Year Plan, which is almost double than the approved 11th Five-Year Plan.
Herbal mafia active in Great Himalayan National Park
Sainj/Gushaini (Kullu), September 20
Mafia have plundered herbal roots - patish, kadu, nihani, dhoop and now nag chatri and other medicinal plants. Once found in abundance in the Great Himalayan National Park (GHNP) and in its buffer zone, these herbal roots have been pushed to the brink of extinction because these are in high demand in herbal products and medicines.
Maneka offers help to run dog shelters


Shimla, September 20
The problem of stray dogs and the creation of proper shelters for canines in the state capital could finally be in the hands of trained professionals as noted animal rights activist Maneka Gandhi has offered to rope in some NGO for the task to tackle the problem more scientifically.
Maneka Gandhi
Bilaspur to get polytechnic college
Bilaspur, September 20
A polytechnic college will be opened in Bilaspur district soon while an ITI is already functioning here. A sum of Rs 9 crore is being spent on the construction of a government college building and Rs 2 crore on the construction of a community bhawan at Jukhala.
Manure Scam
Vigilance procures records from Nauni university
Solan, September 20
A team of officials from the state Vigilance and Anti-corruption Bureau finally managed to procure the records pertaining to the alleged fraudulent purchase of farm yard manure, the seed counter and the publication of a souvenir from the department of floriculture and landscaping in the Dr YS Parmar University of Horticulture and Forestry, Nauni, today after days of alleged dilly-dallying by the university authorities.
Check-dams to be built to channel streams
Hamirpur, September 20
Irrigation and Public Health (IPH) Minister Ravinder Singh Ravi has said all water streams in Hamirpur district will be channelled by building check-dams. The minister said this while addressing a review meeting of the Hamirpur circle of the IPH Department.
Property worth lakhs destroyed in landslips
Bilaspur, September 20
Property worth above Rs 15 lakh is said to have been destroyed as two landslips consisting of huge rocks and massive boulders damaged several houses and standing crops at Badsaur village, 7 km from here, on the new Bilaspur-Bandla road, near here, last night. Reports said already fearing serious losses, villagers got suspicious about this landslip and had left the houses and thus no loss of life was reported.
15 hurt in road accidents
Kangra, September 20
Fifteen persons were injured, one of them seriously, in two different road accidents in Kangra and Dehra subdivisions, the police said here today.
WHO training programme begins at Tanda
Kangra, September 20
The Department of Community Medicine, DRRPGMC, Tanda, in collaboration with the World Health Organisation (WHO), India, inaugurated a three-month fellowship training programme on "Role of AYUSH (Ayurveda, Unani, Siddha and Homeopathy) in National Health Programmes, Non-Communicable Diseases and Health Promotion" at the DRRPGMC yesterday.
Police destroys working still
Nurpur, September 20
The DSP conducted a raid at Sahora today and destroyed an unclaimed working still and 700 litre of lahan. The police also recovered 6,000 ml of illicit liquor from Karan Bahadur of Kuriala village under Gangath police station. He was arrested under the Excise Act.
Husband arrested for wife's death
Bilaspur, September 20
The district police has arrested Kuldip Kumar, a driver by profession, for allegedly being responsible for the death of his wife Poonam Kumari (28), who was agram panchayat member of Dakhyoot village under Dangaar gram panchayat near Ghumarwin, near here .
2 consume poison
Kangra, September 20
Two men in their early 50s were admitted to the DRPGMC, Tanda, today as poison cases and were struggling for life, the police said here today. Sant Ram, 50, resident of Natraid Joginder Nagar, had consumed some poison and was referred from Joginder Nagar Hospital to the Tanda hospital in a serious condition.