M A I N N E W S
Fresh landslides in Sikkim; toll 92
3,000 rescued; work on to clear debris and reopen roads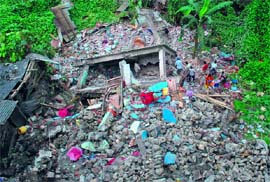 People sift through the rubble of a church in Rangrang village near Gangtok
Mangan(Sikkim),September 20
More than 3,000 persons were rescued in quake-hit areas of Sikkim by defence forces which scrambled hard to clear debris of collapsed structures and landslides as the death toll in Sunday's powerful temblor shot up to 92, including 53 in the Himalayan state. Of the 53, 36 persons died in the districts of North Sikkim, 12 in East Sikkim, four in West Sikkim and one in South Sikkim, a relief control room official said in Gangtok.
The National Highway 31-A from Mangan to Gangtok, 65 km from here, was closed due to blockades caused by heavy landslides but an alternative road was reopened to help rescue teams reach the worst-affected areas.
People in and around Mangan were in a state of shock, many afraid to enter their houses which have either developed cracks, tilted perilously or partially collapsed. "If there is another tremor, my house will collapse. So we are waiting out in the open," said 74-year-old Dengji Sherpa surrounded by his family and villagers at Lachan.
Some others were seen trying to retrieve household goods from the debris. The death toll has also gone up to 12 in West Bengal, nine in Bihar and 11 in Nepal. There was no change in yesterday's figure of seven deaths in Tibet.

A man stands in front of his quake-ravaged house in Mangan village in north Sikkim; Army jawans repair a road in Mangan. — PTI, Reuters
As aftershocks continued, people were seen squatting on roadsides, public places and near temples.
Using helicopters, heavy lift transport aircraft and infantry troops, defence forces rescued more than 3,000 persons in the quake-hit areas of Sikkim and intensified efforts to extricate people trapped under the debris of collapsed structures.
The IAF has airlifted more than 500 troops there, including the medical and engineering teams, and is conducting sorties of heavy lift transport aircraft and choppers from Delhi, Chandigarh, Kolkata and Bagdogra to ferry troops and ensure supply of medicines and food. Rescue efforts covering 62 villages and 20 medical centres have been set up wherein over 370 persons have been treated and 8 relief centres have been established where over 2,700 persons have been provided shelter.
On rescue efforts in Mangan, epicentre of the quake, an Army official said: "As many as 281 troops have reached Mangan, including four medical and two engineering teams. A relief camp has been set up." — PTI