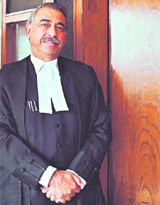 SUCCESS MANTRA
Legal Eagle
Manmohan Lal Sarin is a known name in law circles. Practicing senior advocate at the Punjab and Haryana High Court at Chandigarh, Sarin has been Advocate General of Punjab as well as that of Haryana. He has earned esteem not only as a lawyer, but also as a social worker and cultural ambassador.




Of many facets: Manmohan Lal Sarin

POETRY IN MOTION...
Each time Saleem Arif comes up with a production, the idea is to reconfirm the conventionalist's approach to theatre — interspersing drama with poetry and prose. To make it happen in the best possible way, he turns to the best in the field, Gulzar. And this time, what he has brought to the Chandigarh Theatre Festival is Lakeerein, seven poems by Gulzar that mirror the evolving relationship between people of India and Pakistan. Each poem is thematically linked to make it a complete story!
Well-suited
Women wearing skirts are perceived as more successful than those sporting trousers favoured by the likes of Hillary Clinton and Angela Merkel, a research suggests.
Celeb point
A toast for the host
And my phone hasn't stopped ringing. Badi sunder lag rahi hai, badi acchhi hosting ki…" I hear everyone say and I am loving it!
The soap story
When it comes to your body, a lot of thought goes into what to use. The skin, perhaps, is the most sensitive part and that is the precise reason why there is a marked shift from soaps to body washes and shower gels.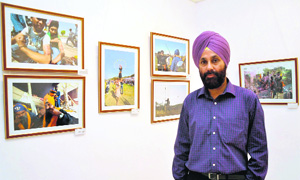 Festive eye
Capturing the colours of the Hola Mohalla festival with his lens for the last 13 years — devotion of the visitors, mock drills by Nihang Sikhs and the sumptuous langar — Maninder Singh Sodhi, a mechanical engineer from Ambala, is living his passion for photography.

Photo finish: Maninder Singh Sodhi captures the true colours of Hola Mohalla

Master Chef


Loving legumes!
A column discussing lentils and legumes? Don't let your brow furrow with a frown! I know it sounds as boring as skimmed milk but there are ways to cook the everyday daal into something quite exotic. Lentils provide us with good amounts of nutrition but most kids don't exactly love daals with a passion. Cooked lentils make a delightfully tangy salad when combined with shredded veggies, chaat-masala and lemon juice. When I baked lentils into this saucy, nutty loaf, my children ate it without batting an eyelid. You could also add odd oats for fibre and melonseeds for crunch. Give it a shot. It's a dish fit for a party.
Right steps
Her doe eyes, the chocolate brown hair and flawless white skin are a complete mismatch to the running around she has been doing for the sake of learning! Wamiqa Gabbi, a budding actor from Chandigarh, speaks about her stint in 'Mausam' with a downpour in the backdrop. An actor, a classical dancer and singer, she sure has the talent one needs to be an actor.
Spa-tial treat
Steam sauna, mineral water pool, ice therapy, aromatic massages and pebble walk. These are common therapies at spas.


Pun'jab'

Sandeep Joshi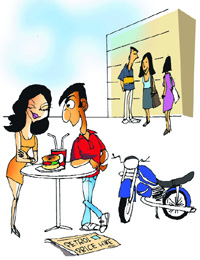 Social service:

No need to worry, dear. My dad has given me this bike to pick and drop the needy.
star track
Checking out on B-town beauties
A bevy of beauties has been making appearances around Mumbai. While Kareena danced in a red sari to Chhammak Chhallo, super-stylish Sonam attended a press conference and others just showed up at various events. We do a fashion round-up

n Red alert
n Second time lucky
n How I met your parents
n Shake it like Haydon
n When Shreyas ran away with Minissha!
n Mutual admiration club
chatter box
Bigg Boss to get bigger
After reports that Madhuri Dixit-Nene has shifted back to Mumbai, buzz in telly town is that she has been approached for many television offers. One of them is an offer to participate in the Colors reality show Bigg Boss season 5. Apparently, she has been offered a handsome sum to make the deal sweeter. If Madhuri really does enter the Bigg Boss house for few episodes or more, it will be interesting to see her interaction with Sanjay Dutt.

n Music therapy
n Axe effect
n What a party
n Theme for a dream
n Jai ho!