Stamp of approval

Philately finds a new poster-boy in Bathinda
Megha Mann
Tribune News Service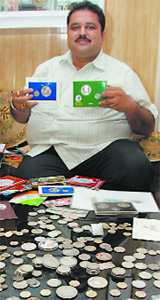 Harish Kumar Goyal shows his rich collection of postage stamps. Tribune photo: Pawan Sharma
Bathinda, September 23
It's an instance of rare chemistry. For someone who was into the dynamics of chemicals and compounds, Harish Kumar Goyal, a chemist by profession, was drawn inrresistibly into the world of philately and numismatics.
He has spent the last three decades of his life amassing a wealth that is incalculable. Today, Goyal is the proud owner of a varied collection of stamps and coins from over 70 countries in the world.
"It all started when I was in school. Our principal Master Moti Lal used to read us the news about new stamps being released. Our elders too used to collect old coins but never bothered to dwell into their history. It was then that I decided to amass a collection that can be exhibited," says Goyal.
His prized possession includes coins from 1549 issued from the mint of Mughal emperor Akbar to the latest commemorative coin issued to mark the royal wedding of the British couple, Catherine Middleton and Prince Williams.
His collection includes Indian coins of Rs 50, Rs 100 and Rs 150 denomination issued on various occasions such as the tercentenary celebrations of the birth of Khalsa and the birth anniversaries of Bhagat Singh, Rabindranath Tagore and other leaders.
Goyal is always looking for advertisements put out by the Government of India announcing the sale of commemorative coins.
"In 1948, after the death of Mahatama Gandhi, the Indian government issued a stamp and a Rs 10 coin in his memory. The Rs 10 coin was later withdrawn as it was too big a denomination in those times. I have both, the stamp as well as the coin," says Goyal, who came fifth at the First National One Frame Philatelic Exhibition held at Vadodara. His theme of stamps at the exhibition was Mahatma Gandhi.
Apart from keeping an eagle's eye on the ads from the mints, Goyal is always on the look out for precious pieces of metal depicting the bygone era and the stories they narrate.
Goyal has a huge collection of various commemorative stamps, the oldest of which dates back to 1948, in the name of Azad Hind Fauj.
His perfumed stamps of sandal and jasmine add to the collector's delight.
A member of the Ludhiana Philately Club, Goyal feels there is a need to have club in Bathinda also to boost this hobby among the youth.
"This hobby needs to be promoted among the youngsters who can increase their knowledge. I firmly believe that as a collector, my responsibility towards the youngsters increases," he says.