| | |
| --- | --- |
| New home: Dr Wahegurupal Singh (extreme left), medical superintendent, BL Memorial Kapoor Hospital, hands over the abandoned baby to the office-bearers of the adoption centre of Swami Gangananad Bhuriwale International Foundation in Ludhiana on Wednesday. The baby was abandoned 14 days ago at the hospital by a woman. Photos : Inderjeet verma | The Peoples' Party of Punjab on Wednesday organised a blood donation camp to mark the 104th birth anniversary of Shaheed Bhagat Singh at the Lions Club here. Around 50 units of blood were donated by party workers and others present. Senior party leaders, Dr SS Johal and Jagjit Singh Ghungrana, said activities like blood donation camp would motivate people on the lives of great martyrs like Bhagat Singh. |
PSPCL set to release 2,000 connections to industry
Ludhiana, September 28
There may be some heartening news for industrial units located in 72 colonies coming under the "mixed land use" area according to the city's master plan. The state-owned electricity generation and distribution utility, Punjab State Power Corp Ltd (PSPCL), has been told by the government to initiate the process for releasing about 2,000 pending industrial power connections in these localities.
Brick kiln owners at receiving end
Ludhiana, September 28
Till now brick kiln owners were accused of detaining labourers at their kilns, but labourers from Uttar Pradesh and Bihar have found a novel way of harassing them. Such labourers, after accepting money in advance through contractors, have started filing writ petitions in courts that their "masters" have made them bonded labourers and are not allowing them to return to their native places.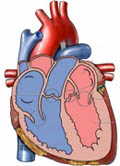 Heart disease striking young
Ludhiana, September 28
Party animals, beware! Partying hard till late at night, coupled with consumption of alcohol and smoking, is playing havoc with Ludhianavis' heart, with more and more cases being reporting to city cardiologists. The heart disease is striking young city residents in their 30s. Cardiologists are shocked to find several youth in their 20s knocking at their doors with heart disease. "I get four-five cases of heart patients in their 20s every year. I am observing the phenomenon for three-four preceding years, " said Dr G.S. Wander, chief cardiologist at the Hero DMC Heart Institute.
'Children need dedicated places to play'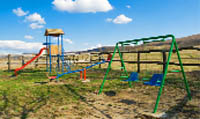 Ludhiana, September 28
Cricket is a passion for Ronit Kalra, a local businessman. He nurtured his game at school and in open grounds and spaces in Dugri where he resides. "I loved playing cricket since childhood. Sunday was a dedicated day for cricket and there used to be more than 20 teams that used to come from all over Ludhiana on the grounds at Dugri.
State government wants usage certificate for grant never given
Mandi Ahmedgarh, September 28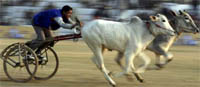 Having failed to revive the "national festival" status for the Kila Raipur Rural Games, popularly known as the "Rural Olympics", the Department of Tourism, Punjab, has now asked the event organisers to submit a utilisation certificate for "spending" a grant of Rs 12.5 lakh, which was never issued or received.
Man shot dead by unknown persons
Ludhiana, September 28
A 34-year-old city resident was shot dead by unidentified persons while he was on way to work on Wednesday morning. According to reports, the victim, identified as Bhupinder Singh alias Lovely, was a resident of Jawanda Colony and worked as a 'rehri' (pushcart) contractor in the Sabzi Mandi locality. The killers turned up at about 6.30 am when he was crossing Street No 2 in Tirubanda Colony and fired from a gun on his chest from close range, killing him on the spot.


| | | |
| --- | --- | --- |
| | | |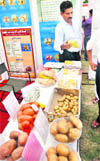 'Develop technologies for value addition'
Ludhiana, September 28
Advocating for development of new processing technologies for value addition, Dr BS Dhillon, Vice-Chancellor, Punjab Agricultural University, lamented that decreasing landholdings had made agriculture less profitable for a majority of farmers and their children were forced to look for other avenues of employment.


A person shows products made from potatoes at an exhibition in Ludhiana on Wednesday. A Tribune photograph
Squatters flourish on LIT's prime land

Ludhiana, September 28
Eight acres of prime land, belonging to the Ludhiana Improvement Trust (LIT), worth crores of rupees is slowly being encroached upon by squatters, as "jhuggis" and dhabas have come up near Sidhwan Canal on the Pakhowal Road here.

A dhaba has come up on a prime piece of land belonging to the Ludhiana Improvement Trust on the Pakhowal Road in Ludhiana. Photo: Inderjeet Verma
Malaria, dengue rear head as MC, health officials sleep
Jagraon, September 28
Resentment prevails among residents of various localities of the town and its surrounding areas over the failure of the health department as well as the municipal council in cleaning the drains and streets, which has resulted in the spread of vector-borne diseases like malaria and dengue.
Bus passengers made to pay fee on toll-free route
Doraha, September 28
Even as bus passengers have been paying the toll for the past three years in spite of the absence of a toll barrier on the Ludhiana-Patiala section, the transport authorities have failed to justify their toll collection.
Metal fencing on sharp bends soon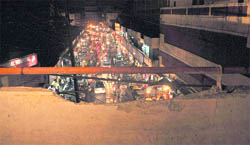 Ludhiana, September 28
Twentysix-year-old boy's death on a sharp bend on the elevated road on September 25 has finally shaken up the municipal corporation authorities, with the civic body deciding to install metal fencing on all sharp curves on the road.

A file photo of the damaged boundary wall of the elevated road following an accident in Ludhiana.
Government machinery in overdrive
Samrala, September 28
The Punjab government's decision to issue BPL (below poverty line) blue cards under the Atta-Dal Scheme to the poor in the state has sent the local government machinery in overdrive.
8 days on, process yet to start
Mandi Ahmedgarh, September 28
The caste-based and socio economic Census, which began eight days ago, it is yet to start in this belt of Malwa. Though bags have been handed over to enumerators, supervisors are yet to receive the kits.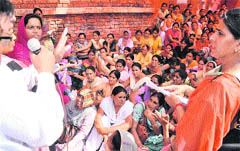 Health workers stage protest
Ludhiana, September 28
The Multipurpose Health Employees Union, Punjab, today held a protest dharna in front of the Civil Surgeon office under the leadership of state president Kiranbala.


Members of the Multipurpose Health Employees Union stage protest outside the Civil Hospital in Ludhiana on Wednesday. Tribune photo: Himanshu Mahajan
400 examined at screening camp
Ludhiana, September 28
At least 400 patients were examined on Monday during the second screening camp held at DMCH to select patients for free hip and knee replacement surgery under "Operation Walk 2012".
250 physically challenged kids operated
Ludhiana, September 28
Since May 2010, Christian Medical College and Hospital (CMCH) here has been involved in operating upon children who are physically challenged under the project "Sarva Shiksha Abhiyan" (SSA). Dr Santhosh Mathangi, head of the department of physical medical and rehabilitation (PMR) has successfully operated upon more than 250 cases of deformity correction and tendon releases.
'Adopt ideologies of freedom fighters'
Mandi Ahmedgarh, September 28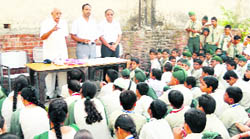 Children of the town and surrounding localities are upset over the fact organisations of the region are not bothered to encourage them to adopt ideologies and principles propagated by freedom fighters and martyrs, including Shaheed Bhagat Singh.
Pensioner's association patron Ram Sharn Sood addresses a seminar to celebrate the birth anniversary of Shaheed Bhagat Singh in Amloh on Wednesday. A Tribune photograph
City in midst of festive spirit
Ludhiana, September 28
With the advent of Navratras, the city is in the grip of festive spirit. All temples here have been decked up with colourful lights and special Navratra "poojan" has started in the temples.
Jigsaw Thai lamps in thing this season
Ludhiana, September 28
Festive season has begun with the Navratras and markets and people are ready to make the most of it. Lights play an important part of festivities and celebrations. After the advent of a variety of lights over the years, particularly from China, it's time for special lighting from Thailand this year.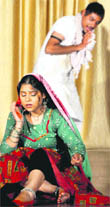 Youth Fest: Skits, plays mark Day II
Ludhiana, September 28
On the second day of the four-day Panjab University Zonal Youth Festival of Zone "A", which is being held at Arya College, students displayed their talents in skit, histrionics and mime in the morning session. In the evening session, plays were staged. Through these plays, social evils like drug addiction, female foeticide, corruption and disappearing social and moral values were highlighted. Some of the plays were captivating.Some of the students put up sterling performance in mimicry. Quiz competitions mirrored the intellect and awareness of the students.

Artistes stage a play at the zonal youth and heritage festival in Ludhiana on Wednesday. Tribune photo: Himanshu Mahajan
Punjabi playwright's death condoled
Ludhiana, September 28
Art and activism coalesced beautifully in Punjabi playwright Gursharan Singh's theatre, said poet-laureate Surjit Patar while expressing condolences at the playwright's death.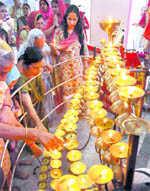 To mark the Navratras, 108 "Akhand Jyotis" being lit up at Shri Geeta Mandir, Vikas Nagar, Ludhiana on Wednesday. tribune photo: himanshu mahajan
BEd teachers protest
Ludhiana, September 28
BEd Teachers' Front held a state-level protest rally in support of their long pending demands at the Grain Market here today. BEd teachers were demanding hike in grade pay and removal of probation condition.
MoU signed
Ludhiana, September 28
GGNIVS has recently started a new certification programme in an agreement with the National Stock Exchange, Delhi. To initiate this step, an MoU was signed by T Venkat Rao, president and head, northern region, NSE, and Dr SP Singh, senior vice-president, GGN Khalsa Educational Council.
4-year-old ailing girl needs help
Ludhiana, September 28
A four-year-old girl, Bhageshwari, was diagnosed with intra-abdominal Burkitt's lymphoma in November last year. She has been on intensive chemotherapy and has completed seven cycles of chemotherapy during this period. She is currently doing fine.
Iron manhole covers worth Rs 1.5 lakh go missing
Jagraon, September 28
As many as 17 sewerage manhole covers made of iron have gone missing from the Lajpat Rai Road. These covers went missing during the work on laying interlocking tiles on the Lajpat Rai Road recently.