ART & LITERATURE

'ART & SOUL
ENTERTAINMENT

TELEVISION

GARDEN LIFE

NATURE

FOOD TALK

CONSUMER, BEWARE!

FASHION

GLOBOSCOPE

BRIDGE

ULTA-PULTA
EARLIER FEATURE

TRAVEL

RELATIONSHIPS

DREAM THEME

TIME OFF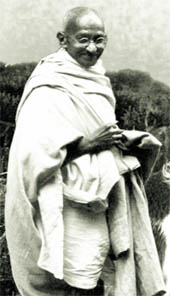 gandhi forever
The best tribute to Bapu this gandhi jayanti would be to follow his philosophy in letter and in spirit, writes Minna Zutshi
The donning of the Gandhi cap by celebrities and commoners alike during the recent Anna movement became a symbol of resurgence of the Mahatma's ideology. But, for Young India, is there more to Gandhi than such passing, public-propelled displays of his philosophy?
Minna Zutshi
A frail man attired in a loincloth... a stalwart who stirred the conscience of the multitude of masses... a calm, composed man who was an apostle of peace... a dynamic leader who brought down the mighty British Empire. Mahatma Gandhi, the man, has never been easy to understand.
Mahatma Gandhi, the dynamic leader who brought down the mighty British empire, has never been easy to understand

Celebrating broken hearts
When a relationship falls apart, the once shared relics and accumulated possessions often give a heartache of sorts. Which is why the Tristan Bates Theatre in London has set up an award-winning exhibition called the Museum of Broken Relationships where you can turn in those bittersweet memories — from a discarded wedding dress, an "I Love You" Teddy bear and love letters — for all to see.
Date with deities
Rooted deep in religious traditions, Kulu Dasehra is a unique festival in which both the gods and the devout participate with equal enthusiasm, writes Rakesh Lohumi
AS the Dasehra festival — symbolising the victory of the good over the evil — comes to a close with the burning of the effigies of Ravana , Kumbhkarana and Meghnath elsewhere in the country, the chariot of Lord Raghunath rolls down the sprawling Dhalpur Maidan in the valley of the gods, setting off the grand spectacle of Kulu Dasehra.
As choosy as women
While the earlier male generations considered spending too much time and money on clothes as an effeminate obsession, the modern man is making efforts to be in step with global trends, says Nutan Sehgal
IS there any such thing as fashion from an Indian man's point of view? Yes, there is. Even as the jetsetting metrosexual steps into the high fashion lane, designers are hastily getting their act together. The Indian male, it would seem, has finally broken the shackles of the past. Today, dressing for the job is as important as dressing for a night out. Designers say that when it comes to a choice of clothes, the new-age man can be as choosy as a woman and can make as much effort to be smartly turned out.
All about nosey neighbours
A research has revealed that most of us see our neighbours as nosey, too chatty and people who always steal parking spaces, but the biggest complaint involves them making noise at unsociable hours. According to the survey of 2,000 people carried out for HSBC, around a quarter of homeowners become irritated when someone plays loud music or a musical instrument within earshot of their abodes.
Scandinavian chic
Helsinki, with its blue harbour and green spaces, is a great stress buster for the urban, jaded tourist, who has been there, and done almost everything, writes Kalpana Sunder
Sea gulls in flight, the harbour full of yachts, green trams trundling past, domes and spires competing with glass and steel — Helsinki is a photogenic city. Founded by the Swedish king Gustav Vasa in 1550 across the Baltic Sea, it grew into importance after the Russians annexed it in 1809.
Love knows no age
As India borrows Pakistani romance, one man recasts himself, writes Shilpa Raina
From hero to villain to out-of-work film actor to TV star, Mohnish Behl has had a long chequered journey in showbiz. But in his twilight years, life is taking a new turn yet again — as the protagonist of an Indian romance, based on super-successful Pakistani soap Dhoop Kinare.
Best FB travel page
An Australian travel agent's Facebook page has been named world's best after receiving more than 75,000 "likes" in nine months. Intrepid Travel's page was also highly praised for having "mystery offers" and engaging customers to interact as a community.
Imran on a roll
"I would like to direct films," says Imran Khan in conversation with Jyothi Venkatesh
Imran Khan is quite excited about his latest release Mere Brother Ki Dulhan, which also stars Katrina Kaif and Pakistani singer Ali Zafar. "I play the role of Khush Agnihotri. I could easily relate to Khush, who is a boy from a simple middle class family in Dehradun. Ali Zafar, who is my elder brother in the film, is extremely stylish, charming, and out and out a ladies' man.
Focus on lifestyle of tribals
Nilanjan Bhattacharya's Johar — Welcome to the World showcases the rich reservoir of food resources and related traditional knowledge of sustainable practices of the tribals, writes Shoma A. Chatterji
How does one define Indian food? Is it defined by the food served at restaurants where waiters flash colourful menu cards with a choice of fare at premium prices to choose from? Or is it the simple dal-rice-sabzi-roti, you eat at home everyday?