Head over heels!
What temporarily seemed more important than the interview was ascertaining the height of her heels. Were they four inches or five or more? How could she wear them? We crossed our fingers and hoped she did not trip in what looked like 'sharpened pencil heels'!
The fading Dussehra spirit
This needs some introspection. For a nation known for its festivals, this isn't what should be readily taken in the stride. How many people you now plan out the Dussehra evening to celebrate the festival? How many reserve the holiday only to see the effigies burn? How many people in the city are planning to celebrate Dussehra? Sadly, very few!
Raavan lives on!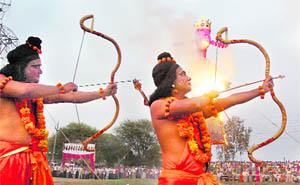 To begin with, there are so many social ills and so many evil souls! Do we have dearth of modern day reincarnations of Raavan? Let's get started…there's poverty, corruption, terrorism…then there's the neighbourhood corrupt councillor, that forever tax evading businessman; the local student leader with low moral values. And above all, the ever-smiling Indian who'll still takes it all in his stride! Some of the youngsters from Chandigarh list who do they think deserves the 'crown' of Raavan, with a sachet for acknowledgement in tow!
star track
Shocking elements
Aditi Rao Hydari and Arunoday Singh were the surprise package in Yeh Saali Zindagi, Shweta Narayan was the surprise element in Saheb, Biwi, aur Gansgter, and Tara D'souza was the fourth lead in Mere Brother Ki Dulhan. We take a look at actors and characters in upcoming movies that have been kept under wraps

n No promotions please
n Evil hunk
n Launching linkups
n Sci-fi secret
n Rumoured role
n New kid on the block
chatter box
Teetotaler!
Hina Khan aka Akshara is love-struck! Her love for tea was revealed on the sets of her latest ad campaign shoot where she challenged the entire cast and crew for an impromptu tea drinking contest. Those on the set were shocked to see her consume many cups of tea one after the other. Her co-stars, who were also present at the shoot, admitted to have known about her being an avid tea drinker for a while and had predicted the results beforehand. Her on-screen mother-in law, Sonali Verma, who is also a part of the ad campaign, said she wasn't surprised when she saw Hina beat everyone. While Hina was over the moon to have defeated everyone on the sets of the ad shoot, others on the set rued the fact that Akshara beat them in a tea drinking contest of all, and labeled her a tea lover.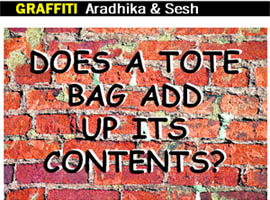 n The return of the dead
n Spice boy
n Tantrum king
n Theory of replacement
n Dramatic turn
n Fair enough!