M A I N N E W S
Ghazal king departs, his voice lives on
Jagjit Singh dies of brain haemorrhage in Mumbai, funeral today
Shiv Kumar/TNS
Mumbai, October 10
Ghazal king Jagjit Singh, who regaled music lovers for over four decades with his soulful renditions, died of brain haemorrhage in Mumbai today. He was 70.
The singer, who rediscovered the ghazal genre for the common Indian in the 70s and 80s, was admitted to the Lilavati hospital on September 23. He underwent surgery but did not recover and was kept on life support. He was declared dead at 8 am.
"Early this morning, his condition worsened due to pre-existing conditions like hypertension, diabetes and an ischemic heart ailment. He passed away at 8 am," said a hospital spokesperson.
Singh is survived by his singer wife Chitra. A versatile performer, Jagjit Singh is credited with freeing ghazal from the shackles of complexity. He had sung in several popular Bollywood films apart from recording albums in a number of languages, including Hindi, Urdu, Punjabi, Gujarati and Nepali.
His evergreen ghazals include 'Kaaghaz ki kashti', 'Ahista-ahista', 'Tum itna jo muskura rahe ho', 'Patta-patta boota-boota', 'Hothon se chhu lo tum' and 'Tum ko dekha'.
A Padma Bhushan award recipient, Singh was born on February 8, 1941 in Sri Ganganagar, Rajasthan. He had four sisters and two brothers. Along with wife Chitra, Jagjit Singh went on to become a popular singer on Doordarshan before the advent of cable television. However, after the couple lost their only son, Vivek, in a road accident nearly 20 years ago, Chitra gave up performing in public. Jagjit continued to hold the fort, though missing some of the magic of the old days.
The singer's funeral will take place tomorrow at the Chandanwadi crematorium here, said family sources.
Rich tributes poured in from politicians, film personalities and his contemporaries. "He was a popular artist even before he started singing in films. It is a big loss for all of us," said Lata Mangeshkar in her statement. "I can't imagine that I will no longer be able to hear his silken voice or listen to his new songs. Now his old ghazals is all we have," said Asha Bhosle.
Condoling Jagjit's death, Prime Minister Manmohan Singh said: "He made ghazals accessible to everyone and gave joy and pleasure to millions of music lovers in India and abroad."
"His demise is a great loss to the world of music and ghazals," said Amitabh Bachchan.

Jagjit's native town mourns for its son
Recalls memories of his maiden concert in Sriganganagar in 1995
Raj Sadosh
Sriganganagar, October 10
Students of Shri Guru Nanak (SGN) Khalsa educational institutions and the local Government College, who had held a prayer meeting for the speedy recovery of ghazal singer Jagjit Singh last week, were heart-broken when informed about his demise.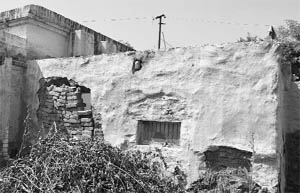 The ghazal maestro used to do his singing practice (riyaz) in this house at Sriganganagar. Photo: Raj Sadosh
Eminent artist Sagar Sharma got a call from Jagjit Singh's nephew Bablu at 8.30 am informing him that the man with the golden voice was no more.
There are many who cherish memories of Jagjit Singh's maiden concert at his native town on December 3, 1995, that was organised by the Rashtriya Kala Manch. "His rendition of songs such as 'Kaagaz ki kashti', 'Chaak jigar ke' and 'Kal chaudhvin ki raat thi' left the audience in a trance," recalled Sharma.
Along with Subhash Gogi, it was Sharma who had gone to Amritsar to invite Jagjit Singh for the concert. "We found him at a marriage palace. At first he refused to talk. When I referred to his childhood friends Sardul Singh, a motor mechanic, Thakur Dutt Sharma, a paan seller, and Krishan Narula, he broke into a smile and embraced us. We spent three hours together sipping several cups of coffee. Of course, he agreed to attend the concert," recalled Sharma.
Jagjit Singh was born on February 8, 1941, in a house that was known as Pat Ram Ki Chhikari (cluster of six houses).
His father Amar Sigh was a sectional officer in the Public Works Department. The family later shifted to official quarters in the Civil Lines area.
Jagjit was initially named Jagpreet Singh. He went to meet his sister at Sahwa in Churu district where a saint of the Namdhari sect, on hearing him sing hymns, suggested to his brother-in-law Ratan Singh that he be renamed as Jagjit Singh as he had the ability to win over the world with his golden voice.
Jagjit Singh's father in 1954-57 paid Rs 30 per month as tuition fee to music composers Shagan Lal Sharma who ran an academy on the first floor of Bakshi Type College, and later to Ustad Zamal Khan, a distant relative of Mehndi Hasan. Jagjit Singh devoted much of his time on "riyaaz" at a paan shop run by one Thakur Dutt Sharma.
"His father owned a house at Vinoba Basti here but four years after retirement, he decided to shift to Sahibabad at Delhi," said one Khazan Makkar.
"Jagjit Singh wanted to visit Sriganganagar again after the death of his son in a road mishap, but that was not to be," said his fans.